Twenty House Republicans led by Rep. Andy Biggs (R-Ariz.) have ramped up calls to impeach and remove Homeland Security Secretary Alejandro Mayorkas over his failure to secure the southern border.
"Every day Secretary Mayorkas remains in office, America becomes less safe," said Biggs during a press conference in Washington on Dec. 13.
"Now that we have the majority in the House of Representatives, I expect our party to pursue impeachment next Congress," Biggs said. "I expect the House Judiciary Committee to open an impeachment inquiry in the 118th Congress, formally investigate Secretary Mayorkas, and finally to proceed to impeach him."
Biggs, who introduced articles of impeachment against Mayorkas in August 2021, said the DHS chief was worthy of impeachment because he "has committed high crimes and misdemeanors."
"His conduct is not incompetent. It's not negligent. It is willful and intentional," Biggs added.
Several other House Republicans also spoke during the press conference, including Rep. Bob Good (R-Va.), who said the southern border is facing an "invasion" with the influx of migrants.
"We cannot let this go on for another two years, and [the] Republican majority must impeach Secretary Mayorkas as the first step to begin to secure our border," Good said.
Mayorkas
The Arizona lawmaker explained in detail how Mayorkas had broken the law.
"First, Secretary Mayorkas has failed to maintain operational control of the border as required under the law," Biggs said, pointing out the definition of operation control, as defined in the Secure Fence Act of 2006 (pdf), is "the prevention of all unlawful entries into the United States, including entries by terrorists, other unlawful aliens, instruments of terrorism, narcotics, and other contraband."
"That is his duty and his obligation," Biggs added. "Instead, the policies he has enacted have produced the exact opposite of operational control.
"His failure to maintain operational control of the border is allowing deadly illegal drugs such as fentanyl to come into the country.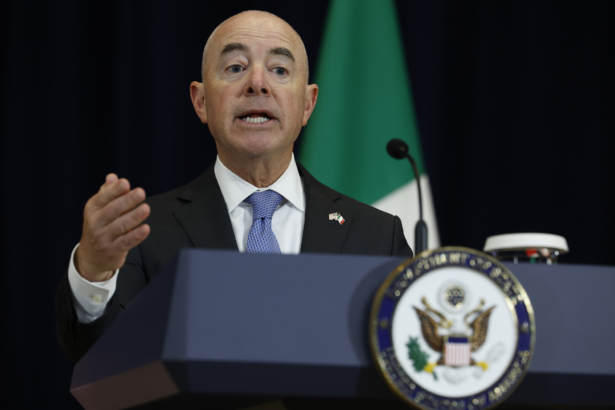 "Second, he may have lied to Congress when he testified that he was maintaining operational control of the border."
During a congressional hearing in April, Rep. Chip Roy (R-Texas) asked Mayorkas, "Will you testify under oath right now: Do we have operational control, yes or no?"
In response to Roy's question, Mayorkas said, "Yes, we do."
"Third, Secretary Mayorkas is failing to detain illegal aliens as required by law," Biggs said. "The law is clear; illegal aliens shall be detained."
He added: "Secretary Mayorkas has released more than one million illegal aliens into the country. Most of these released illegal aliens will never be heard from again."
The Federation for American Immigration Reform (FAIR), in a report published in October, estimated that 5.5 million people have illegally entered the United States since President Joe Biden took office.
"These record-breaking numbers are a direct consequence of open-borders policies implemented by Homeland Security Secretary Alejandro Mayorkas and the person who appointed him, President Joe Biden," Dan Stein, FAIR president, said in a statement about the estimate.
Stein added, "President Biden needs to clean house at DHS, and, if he is not prepared to do it, Congress needs to clean it for him, beginning with the impeachment of Secretary Mayorkas."
Last month, House Minority Leader Kevin McCarthy (R-Calif.) called for Mayorkas to resign, or House Republicans will investigate "every order, every action and every failure" to decide whether to impeach the DHS chief.
McCarthy's comments were criticized by Rep. Rosa DeLauro (D-Conn.), chair of the House Appropriations Committee, and Rep. Lucille Roybal-Allard (D-Calif.), chair of the Security Appropriations Subcommittee.
"Secretary Mayorkas has steadfastly led the Department through significant challenges over the last two years, including managing the flow of migrants across the southwest border while treating migrants fairly and humanely," the two Democrats wrote in a statement. "And it is unjust for House Republicans to once again engage in political theatrics instead of working with Democrats to address the many challenges facing the American people."
Rep. Jim Jordan (R-Ohio), who will be the chairman of the House Judiciary Committee in the Republican-led House in January, voiced his support for impeaching Mayorkas in October, telling the Washington Times in an interview that the DHS chief "deserves it."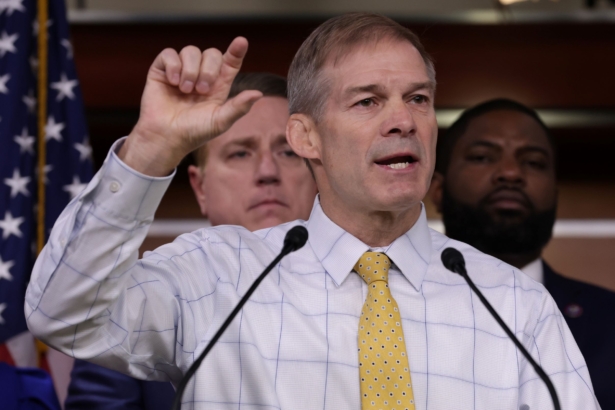 Fentanyl
The fentanyl crisis in the United States was brought up multiple times during the press conference on Tuesday.
Rep. Brian Babin (R-Texas) cited data released by Border Patrol Chief Raul Ortiz on Dec. 12, pointing out how border agents had seized $97 million worth of narcotics in the past 48 hours. Ortiz did not specify which types of drugs were seized.
In the fiscal year 2022, U.S. Customs and Border Protection (CBP) took in a total of about 656,000 pounds of drugs, among which 14,700 pounds were fentanyl, according to CBP data.
Fentanyl is a synthetic opioid that is 100 times more potent than morphine and 50 times stronger than heroin.
One recent major fentanyl seizure happened in Robstown, Texas, according to Chief Patrol Agent Gloria I. Chavez of the Rio Grande Valley Sector Border Patrol. Chavez announced on Dec. 2 that authorities found 25 pounds of liquid fentanyl in a compartment within a gas tank. The seized fentanyl, valued at $1.8 million, could kill a population of 5.665 million people, the agent added.
"Three hundred Americans each day are dying of deadly Chinese [fentanyl]. Mexican drug cartels produce fentanyl, coming in over our southern border," Babin said.
Mexico cartels have been buying precursor chemicals from China to make fentanyl and ship finished products to the United States. In October, former President Donald Trump took to his Truth Social account, urging the Biden administration to confront China over the U.S. fentanyl crisis.
"Fentanyl is now the No. 1 killer of Americans 18 to 45 years old," Rep. Kevin Hern (R-Okla.) said. "It doesn't take a genius to figure out that it's being smuggled into this country across our southern border.
"The cartels are becoming billionaires thanks to the Biden administration's open border policy."
From The Epoch Times