BARRON, Wis.—The house where Jayme Closs was kidnapped and her parents were fatally shot has been torn down in northwestern Wisconsin.
The bank that owns the house near Barron had it demolished Aug. 6 after consulting with relatives about the property. Barron County Sheriff Chris Fitzgerald tells the Star Tribune his department released the crime scene back to the estate several months ago.
The 13-year-old Closs was abducted Oct. 15 after Jake Patterson shot his way into her home and killed her parents, James and Denise Closs. Patterson held Jayme captive at his cabin in Douglas County, about 60 miles northeast of Barron until she escaped in January.
Patterson is serving life without the possibility of parole.
Patterson was sentenced on May 24 to two life-without-parole sentences for the homicides and 25 years for kidnapping.
Jayme Closs' relatives spent three months agonizing over the Wisconsin teenager's whereabouts before she escaped from the man who'd gunned down her parents and imprisoned her in a remote cabin.
Patterson, 21, was sentenced in a Barron County court in northern Wisconsin after pleading guilty to two counts of intentional homicide and a count of kidnapping.
Several Closs family members gave statements at the sentencing, talking about how Patterson's crimes affected them.
An attorney read a statement from Jayme, who was not in the courtroom.
"Jake Patterson took a lot of things that I love away from me. It makes me the most sad that he took away my mom and my dad," she said through her statement. " I used to love to go out with my friends. I love to go to school. I love to dance. He took all of those things away from me, too. It's too hard for me to go out in public."
Patterson, authorities say, shot and killed James and Denise Closs early Oct. 15 at their home outside Barron with the intent of kidnapping their only daughter, whom he'd noticed by chance just days earlier at a bus stop.
He dragged the girl from the bloody crime scene into his car's trunk and drove off, setting off a massive search.
Authorities say he held Jayme captive in his cabin some 65 miles to the north until Jan. 10, when the middle-schooler escaped and flagged down a woman walking a dog.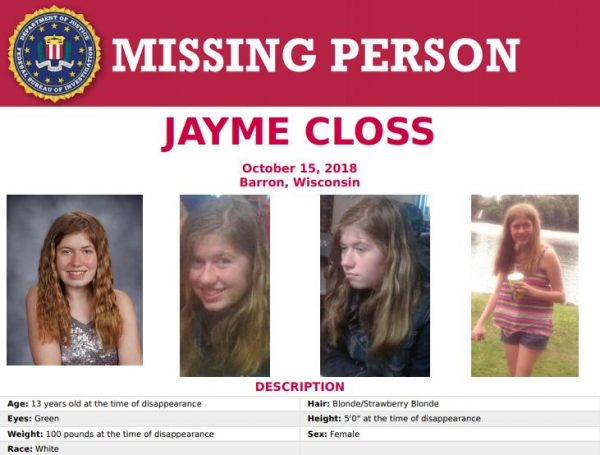 Each intentional homicide count carries a sentence of up to life in prison; kidnapping carries a term of up to 40 years.
Jayme's escape was a massive lift to Barron, her hometown of 3,400 people, many of whom helped police scour the countryside for her. The sentencing likely will be a welcome milestone as well.
"This high-profile sentencing event will bring a true finality to yet another dramatic reminder of this crime that brought tragedy to the family and this community," Diane Tremblay, the Barron schools superintendent, told USA TODAY Network-Wisconsin in an email.
The Associated Press and The CNN Wire contributed to this article.