A full blackout at a medical facility in Los Angeles amid Tropical Storm Hilary Tuesday night led to the evacuation of hundreds of patients, including 28 in critical condition, according to fire officials.
Los Angeles Fire Department (LAFD) Chief Kristin Crowley said at a news conference that the power outage at Adventist Health White Memorial Medical Facility, a six-story hospital housing OB-GYN and neonatal intensive care units, affected a total of 241 patients.
The patients in the facility who were classified as non-critical, totaling 213 people, had to be moved to a different building on the campus, the department said.
"Think about the complexity of this type of incident with no power in a six-story hospital," Ms. Crowley said. "Our challenges were; there is no power, there are no elevators. Our firefighters … had to be very innovative in how we're going to move these critical patients out of the hospital as well as the non-critical patients."
At the height of the incident, more than 100 LAFD personnel responded to the medical facility east of downtown, she added.
Los Angeles City Fire Captain Cody Weireter told reporters that patients had to be assisted from the top floor to waiting ambulances in many cases because elevators weren't operational.
The main challenge fire personnel faced was communication, Mr. Weireter said, explaining firefighters had to cooperate with doctors to determine which type of special care equipment was needed for specific critically ill patients before carrying it downstairs to ambulances either via stair chairs or gurneys.
Mr. Weireter also pointed out that 24 fire companies as well as 20 ambulances with paramedics responded to the scene to reroute patients in a timely manner.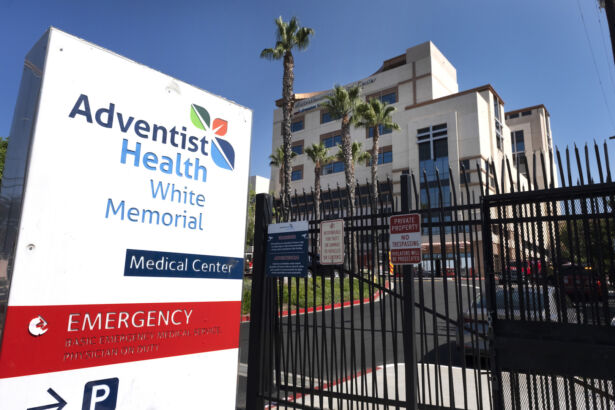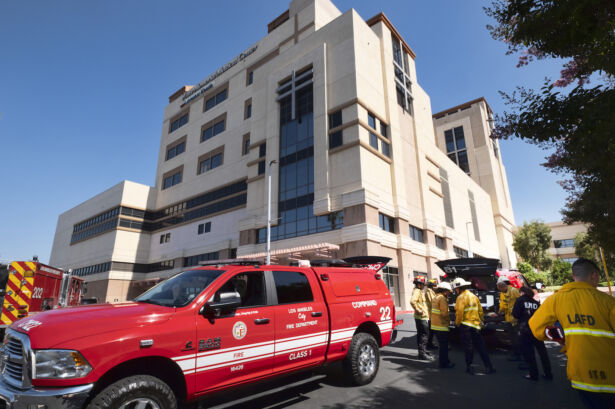 The hospital initially lost power at 3 a.m. on Aug. 21 as Tropical Storm Hilary dumped a stretch of rainfall on the city, John Raffoul, the president of Adventist Health White Memorial, said during Tuesday's news conference.
"We have three generators that immediately kicked in, and those generators are supposed to last for about three days," Mr. Raffoul said. "However, this morning … we experienced an outage of our emergency generators as well, so we had no power going through the main hospital building."
Besides the fact a major storm hit the area in Southern California, Mr. Raffoul said the cause of the double power failure is unclear at this time.
He also said that "all patients are fine," adding a new generator has been ordered and is en route to the hospital.
"An emergency generator was ordered from the city of industry and will be here shortly to power our main hospital while we figure out what went on with the main power and our emergency generators that our in-house here," Mr. Raffoul said. "We are in the mode of investigating that."
According to PowerOutage.us, there were nearly 600 customers without power in Los Angeles County as of 12 a.m. local time.