Hunter Biden arrived at a Delaware courthouse on June 29 for a deposition as part of a civil defamation lawsuit brought by the owner of a computer repair shop where Biden abandoned his now infamous laptop.
The computer repairman, John Paul Mac Isaac, sued Biden last year for $1.5 million in damages, alleging that his life was ruined after Biden falsely insisted that the laptop had been stolen or hacked into and painted Mac Isaac as a participant in a supposed Russian disinformation campaign.
According to the complaint (pdf), Biden never returned to pick up the laptop from the Wilmington, Delaware, shop in April 2019, despite many attempts by Mac Isaac to contact him. Mac Isaac said this makes him the device's legal owner.
Mac Isaac alerted the FBI after seeing the laptop's contents, including lewd photos and emails purported to show then-Vice President Joe Biden's involvement in his son's foreign business dealings. Mac Isaac also made a copy of the hard drive and shared it with then President Donald Trump's attorney, Rudy Giuliani, who eventually provided the information to the New York Post.
An exposé by the New York Post ran in October 2020, ahead of the presidential election, featuring some of the emails obtained from the laptop. The report was met with suppression on some of the largest social media platforms and labeled as Russian disinformation in a letter signed by 51 former members of U.S. intelligence agencies—two of whom are now saying they signed it at the direction of senior officials for Joe Biden's presidential campaign.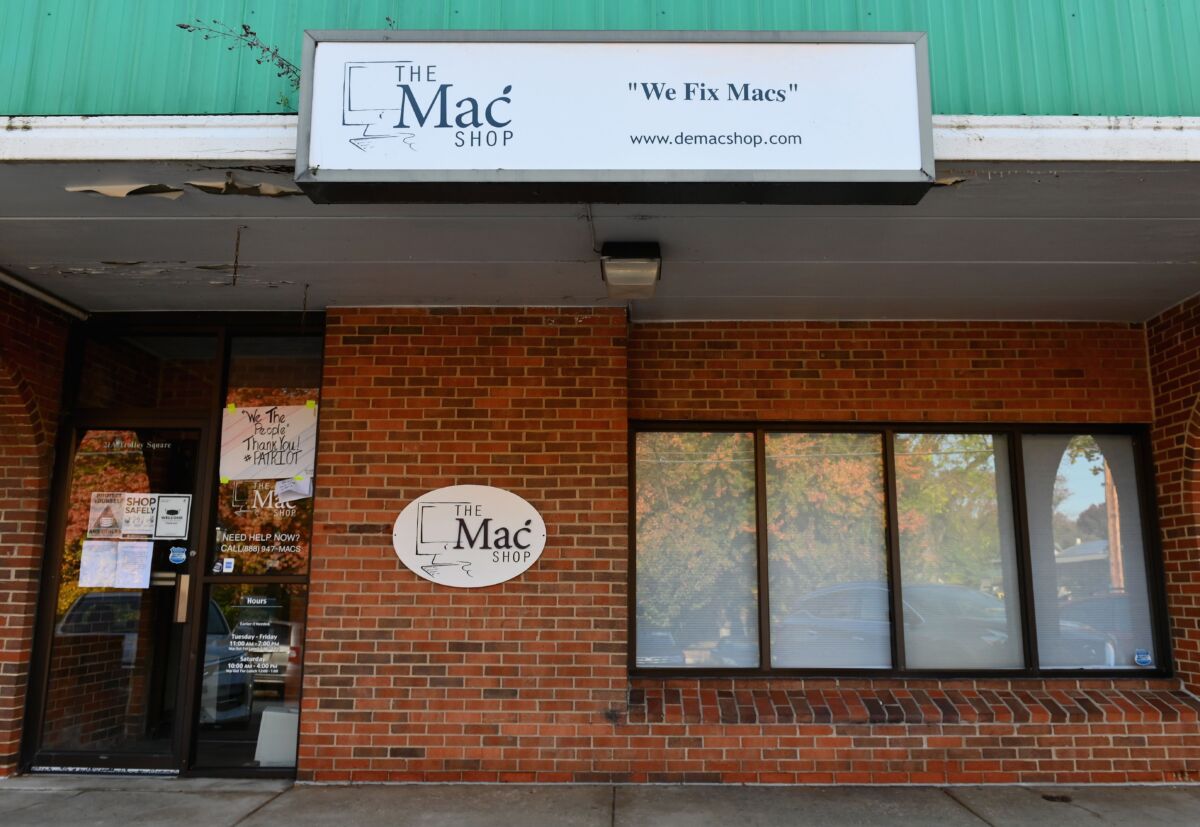 Biden Files Own Suit
Hunter Biden, who claimed in 2020 that the laptop might not be his at all, that it "could be" stolen from him or that it was a scheme by "Russian intelligence," admitted that the device was indeed his, after all, when he filed a privacy lawsuit in March against Mac Isaac.
In the countersuit, Biden accused the computer repairman of illegally obtaining and spreading the laptop's content, although Mac Isaac didn't directly share the files with the New York Post.
"No matter how they came into his initial possession, Mac Isaac improperly accessed files that he admits were 'none of [his] business' even though he was never given permission by Mr. Biden to access or review any data of Mr. Biden's," the lawsuit read. It further alleged that Mac Isaac didn't have "any reasonable or legitimate purposes" other than to "embarrass" Biden and to "make money" out of the controversy.
Mac Isaac is also suing CNN, Politico, The Daily Beast, and Rep. Adam Schiff (D-Calif.), former chairman of the House Intelligence Committee, who dismissed the New York Post story as the work of the Russian government.
"Clearly, the origins of this whole smear are from the Kremlin, and the president is only too happy to have Kremlin help in trying to amplify it," Schiff told CNN in October 2020. "The intelligence community has made that abundantly clear, and this particular smear, though, has also been acknowledged to come from the Kremlin."
This comment was contested by John Ratcliffe, who served at the time as director of national intelligence.
"Let me be clear, the intelligence community doesn't believe that because there is no intelligence that supports that, and we have shared no intelligence with Chairman Schiff or any other member of Congress that Hunter Biden's laptop is part of some Russian disinformation campaign," Ratcliffe said on Fox Business days after Schiff's CNN interview. "It's simply not true."
In his lawsuit, Mac Isaac asserts that "Schiff had not received reports that the Hunter Biden laptop information was part of a Russian disinformation campaign; therefore, Schiff knowingly and intentionally made the false statements," adding that this was "not the first time Schiff has knowingly made false statements about Russia's involvement in United States politics."
Schiff has recently been censured by the House over the role he played in a fruitless investigation into Trump's supposed collusion with the Russian government prior to the 2016 presidential election. The 22-month, $32 million probe concluded with a report saying there was no evidence showing that the Trump campaign aided Russian attempts to interfere with the election.
From The Epoch Times