The U.S. prosecutor investigating President Joe Biden's son confirmed that he asked for more power and was denied, a transcript of his closed-door testimony to members of Congress shows.
U.S. Attorney David Weiss, who has been probing Hunter Biden for years, asked U.S. Department of Justice (DOJ) officials in February 2022 for special attorney status to prosecute Mr. Biden in Washington, Mr. Weiss told the House Judiciary Committee.
The request "wasn't granted," Mr. Weiss said.
The officials were identified as Deputy Attorney General John Carlin and Associate Deputy Attorney General Bradley Weinsheimer.
The transcript of the testimony from Mr. Weiss was reviewed by The Epoch Times.
It confirms what Rep. Jim Jordan (R-Ohio), chairman of the panel, told reporters as the testimony took place.
"He requested. He was not given that request," Mr. Jordan said on Wednesday outside the room in Washington in which Mr. Weiss was answering questions.
Mr. Weiss told members that DOJ officials directed him instead to ask U.S. Attorney for the District of Washington Matthew Graves, an appointee of President Biden, to partner on the prosecution of Mr. Biden.
Mr. Weiss is the U.S. attorney for Delaware. He's the only appointee of President Donald Trump to remain as U.S. attorney.
Mr. Graves has told the panel that he declined the request to partner.
Martin Estrada, the U.S. attorney for central California, and another President Biden appointee, also rejected a partner request.
Despite the rejections, Mr. Weiss was never made a special attorney, which would have enabled him to charge Mr. Biden in a specified district or districts outside Delaware.
Mr. Weiss claimed that the DOJ would have given him the authority but did not because he did not decide "as to where the case would proceed, or how the case would proceed."
"The authority, to the best of my belief, that had been resolved. I was going to have the authority; just a question of where I was going to move forward with respect to that," he said.
In a July letter to a senator, Mr. Weiss said that in a conversation with DOJ officials about potentially being made special attorney, "I was assured I would be granted this authority if it proved necessary."
Mr. Weiss did not disclose in the letter that he had actually asked for the status and had been denied.
"He maintains I would have always been able to get it if I had asked for it," Mr. Jordan said. "But then his answer was I asked for it and wasn't given it."
A request for comment to the DOJ returned the opening statement the department said Mr. Weiss delivered to the panel. Mr. Weiss in his prepared remarks alleged that "at no time was I blocked, or otherwise prevented from pursuing charges or taking the steps necessary in the investigation by other United States Attorneys, the Tax Division or anyone else at the Department of Justice."
Mr. Weiss, though, told members that tax charges do require consultation with the DOJ's Tax Division and that if the division and he diverged on charges, he would need to appeal to Deputy Attorney General John Carlin or Attorney General Merrick Garland.
"If we came to an impasse—which, as I said, didn't happen in this case—and I felt that my position was the one I wanted to pursue, and I felt that my course of action was the appropriate one, I could have appealed to the deputy attorney general or the attorney general," Mr. Weiss said.
Mr. Garland told lawmakers in September that other U.S. attorneys could refuse to partner with Mr. Weiss but that "no one had the authority to turn him down."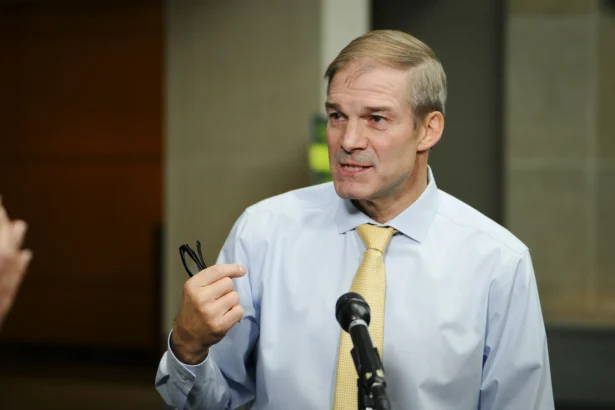 Made Special Counsel
After several whistleblowers from the IRS who had worked on the probe into Mr. Biden came forward earlier this year, Mr. Weiss charged Mr. Biden for tax and gun crimes in Delaware.
Mr. Weiss was also made special counsel in August by Mr. Garland, another appointee of President Biden.
Mr. Weiss declined to say why he asked to be made special counsel rather than stick on the path of becoming special attorney.
He did note to members the differences between the statuses. One is that being made special attorney entails a lengthy process, while being made special counsel can happen quickly, Mr. Weiss said.
He also said that special attorneys don't have to report as much to the DOJ, while special counsels are required to provide the attorney general with a report after finishing a probe. Special counsels also have authority to operate in any federal district while special attorneys can only operate in the district in which they were appointed.
Mr. Weiss's elevation came after a plea deal hammered out between representatives of Mr. Biden and the DOJ was scuttled, which eventually resulted in Mr. Biden being hit with additional charges related to possessing a gun and the government successfully seeking the dismissal of the tax charges in order to file them in another district.
The tax charges that had been filed related to two years, 2016 and 2017. Mr. Weiss confirmed in his testimony that the statute of limitations for 2014 and 2015 expired during his investigation, but he declined to say whether that was an accident or intentional.
"Those are matters that are related to the deliberative process, go to the investigation, and are matters that, at this point in time, I'm just not in a position to discuss," he said. "I would expect that I would be in a position at the conclusion of our investigation where I can address it in the submission of the report."
Mark Tapscott and Joseph Lord contributed to this report.
From The Epoch Times