Some members of immigrant families who cross the U.S.–Mexico border illegally and seek asylum in the United States will be monitored and must abide by a curfew under a new Biden administration program, Immigration and Customs Enforcement's (ICE's) Enforcement and Removal Operations (ERO) announced on May 10.
The new "process" will impact family units—those who cross the southwest border with minors—who are apprehended and processed for the last-track deportation process known as expedited removal and who indicate that they plan to apply for asylum without being deported, ICE said in a news release.
It will also impact family units apprehended at the southern border who express a "credible fear" of persecution or torture if they were to be sent back to their home nation.
Known as the Family Expedited Removal Management (FERM), the program will place certain heads of household for family units on Alternatives to Detention (ATD) technology—effectively a GPS ankle monitor—so that ICE officials can continuously monitor them.
The heads of the households will also be subject to a curfew, ICE said.
According to ICE, the new process is designed to ensure that family units who claim "credible fear" of persecution if they are returned home turn up for their interviews with U.S. Citizenship and Immigration Services on time, as well as for any other reviews requested by an immigration judge.
The process means that the heads of the families will also not need to be held in detention centers, something that Homeland Security Secretary Alejandro N. Mayorkas has said the government has no plans to bring back.
It also helps ICE to locate families who do not qualify for the credible fear and are thus removed from the United States within 30 days under the expedited removal program.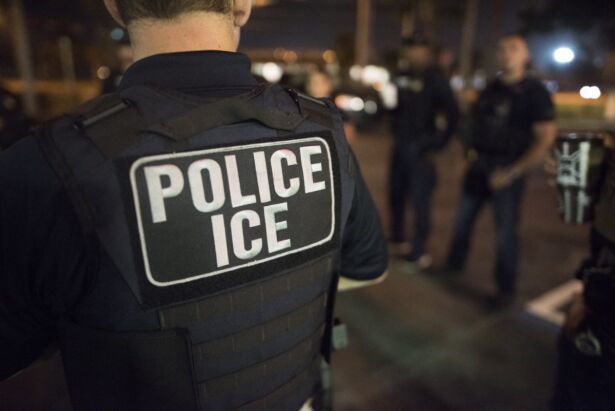 'Safe and Humane' Immigration Consequences
The majority of heads of households of family units who are not placed into FERM will be placed in other forms of Alternatives to Detention, ICE said.
"ERO is committed to imposing immigration consequences in a safe and humane manner to those who unlawfully enter the United States," ERO Executive Associate Director Corey A. Price said in a statement.
"Families should not listen to the lies of smugglers. Like single adults, noncitizens traveling with their children who do not have a lawful basis to remain in the United States will be quickly removed and barred from reentry for at least five years," Price added.
According to ICE, immigrant families will only be enrolled into the new program if they are processed for expedited removal; are nationals of countries to which ICE maintains regular removal flights; and reside in a location under the jurisdiction of the ICE field office based in one of four FERM-destination cities.
ICE did not state which cities will take part in the FERM program, however the Los Angeles Times reported that some immigrant families headed to Newark, New Jersey; Baltimore, Maryland; Washington, D.C.; and Chicago, Illinois will be subject to the new process.
Heads of households will be under curfews from 11 p.m. to 5 a.m., according to the publication, and will have to remain at home during those hours.
The Epoch Times has contacted ICE for further comment.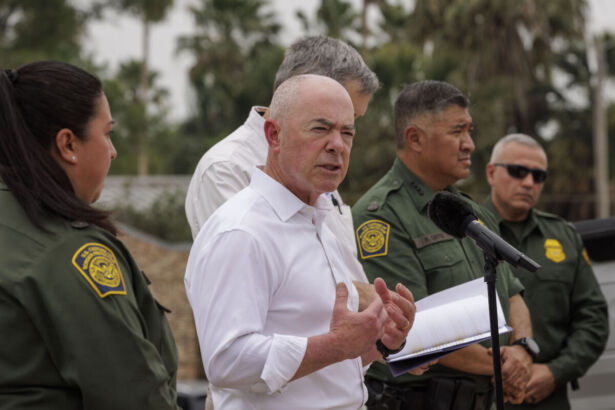 Title 42 Ending
The latest program is one of many initiatives the Biden administration has launched amid the ongoing immigration crisis, which experts have warned will likely worsen now that the Title 42 Trump-era public health policy is coming to an end.
Title 42 allows Border Patrol agents to turn illegal immigrants back to Mexico immediately over public health concerns amid the COVID-19 pandemic.
It is set to expire on May 11. Officials expect a huge surge in immigrants.
Acting Commissioner Troy Miller told Congress in April that about 10,000 immigrants a day are expected to cross the border when Title 42 is lifted, although the Department of Homeland Security has said this could be higher, at around 14,000 a day.
Approximately 26,382 illegal immigrants were apprehended at the southern border over the past weekend alone, while another 7,399 "getaways" were recorded.
The Biden administration also announced earlier this week that it would be conducting a "targeted enforcement operation" in El Paso, Texas, targeting immigrants who crossed the southern border illegally and were not processed for entry into the United States.
However, the announcement was quickly criticized by the National Border Patrol Council, the union that represents about 18,000 Border Patrol agents and support personnel, who accused the agency of tipping off immigrants ahead of the operation.
Elsewhere, the administration introduced a new regulation under which most immigrants are presumed ineligible for asylum if they passed through other nations without seeking protection elsewhere first, or if they failed to use legal pathways for U.S. entry.
According to Mayorkas, the new rule will bar illegal immigrants from entering the United States for five years if they are found to not qualify for asylum.
"We are making it very clear that our border is not open, that crossing irregularly is against the law, and that those who are not eligible for relief will be quickly returned," Mayorkas said on May 10 during a press conference in Washington.
From The Epoch Times