Idaho Gov. Brad Little signed legislation into law on Friday that added firing squads as an alternative method of execution for the state's death-row inmates.
The bill—dubbed House Bill 186—stipulates that the form of capital punishment will only be used if the state is unable to obtain the drugs needed to perform lethal injections.
"I have not given up on the state's ability to require the chemicals," Little wrote in a transmittal letter (pdf) after signing the bill. "And, I believe the bill I signed into law last year helped expand options that would not have been available without it."
The new law, which goes into effect in July, also tasks the Idaho Department of Correction (IDOC) with refurbishing a death chamber—which will cost an estimated $750,000—at a maximum-security prison housing death row inmates so the state can move forward with firing squad executions, according to a fiscal note (pdf) tied to the bill.
"Throughout my life in public service, I have supported capital punishment when our justice system determines death is the only appropriate sentence for a person who committed a heinous crime," Little wrote in the letter.
"While I am signing this bill, it is important to point out that fulfilling justice can and must be done by minimizing stress on corrections personnel," he added. "For the people on death row, a jury convicted them of their crimes, and they were lawfully sentenced to death. It is the responsibility of the state of Idaho to follow the law and ensure that lawful criminal sentences are carried out."
Sen. Doug Ricks, a Republican who co-sponsored the bill, told his fellow senators on Monday that the state's difficulty in finding lethal injection drugs could continue "indefinitely," noting that he thinks death by firing squad is "humane."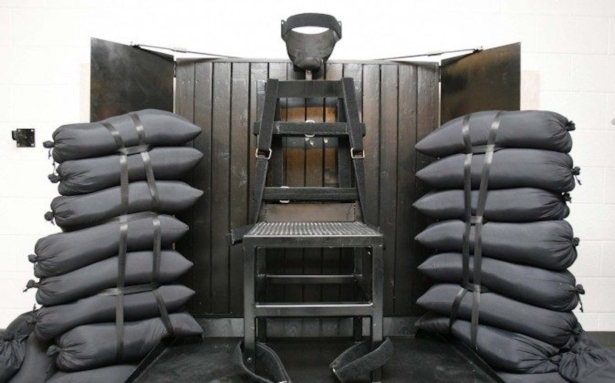 "This is a rule of law issue—our criminal system should work and penalties should be exacted," Ricks said.
Sen. Dan Foreman, also a Republican, meanwhile, argued that the method of execution would traumatize the people who carry them out, as well as the people who witness them and those who clean up afterward.
"I've seen the aftermath of shootings, and it's psychologically damaging to anybody who witnesses it," Foreman said. "The use of the firing squad is, in my opinion, beneath the dignity of the state of Idaho."
According to the IDOC website, there are eight people currently on death row in the state, including 67-year-old Gerald Pizzuto, who was convicted and sentenced to death nearly four decades ago for double murder and robbery.
Pizzuto's scheduled execution date has been postponed due to officials being unable to obtain the necessary drugs for lethal injection. For years, U.S. pharmaceutical companies such as Pfizer have limited how the product is used, saying they were meant to save lives, which resulted in executions in many states being put on hold.
Return of Firing Squads
Idaho follows four other states that permit firing squads—Mississippi, Oklahoma, South Carolina, and Utah—according to the Death Penalty Information Center. Currently, the death penalty is authorized in 24 states, while three states have moratoriums in place.
Tennessee, meanwhile, is also in the midst of considering similar legislation to authorize an alternative method of execution to lethal injection. Earlier this month, a bill—dubbed House Bill 1245—seeking to allow the state to carry out death by electrocution was "placed behind the budget," meaning the state's general assembly will wait to consider it until it passes the budget.
In March last year, South Carolina became the latest state to approve firing squads, removing a major hurdle in the state's efforts to restart executions because it had been unable to purchase lethal injection drugs.
Former President Donald Trump repeatedly expressed support for capital punishment and restarted the practice at the federal level in 2020 after a 17-year hiatus. Trump argued that executions serve as an effective deterrent and an appropriate punishment for some crimes, including mass shootings and the killings of police officers.
President Joe Biden, meanwhile, is the first sitting U.S. president in American history to openly and publicly oppose the death penalty and advocate its abolition.
Biden's attorney general, Merrick Garland, ordered a temporary pause on federal executions in 2021 while the Department of Justice reviewed protocols. Garland did not say how long the moratorium will last.
Although Biden pledged during his campaign to work at ending the death penalty nationwide, he has remained silent on the issue as president.
The Associated Press contributed to this report.