Rep. Ilhan Omar (D-Minn.), who has been castigated for past comments that many perceived as anti-Semitic, said that she's planning to travel to Israel to see the "occupation" while also saying she plans a resolution in support of a campaign to boycott the country.
Omar told the Jewish Insider website on July 17 about the planned trip, saying she'd travel to Israel and the West Bank in a few weeks.
"I am going in a couple of weeks and so I'll learn more," Omar said. "But truly, everything that I hear points to both sides feeling like there is still an occupation."
She said that she supports a two-state solution.
Rep. Ilhan Omar (D-MN) tells me she's traveling to Israel and Palestine "in a few weeks" and looks forward to learning more, specifically about occupation. "Everything that I hear points to both sides feeling like there is still an occupation."

— Laura Kelly (@HelloLauraKelly) July 17, 2019
"We must really address that [occupation] and make sure that as we push forth a two-state solution, that we acknowledge that and fight any attempts to stall this process and make sure that there is an opportunity for both sides to fully recognize each other's dignity and to live peacefully," she said.
The House Foreign Affairs Committee, which Omar sits on, had passed some Israel related bills, including a resolution in support of a two-state solution and a resolution (pdf) opposing the Boycott, Divestment, Sanctions (BDS) movement against Israel, which some say is antisemitic in nature.
Omar said she opposes the anti-BDS resolution.
"If we are going to condemn violent means of resisting the occupation, we cannot also condemn nonviolent means," Omar said during the committee meeting.
She introduced a pro-boycott resolution that doesn't mention BDS but was a response to the anti-BDS measure.
"We are introducing a resolution … to really speak about the American values that support and believe in our ability to exercise our first amendment rights in regard to boycotting," Omar told Al-Monitor. "And it is an opportunity for us to explain why it is we support a nonviolent movement, which is the BDS movement."
The bill was introduced on July 16 by Omar, Rep. Rashida Tlaib (D-Mich.), who is from the Palestinian territories, and Rep. John Lewis (D-Ga.), a civil rights pioneer.
The bill states it "affirms that all Americans have the right to participate in boycotts in pursuit of civil and human rights at home and abroad, as protected by the First Amendment to the Constitution" and "opposes unconstitutional legislative efforts to limit the use of boycotts to further civil rights at home and abroad."
Omar and Tlaib were the first lawmakers to support the controversial BDS movement after winning their respective races in the 2018 midterms.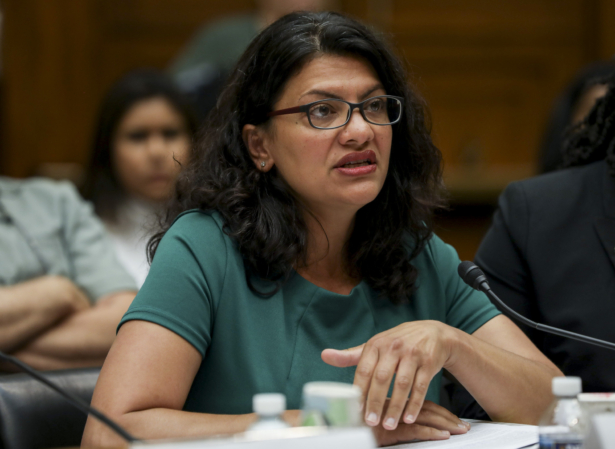 Rep. Brad Sherman (D-Calif.) said that the resolution shouldn't be taken seriously.
"I can't imagine that any committee is going to mark up or take seriously any pro-BDS resolution," Sherman told the Jerusalem Post. "Am I worried about the overall BDS movement worldwide as an economic matter? No. As an effort to delegitimize Israel, of course. The comments here today are a tiny part of that delegitimizing effort."
The planned trip and resolution came after Omar was asked during an interview whether she regretted past comments, such as when she said lawmakers primarily supported Israel for financial gain.
"You don't regret your words?" Gayle King of CBS asked the representative.
"I do not," Omar responded.
Rep. Ilhan Omar is asked in new interview if she regrets infamous "Benjamins" comment. "I do not," she replies. pic.twitter.com/LfTEXHX2eJ

— Zachary Stieber (@ZackStieber) July 17, 2019
"But I have gotten the—I am grateful for the opportunity to really learn how my words make people feel and have taken every single opportunity I've gotten to make sure that people understood that I apologize for it."
Omar said earlier this year: "I want to talk about the political influence in this country that says it is OK to push for allegiance to a foreign country."
She said in a missive years ago: "Israel has hypnotized the world, may Allah awaken the people and help them see the evil doings of Israel."
She deleted the tweet this year after speaking with Jewish organizations. "My use of the word 'Hypnotize' and the ugly sentiment it holds was offensive," she said, explaining why she removed it.
Just weeks later, though, Omar took to Twitter to insinuate that the Jewish group AIPAC was behind a scheme to exchange funding for politicians in return for supporting Israel. When asked why American politicians support Israel, she added: "It's all about the Benjamins!" referring to money. After fierce criticism, she apologized but also suggested she was being criticized for speaking her mind.
The criticism included a statement from the Anti-Defamation League's CEO, Jonathan Greenblatt.
"As Americans and Jews, we expect our politicians to condemn bigotry, not to fuel it. Words matter. At a time when anti-Semitism is on the rise in the U.S. and abroad, Rep. Omar is promoting the ugly, anti-Semitic conspiracy theory that Jews have an outsized influence over politics," he said at the time.
"The notion that wealthy Jews are controlling the government is a longstanding anti-Semitic trope and one of the pillars of modern anti-Semitism, a retread of ideas spread by bigots from David Duke to Louis Farrakhan."