The number of people trying to enter the United States illegally has soared to a new high under President Joe Biden's watch, with border patrol data for August notching the highest monthly figure in recorded history.
U.S. Customs and Border Protection (CBP) said in a Friday update on nationwide encounters that, in August, 304,162 people were either deemed inadmissible at points of entry or were caught by Border Patrol agents after crossing the border illegally.
In July, that figure stood at 245,213, with the August numbers representing a staggering 24 percent increase—and a new record high.
The previous record was also set under President Biden's tenure, with 302,412 nationwide encounters in December 2022, per CBP data.
Of the 300,000-plus nationwide encounters, Border Patrol agents arrested 181,059 people who crossed the southern border illegally in August.
While the number of arrests along the southern border in August was 36 percent higher than in July (which saw 132,648 apprehensions), it's lower than the record 224,370 set in May 2022 and lower than recent highs notched in November and December of last year.
CBP said in a statement that it expects to see fluctuations in migration, "knowing that smugglers continue to mislead and exploit vulnerable individuals."
"Our operational tempo along the border has increased in response to increased encounters, and we remain squarely focused on our broader security mission and enforcing U.S. immigration laws," Troy Miller, senior official performing the duties of CPB commissioner, said in a statement.
Since President Biden took office, Border Patrol agents have arrested over 7 million people crossing the border illegally between ports of entry.
Texas Steps Up
Republicans have blamed the president's policies for helping fuel the border crisis.
"Joe Biden completely abandoned his constitutional duty to secure the border," Texas Gov. Greg Abbott said in a post on X on Friday.
Mr. Abbott said that Texas was taking matters into its own hands in light of the illegal immigration surge.
"Texas stepped up in his absence to build the wall, repel illegal crossings, and protect our country," he said.
A day earlier, Mr. Abbott declared an "invasion" at the southern border and said he had ordered the Texas National Guard, the state's Department of Public Safety, and local law enforcement to plug gaps in border security.
"We are building a border wall, razor wire & marine barriers," Mr. Abbott said in a post on X.
In 2021, Mr. Abbott promised to build a wall along its border with Mexico as part of a slew of border security initiatives, including a $1 billion allocation for border security in the state budget.
During a news conference on June 10, 2021, he said that the border wall—and other initiatives, including increasing arrests of illegal border crossers—would reduce the flow of illegal immigrants into Texas.
Mr. Abbott has since provided several updates on the border wall effort, including a Sept. 15 statement and a Sept. 12 post on X, which featured a video showing the barrier being lifted into place by a crane in the Del Rio sector.
Texas is adding more border wall today.

This is in the Del Rio sector. pic.twitter.com/TpuL1aq6Cq

— Greg Abbott (@GregAbbott_TX) September 13, 2023
Mike Banks, special adviser to Mr. Abbott on border matters, took to X to post a video showing another convoy of Texas National Guard soldiers being deployed to install more razor wire in Eagle Pass, a border town in Texas that has declared a state of emergency after being inundated by illegal immigrants.
The White House did not immediately respond to a request for comment on Mr. Abbott's remarks blaming President Biden for the surge in illegal immigration.
Eagle Pass Emergency
Earlier this week, Rolando Salinas, Jr., the mayor of Eagle Pass, issued an emergency declaration due to a "severe" surge in illegal immigration.
Mr. Salinas signed the order on Sept. 19, officially declaring a state of disaster for the city of Eagle Pass that will last for at least seven days and may be renewed if the crisis persists.
Eagle Pass's 30,000 or so residents have been overwhelmed by an influx of thousands of illegal immigrants in recent days.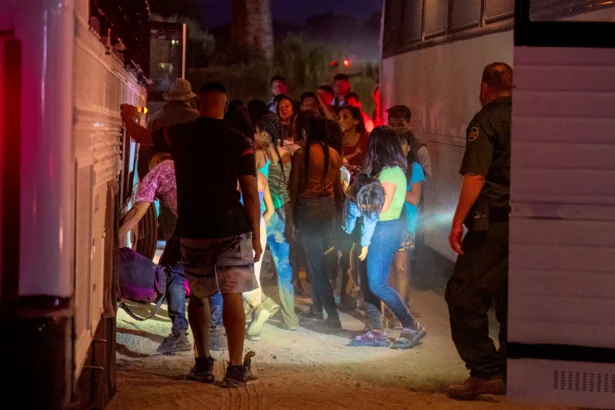 At a Sept. 19 press conference, Mr. Salinas estimated that over Sunday and into early Monday, around 2,500 people crossed into Eagle Pass illegally, though he cautioned that this was not an "official, exact number."
According to Maverick County Sheriff Tom Schmerber, another 2,700 migrants crossed at Eagle Pass on Tuesday and 3,000 more on Wednesday.
In response to the influx, Mr. Abbott said Friday that he had directed the Texas Division of Emergency Management (TDEM) to deploy more buses to Eagle Pass and El Paso, which is also facing pressure from increased illegal immigration flows.
"Texas communities like Eagle Pass and El Paso should not have to shoulder the unprecedented surge of illegal immigration caused by President Biden's reckless open border policies," Mr. Abbott said in a statement.
CBP said it was temporarily halting vehicle processing operations at a bridge and railway crossing at Eagle Pass and redirecting those resources to help arrest people crossing the border illegally.
"In response to this influx in encounters, we will continue to surge all available resources to expeditiously and safely process migrants," the agency said in a statement.
Department of Homeland Security (DHS) officials told reporters in a call Wednesday night that around 800 new active-duty personnel were being sent to the border to help with encounter efforts.
Former President Donald Trump, who's been a critic of his successor's border policies, told supporters at a rally in Iowa on Wednesday that, if elected, he would shift resources from federal law enforcement agencies and send thousands of overseas-based troops to help secure the border.
"Upon my inauguration, I will immediately terminate every open borders policy of the Biden administration. I'll make clear that we must use any and all resources needed to stop the invasion, including moving thousands of troops currently stationed overseas," President Trump said at a rally in Dubuque, Iowa, on Sept. 20.
Many Republicans see the issue of illegal border crossings as one of the country's most pressing issues while polling shows that for Democrats, it's of relatively low priority.
From The Epoch Times