Although former President Donald Trump has not signaled whether he would attend the first Republican debate next week, he questioned why he should partake.
The former commander-in-chief pointed to recent poll numbers that show he's significantly ahead of the pack and also pointed to his record as president. The onetime president, meanwhile, noted that former President Ronald Reagan and others didn't attend some debates.
"Many people are asking whether or not I will be doing the DEBATES? ALL AMERICANS have been clamoring for a President of extremely High Intelligence. As everyone is aware, my Poll numbers, over a 'wonderful' field of Republican candidates, are extraordinary," President Trump wrote on Truth Social on Thursday.
"In fact, I am leading the runner up, whoever that may now be, by more than 50 Points. Reagan didn't do it, and neither did others. People know my Record, one of the BEST EVER, so why would I Debate? I'M YOUR MAN. MAKE AMERICA GREAT AGAIN!"
Florida Gov. Ron DeSantis, Vivek Ramaswamy Sen. Tim Scott (R-S.C.), former South Carolina Gov. Nikki Haley, and North Dakota Gov. Doug Burgum have indicated they would attend the debate, signing the Republican National Committee's (RNC) pledge to back the eventual GOP nominee. President Trump has said he wouldn't sign the pledge because there are several Republican candidates he wouldn't back as president.
"I wouldn't sign the pledge," President Trump told Fox News last week. "They want you to sign a pledge, but I can name three or four people that I wouldn't support for president. So right there, there's a problem."
Hours after President Trump's Truth Social post, New Jersey Gov. Chris Christie and Never Back Down, a super PAC behind Mr. DeSantis, criticized the former president.
"If you want to be President you have to show up. Show up at debates, show up at town halls, and show up with the truth. You can't hide and you can't pretend to be someone you aren't. Great convo and coffee in South Miami," Mr. Christie wrote on X, formerly known as Twitter, on Friday.
And Never Back Down post a video from Wednesday that asserted: "We can't afford a nominee who's too weak to debate." It also showed videos of the former president not committing to debating.
President Trump has a significant lead over the fray, according to opinion polls compiled by RealClearPolitics. As of Friday, he leads with 54.7 percent, compared to Mr. DeSantis with 14.8 percent, Mr. Ramaswamy with 6.9 percent, and former Vice President Mike Pence at 5.4 percent, Mrs. Haley at 3.6 percent, Mr. Scott at 2.7 percent, and Mr. Christie at 2.7 percent.
Both Mr. Christie and Mr. Pence have suggested they would attend the debate, slated for Aug. 23 in Milwaukee.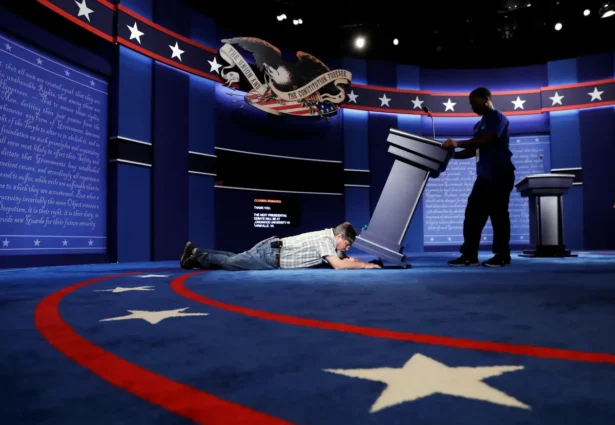 GOP candidates also must sign a statement pledging not to participate in any debates not sanctioned by the party, including the general election debates sponsored by the Commission on Presidential Debates, and to support the winner of the Republican primary.
"I affirm that if I do not win the 2024 Republican nomination of President of the United States, I will honor the will of the primary voters and support the nominee in order to save our country and beat Joe Biden," the pledge says, according to a copy posted by Mr. DeSantis to X, the social media site formerly known as Twitter. Candidates also must pledge not to run as an independent, write-in candidate or third-party nominee.
Republican National Committee Chairwoman Ronna McDaniel claimed Thursday that she believes President Trump will sign the pledge and eventually attend the debate.
"He's signed the pledge before. He signed it to get on the South Carolina ballot," Mrs. McDaniel told NewsNation. "I have a feeling if he wants to be on the debate stage, he's going to sign that pledge."
Other Republican officials in and around rival campaigns believe President Trump will end up on the debate stage regardless of the drama in the days leading up to the high-stakes affair.
"You've got to prepare for two contingencies: one where Trump shows up and one where he doesn't. It makes it more complicated," said Republican strategist Lanhee Chen, who has been in touch with multiple campaigns about their debate preparations. "For many voters, this will be their first introduction to the candidates. … What they do on this one night may be more substantial than anything else they've done."
Only former Texas Rep. Will Hurd has said definitively that he will not sign the 2024 pledge, though he has not met the polling and fundraising thresholds required to attend. He said he won't support Trump if he becomes the eventual nominee.
The Associated Press contributed to this report.
From The Epoch Times