President Joe Biden took his economic message to Philadelphia, touting his administration's progress in rebuilding the middle class by stimulating American manufacturing, upgrading infrastructure, and increasing wages. The stop was the latest in a string of appearances by Mr. Biden aimed at selling his economic record to voters in the run-up to the 2024 election.
The crux of Mr. Biden's message is that his approach to stimulating economic growth benefits Americans across the economic spectrum while the corporate tax and federal spending cuts advocated by his opponents benefit only the wealthy.
Though the president claims his policies have reduced inflation and positioned the U.S. for long-term growth, that message has been a tough sell to many Americans who tend to judge the economy based on kitchen-table issues like interest rates and the price of gasoline.
'Bidenomics' Defined
Mr. Biden delivered his message to a crowd of union workers at Philly Shipyard, a leading manufacturer of large ocean-going vessels, on July 19. The appearance marked his third economic speech in the last four weeks, following stops in South Carolina and Chicago.
Mr. Biden announced the start of work on a vessel called the Acadia, which will assist in the construction of sea-based wind turbines. The ship will be the first of its kind and be constructed with American-made steel and engines and crewed by Americans, he said.
The project illustrates the president's strategy, dubbed Bidenomics, which focuses on manufacturing with an emphasis on green energy and infrastructure projects. Referring to the Inflation Reduction Act, which includes $368 billion in climate-related projects, Mr. Biden said, "When I think climate, I think jobs. I think union jobs … This law is creating millions of good-paying clean-energy manufacturing jobs, including offshore wind."
The term Bidenomics was coined by journalists to describe Mr. Biden's policies. He has since embraced the term, as have his political opponents, who use it derisively. The president often contrasts his philosophy with so-called trickle-down economics, the economic strategy employed by President Ronald Reagan in the 1980s, also known as Reaganomics.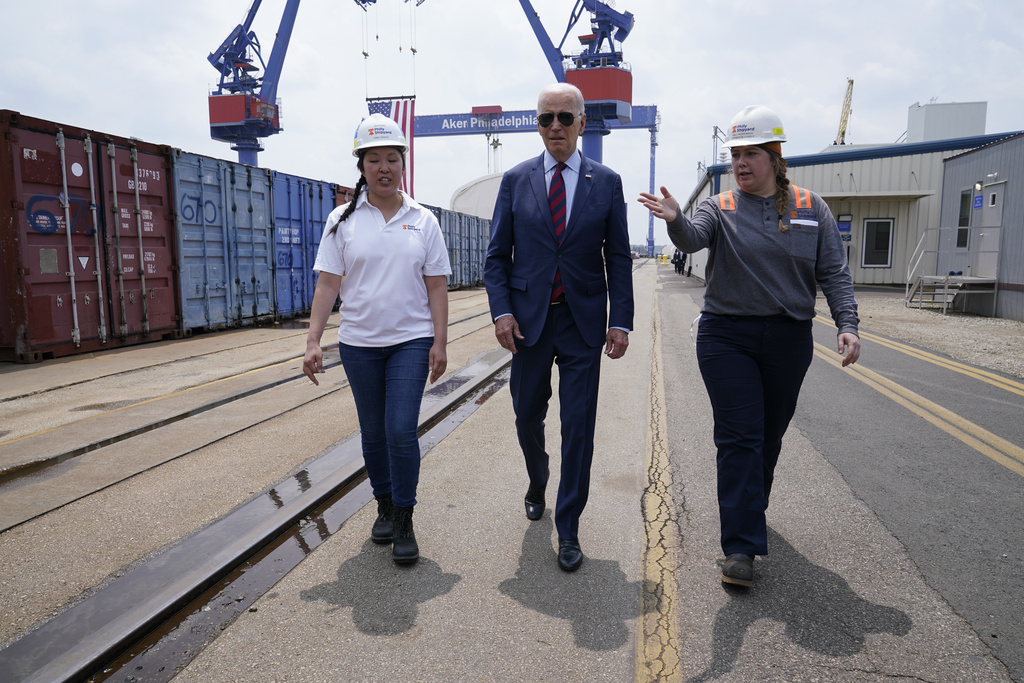 That strategy focused on increasing defense spending, balancing the federal budget, reducing federal income and capital gains taxes, and government deregulation. The idea was that by removing constraints on business, the economy would grow, and prosperity would "trickle down" to the middle class.
"I watched my dad growing up, and not a whole lot of benefit trickled down on his kitchen table," Mr. Biden said.
He then described Bidenomics in a nutshell.
"I don't think the problem in America is [that] too many people are working or the people are making too much money. Instead, we focused on getting Americans into the workforce by fixing a broken supply chain, lowering the cost of products, everything from health care to the products we purchase," he added, noting that corporations have benefited also, as profits reached record highs during the pandemic.
The shipbuilders received Mr. Biden's message enthusiastically. Others remain skeptical.
Perception Problem
The public overwhelmingly disapproves of the president's handling of the economy, according to recent opinion polls. A poll released July 19 by Monmouth University indicates that 62 percent of respondents disapprove of Mr. Biden's handling of inflation, and opinion is evenly split on his handling of jobs and unemployment. Even transportation and energy infrastructure, key components of Bidenomics, received a 51 percent disapproval rate.
That disapproval comes despite the fact that consumer confidence in June reached the highest level since January 2022, inflation has fallen to 3 percent from its high of 9.1 percent just over a year ago, and unemployment remains under 4 percent, where it has been for 17 months.
In follow-up interviews to a June public opinion poll conducted by the Associated Press, respondents were more aware of fuel and food prices than of Mr. Biden's economic initiatives. Few were able to name the Inflation Reduction Act or the CHIPS and Science Act, indicating that these large-scale investments in manufacturing have yet to impact everyday life.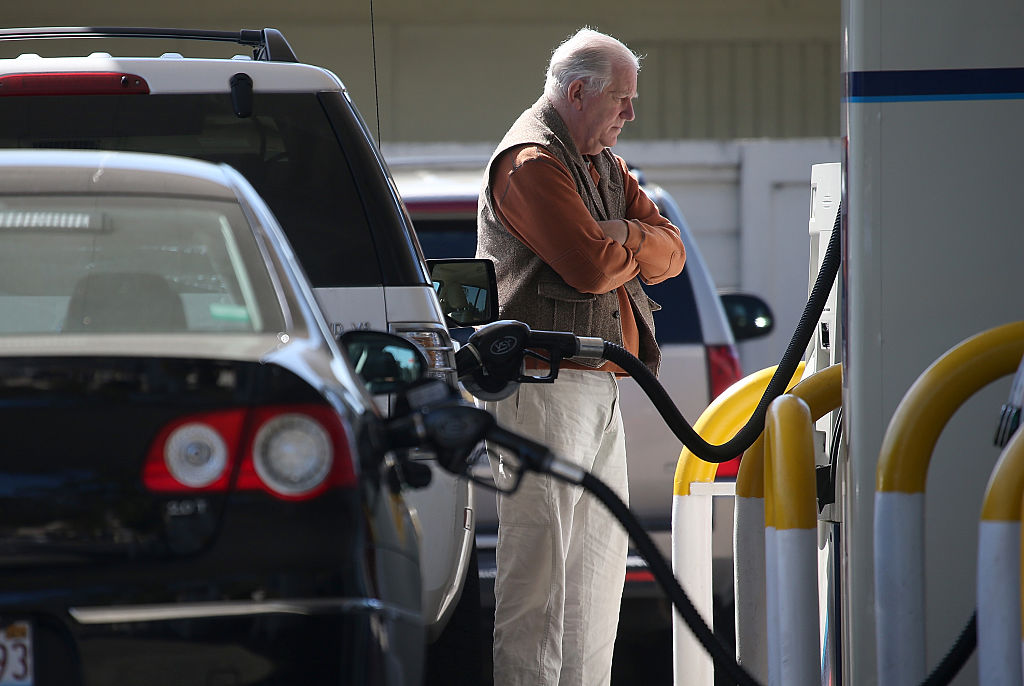 It may be possible that many people suspect what some economists believe, that inflation has not yet been whipped, and Mr. Biden may be overselling the impact of his initiatives.
"The best we can say is that [inflation] has diminished of late," Robert S. Kravchuk, emeritus professor of public affairs at Indiana University told The Epoch Times.
"If the question is 'can inflation return?' the answer is yes," Mr. Kravchuk added, "But probably not right away."
Inflation is diminishing but cannot be said to be under control according to economist Peter C. Earle of the American Institute for Economic Research. As long as the Federal Reserve Board is unsure about whether or not to continue raising interest rates, inflation is still a problem, Mr. Earle told The Epoch Times.
As for prices, they may not be as favorable as the administration claims.
"The change in [the Consumer Price Index] from 9.1 percent in June 2022 to 3.0 percent in June 2023 does not mean that prices are 6 percent lower. It only means that prices are rising more slowly than they were last year," Mr. Earle said. He noted that prices are still rising rapidly in some sectors of the economy, including food, shelter, and motor vehicle insurance.
Corporate profits are not a stand-alone indicator of economic recovery, multiple economists told The Epoch Times. Profits may have risen sharply over the past two years for a number of reasons, including increased due to consumers spending stimulus money and corporations delaying large investments due to uncertainty about the economy.
Also, rising prices have a delayed effect on sellers, according to E. J. Antoni, a research fellow at the Grover M. Hermann Center for the Federal Budget.
"Inventories that were purchased at lower prices have now gone up in price, increasing the bottom line, even though replacing those inventories will now be more expensive," Mr. Antoni told The Epoch Times.
Boom or Bust
Mr. Biden's policies will take time to work their way into the economy, proponents say. Reinvigorating American manufacturing, rebuilding infrastructure, and converting to clean energy production will not be fully achieved by November 2024.
That means a middle class powered by a wealth of stable, good-paying laboring jobs could be years away.
"We see a lot of signs of resilience in our economy, and we're outpacing the world in terms of our economic recovery," White House spokesperson Olivia Dalton told reports just ahead of Mr. Biden's speech.
"It's still going to take a minute for Americans to feel the full impact of that," she added.
The question is whether voters will give Mr. Biden the benefit of the doubt, believing that Bidenomics will prove more effective at producing prosperity than would boosting military spending, cutting taxes, and vastly reducing federal regulations, strategies espoused by many of his opponents.
"Reaganomics did not work," Mr. Kravchuk said, despite the gains it produced in some sectors. That's because the American economy, which had evenly split between service industries and heavy manufacturing, began to shift toward service in the 1970s. The result was that as manufacturing jobs disappeared, they were replaced by lower-paying jobs in service industries.
"But that is not to say that the collection of unrelated policies that are being labeled Bidenomics are anything great either," Mr. Kravchuk said, noting that they had so far produced less energy independence, inflation, and higher gas prices and interest rates.
Mr. Biden delivered similar economic messages in Chicago on Jun 28 and South Carolina on July 6 as part of a three-week effort to rally support for his economic policies. Vice President Kamala Harris, First Lady Jill Biden, and several cabinet members have also been dispatched to promote the president's agenda in at least 20 states.
The Associated Press contributed to this report.
From The Epoch Times