Employees working at multiple In-N-Out Burger restaurants across the United States will be banned from wearing masks as of next month, according to an internal company memo shared online.
The decision is part of new masking guidelines that "emphasize the importance of customer service and the ability to show our Associates' smiles and other facial features while considering the health and well-being of all individuals," according to the memo.
"Our goal is to continue to provide safe and customer-centric store and support environments that balance two things that In-N-Out is known for — exceptional customer service and unmatched standards for health, safety, and quality," the memo said.
Employees of the burger chain in Colorado, Utah, Arizona, Nevada, and Texas will be barred from wearing masks starting on Aug. 14, unless they have a "specific medical condition or health concern that requires them to wear a mask," in which case they must provide a "valid medical note" to senior staff, the memo states.
The valid medical note "should clearly state the reason for the exemption and include the estimated duration," In-N-Out told employees.
Those employees who have their medical notes approved must wear a company-provided N95 mask, the burger chain said.
Additionally, In-N-Out workers who are required to wear masks or protective gear as part of their duties, such as those working in the "patty room" or lab technicians, are exempted from the mask ban.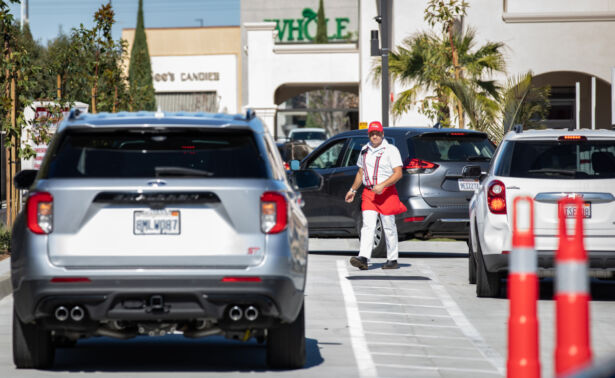 Mask Wearing May Result in Termination
Employees who fail to comply with the mask ban will be disciplined "up to and including termination of employment," the memo states.
A separate internal company memo shared online states that the policy does not apply to workers in California or Oregon, where employers are prohibited from banning employee masking owing to state law.
According to California OSHA regulations, "No employer shall prevent any employees from wearing a face covering, including a respirator, unless it would create a safety hazard."
Employees working at those stores who are required or choose to wear masks must only wear a company-provided N95 mask, the memo states.
The masking policies for employees across all seven states will be reviewed periodically to ensure "effectiveness and compliance with evolving guidelines," the memo states.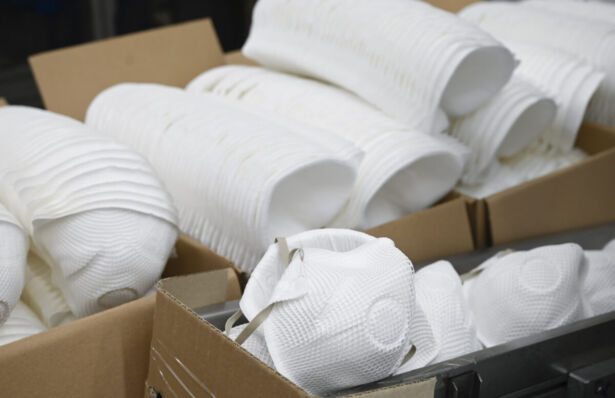 Fined for Failing to Comply with COVID Mandates
Masks are still recommended by the Centers for Disease Control and Prevention in certain settings, such as in indoor public transportation or in households where an individual is at high risk of getting COVID-19.
That is despite a number of studies suggesting that masking has little impact on the spread of respiratory viruses such as COVID-19.
In-N-Out Burger has previously made headlines for its stance on COVID-19 recommendations. In October 2021, an In-N-Out in San Francisco was shut down by the city's health department for refusing to ask customers to present evidence showing they are vaccinated against COVID-19, in line with the city's requirement that all restaurants check that indoor diners were fully vaccinated against the virus.
At the time, the San Francisco Department of Public Health said the restaurant location was shut down because it posed a threat to public health.
Responding to the closure, Arnie Wensinger, chief legal and business officer for the In-N-Out chain, blasted the city's vaccination requirement for being "intrusive, improper, and offensive" and said the mandate amounted to governmental "overreach."
In Contra Costa County, the burger chain also shuttered five of its locations for indoor dining in 2021 instead of complying with the county's vaccine mandate. Those chains remained open for drive-through and takeout service only.
Another branch in Contra Costa County was also hit with fines in that same year for refusing to check customers' vaccination status for indoor dining.
Mr. Wensinger said at the time that the company refused to act as "the vaccination police for any government" and "segregate customers" based on their COVID-19 vaccination status, calling the requirements "unreasonable, invasive, and unsafe."
A spokesperson for In-N-Out Burger told The Epoch Times in an emailed statement, "At In-N-Out Burger, we've communicated with our smiles since 1948, and a smiling Associate helps to set a warm and inviting atmosphere in our stores. We believe that wearing a mask literally adds a barrier to communication—much of which is nonverbal—and promotes a more distant and disconnected environment."
They continued, "In balancing these fundamental values while still accommodating the specific circumstances affecting our Associates, we have updated our internal guidelines to permit only those Associates with a medical need to wear a facemask while working. This change will be effective August 14, 2023, where local regulations allow."