Israel has declared a state of war after terrorists infiltrated Israeli borders, attacking homes and civilians, and Hamas claimed responsibility for launching thousands of rockets from the Gaza Strip into Israeli territory, in an unprecedented, unprovoked surprise attack.
Hamas on Saturday morning took credit for the extensive rocket attacks that triggered sirens in dozens of locations across southern and central Israel, including Jerusalem.
The Israeli Defense Forces (IDF) initially declared a "state of alert for war" in a statement around 8:25 a.m. local time. It said the Hamas terrorist organization over the past hour had "begun a massive shooting of rockets from the Gaza Strip into Israeli territory, and terrorists infiltrated into Israeli territory in a number of different locations."
By 10:40 a.m., the IDF reported that terrorists had infiltrated from the sea, the air, and the ground. It said at 5:30 p.m. local time that about 3,000 rockets had been fired toward Israel.
Israeli Prime Minister Benjamin Netanyahu later declared "we are at war" and promised that "the enemy will pay unprecedented price" after he convened an emergency meeting of security officials, while Israeli Defense Minister Yoav Gallant approved the mobilization of reservists.
Following that meeting at the Israeli military headquarters in Tel Aviv, Mr. Gallant warned that Hamas "made a grave mistake" by mounting its attack. "The state of Israel will win this war," he said.
Israel and Hamas have waged multiple conflicts since the terrorist group took control of Gaza in 2007. But the incident on Saturday marks an unparalleled incursion by Hamas terrorists from Gaza into Israel, and is the most intense attack on Israel in years.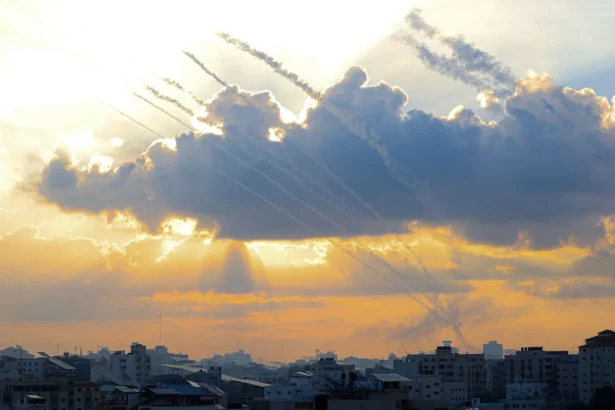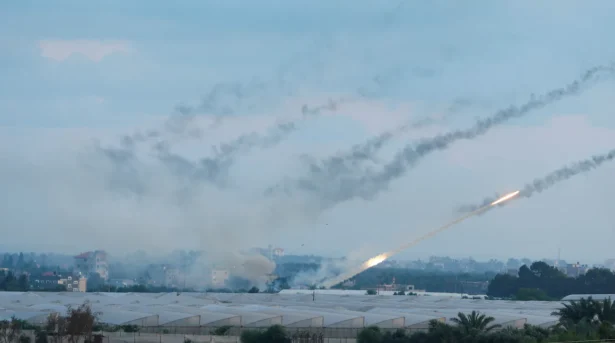 Unprecedented Attack
In a broadcast on Hamas media early Saturday morning, Hamas military leader Mohammad Deif announced the new offensive against Israel as he urged Palestinians everywhere to fight. He claimed that over 5,000 rockets targeted Israel in just the first 20 minutes of the attack.
"This is the day of the greatest battle to end the last occupation on earth," he said.
Shortly afterward, Israel announced that retaliatory strikes were underway in Gaza. The sounds of explosions could be heard as Israel deployed anti-rocket defenses.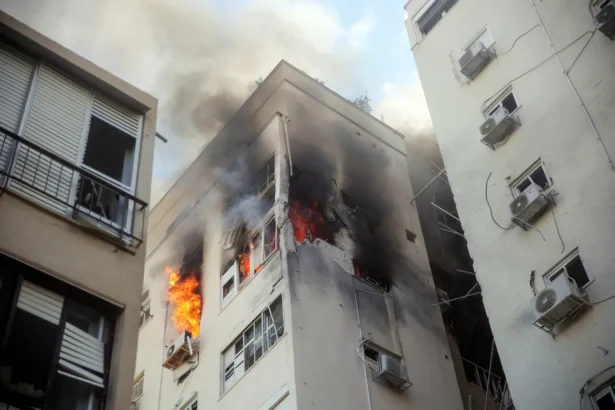 Terrorists in Israel
The IDF in its Saturday morning statement told civilians near Gaza to remain in shelters and those in southern and central areas to stay close to shelters, after Hamas terrorists breached the Gaza Strip blockade and stormed neighboring Israeli communities.
Israeli media reported that terrorists shot at pedestrians and at houses in the southern Israeli town of Sderot, and videos circulating on social media seemed to display street clashes and Palestinian terrorists driving jeeps in rural areas.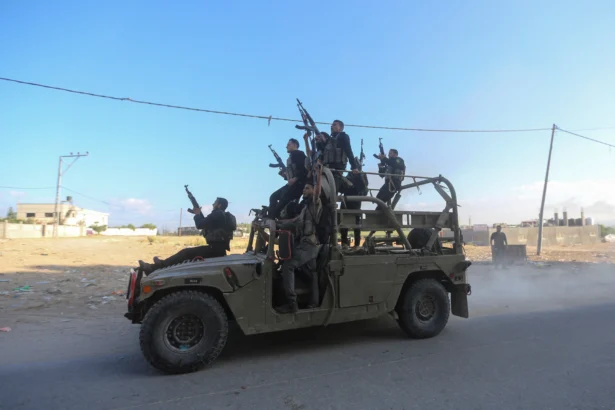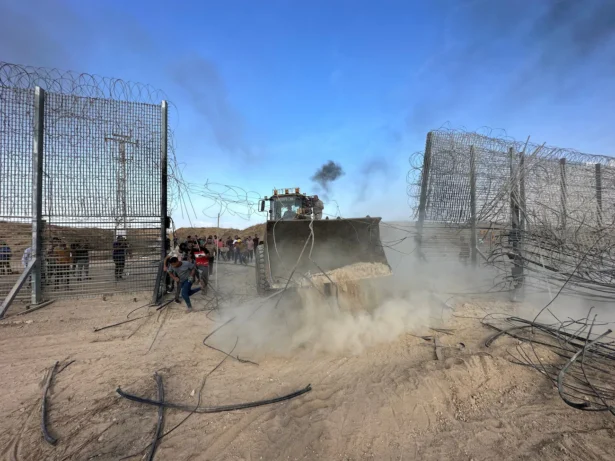 "We've been living in Sderot for over 30 years, and we've seen a lot over the years, but this time it's different. We're not allowed to leave the house; terrorists are roaming the city," Sderot resident Sonia Kagan told The Epoch Times in Israel.
"We hear constant gunfire and missiles, and it turns into a continuous, indistinct noise, to the point where it's hard to understand what they're shooting and who is shooting, whether it's theirs or ours. I've heard that many soldiers are already in the city. We've heard that the terrorists have barricaded themselves in the school not far from our home," she added.
"The kids also see all the reports on their phones, and of course, fear fills them too. I'm their grandmother, and I'm trying to maintain a calm atmosphere at home, without panic, to give them a sense of security and hope and not let the fears overwhelm them."
"We were told there are terrorists inside the kibbutz, we can hear gunfire," a young woman named Dvir, from Beeri Kibbutz, told Israeli Army Radio from her bomb shelter, reported Reuters.
Terrorists were taking control of homes in the Israeli town of Netiv HaAsara, according to reports.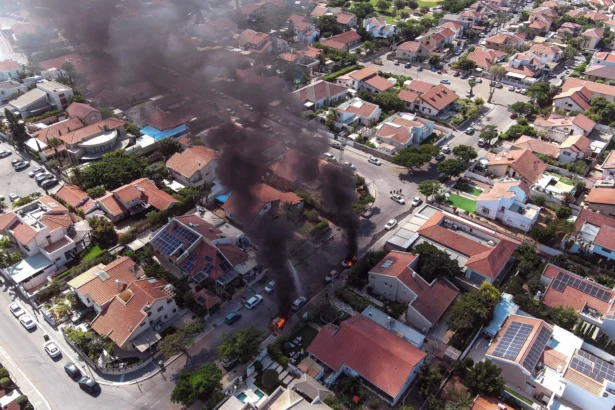 Casualties
The Magen David Adom, Israel's national rescue service, said at least 70 people have been killed and hundreds more were wounded in the surprise attack by the terrorist group Hamas.
The casualties made Hamas's attack on southern Israel the deadliest one in Israel in years.
The rescue service said Saturday that "hundreds" of people were seriously injured and strongly urged the public to heed the directives of Israeli authorities for safety.
Israel considers the attack on Jerusalem to be a major escalation, holding Hamas responsible.
"The Hamas terrorist organization is the sovereign in the Gaza Strip and is responsible for this attack. It will face the consequences and responsibility for these events," the IDF stated.
The IDF announced that the group's operation against Hamas is called "Operation Swords of Iron."
Meanwhile, the Palestinian Islamic Jihad terrorist group announced it would join Hamas in the attack, with Islamic Jihad armed wing spokesman Abu Hamza saying in a Telegram post: "We are part of this battle, our fighters are side-by-side with their brothers in the Qassam Brigades until victory is achieved."
Epoch Times staff, The Associated Press, and Reuters contributed to this report.
From The Epoch Times