Israeli forces successfully destroyed an "advanced detection system" used by Palestinian group Hamas on Oct. 11, the Israel Defense Forces (IDF) claimed.
The system, which has for years been used to identify aircraft over the Gaza Strip, was destroyed along with Hamas's "aerial detection capabilities"  in Gaza, according to a statement by the IDF on X, formerly known as Twitter.
"For years, Hamas established a network of high-quality cameras, hidden in solar heaters throughout the Gaza Strip, with the aim of identifying and tracking aircraft," officials said in the statement, according to a translation by the Telegraph.
"Yesterday, in a matter of minutes, with an aircraft targeted at several targets, aircraft attacked all the locations associated with this network and deprived Hamas of its ability to produce a wide sky image in an attempt to attack aircraft," the statement reads.
The post included video footage showing the alleged attack.
In a separate statement, the IDF said fighter jets had also targeted more than 80 different sites in the neighborhood of Beit Hanon, a city on the northeast edge of the Gaza Strip, on Wednesday morning.
According to officials, those targets included two bank branches allegedly used by Hamas to fund terrorism, two Hamas operational command centers, weapons storage facilities, and two Hamas compounds used for training, manufacturing, and storing weapons.
Israeli fighter jets also targeted an underground tunnel during the attack, officials said.
Israeli Air Force Strikes Gaza Neighborhood
Dozens of Israeli Air Force fighter jets also struck over 200 targets in the Al-Furqan neighborhood in Gaza on Wednesday, which is reportedly a "terrorist hotspot from which Hamas devises and executes their attacks," according to the IDF.
So far, the IDF has attacked roughly 450 targets in that neighborhood alone within the past 24 hours," officials said.
Hamas launched its surprise attack on Israel on Oct. 7 as residents celebrated the Jewish Sabbath. The group stormed into Israeli towns, killing over 700 Israelis and kidnapping dozens more during an hours-long rampage.
Since then, at least 1,200 people have died in Israel, according to the IDF.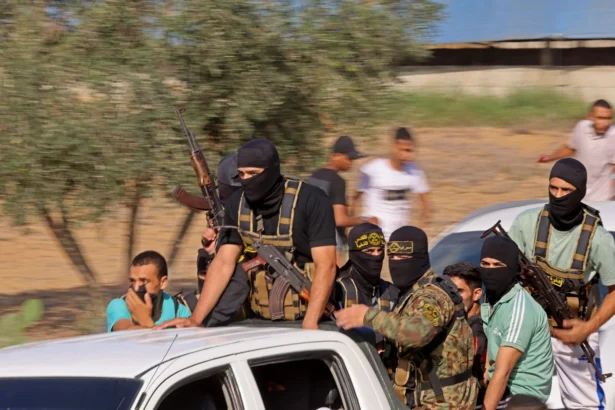 Meanwhile, more than 900 people have died in Gaza since Israeli airstrikes began Saturday, according to the Palestinian Ministry of Health. The Gaza Strip is under complete siege, leaving millions without electricity, food, water, and fuel.
Speaking to The Times of Israel, IDF spokesman Rear Adm. Daniel Hagari said Israeli forces also killed 18 Palestinian terrorists in Israeli territory during the past 24 hours as it continues to go house to house to seek out terrorists and rescue hostages.
"These are the same terrorists who did not flee back to Gaza. They are in hiding places, near the border. That's why the scans are [taking place] with a large number of troops. There are tens of thousands of [IDF] fighters in the area surrounding Gaza," he told the publication.
Rear Adm. Hagari noted that Hamas has fired roughly 5,000 rockets at Israel since the terrorist organization launched its surprise attack but vowed that Israeli forces will not stop fighting.
"We are not stopping; on the contrary, we are heading toward increased attacks. The top priority in the attacks is to eliminate senior [Hamas] officials," he said.
Biden Promises US Support, Ammunition
The latest updates come as Israel has called on the United States to help replenish its Iron Dome anti-missile system, which has for years enabled the country to defend itself against missile barrages from Gaza. Israeli officials have also asked the Pentagon for precision-guided missiles and 155 mm artillery shells, according to Rep. Michael McCaul (R-Texas).
The Texas Republican told reporters Monday that the Biden administration will likely be able to fulfill Israel's weapons needs swiftly.
On Tuesday, the White House shared a readout of President Joe Biden's phone call with Prime Minister Netanyahu of Israel in which the U.S. president "detailed the U.S. support that had arrived or would soon be on its way to include ammunition, Iron Dome interceptors, the world's largest aircraft carrier, and other defense materiel."
According to the White House, President Biden also "underscored the need for all countries to unequivocally condemn Hamas's brutal atrocities, which are akin to the atrocities of ISIS from many years ago."
The two leaders are set to speak again in the next few days, the White House said.
From The Epoch Times