The Israel Defense Forces (IDF) said Sunday that its troops have encircled Gaza City in a ground offensive targeting Hamas terrorists, dividing the Gaza Strip in two as Hamas attempted to block resident evacuation.
"They arrived at the coast and the southern side of Gaza City and they encircled Gaza City. Essentially today there is a northern Gaza and a southern Gaza," IDF spokesman Rear Adm. Daniel Hagari said on Nov. 5.
The spokesman said at a press briefing that Israeli forces would continue to open a "one-way corridor" for Gazan residents to flee southward.
Earlier that day, Rear Adm. Hagari told reporters that Hamas had set up roadblocks to stop residents from leaving and fired anti-tank missiles at Israeli soldiers operating at the evacuation route.
"Hamas is actively stopping Gazans from moving to safer areas," he said. "The IDF adjusted our ground operations to keep the corridors from the north to the south open, but Hamas is attacking our forces."
There have been reports that Hamas may have gunned down civilians trying to flee Gaza in a bid to prevent losing the protection of human shields, with footage posted on social media showing a roadway littered with bullet-riddled bodies.
'Systematic Exploitation' of Hospitals by Hamas
The IDF also revealed the systematic exploitation of medical facilities by Hamas. Rear Adm. Hagari presented videos, satellite images, and audio recordings as further evidence of how Hamas has been using hospitals in Gaza as its "war machine."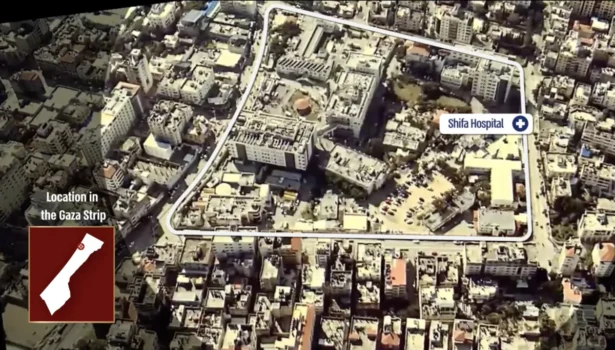 The IDF spotted a tunnel beneath the Qatari-funded Sheikh Hamad bin Khalifa al-Thani hospital, north of Gaza City, that Hamas uses as terror infrastructure. Hamas terrorists also shoot IDF soldiers from within the hospital, Rear Adm. Hagari added.
Rear Adm. Hagari also cited satellite imagery of an Indonesian-built hospital in Gaza, which the IDF believes is being used by Hamas to hide underground command and control centers. The photo was taken a day after Hamas launched its terror attack on Israel on Oct. 7.
"I am going to zoom in on the area here. Across the street. Only 75 meters, 80 meters to the hospital. Here the IDF identified a launch pad—meaning they launch rockets from here," the spokesman said.
"I want to repeat—they launch rockets on Israel 75 meters from a hospital. Why? They know precisely that if Israel will airstrike a launch pad like that, the hospital would be damaged," he added.
The IDF has previously revealed that Hamas has a vast underground command center under the Al Shifa hospital in Gaza. It is believed that the hospital was used as a hideout for Hamas terrorists and commanders.
IDF international spokesman Lt. Col. Richard Hecht said Hamas launched attacks from under hospitals and mosques to "maximize civilian casualties" and place blame on Israel for those casualties.
"The goal is to maximize Gazan civilian casualties, point a finger at Israel regardless of who hurts them (see the al-Ahli Gaza Hospital as a case in point), and to get the world to condemn Israel," he wrote on the IDF's Substack account.
"Every time Hamas tactics succeed and Israel is blamed, it sends a clear message to Hamas that their strategy is working.
"It tells them to continue to shoot rockets that misfire and kill Palestinians. It tells them that fighting from hospitals offers them a carte blanche," he added.
The IDF said it had struck more than 2,500 terrorist targets, including compounds, tunnels, and leadership, during its ground operations that were launched in response to Hamas's Oct. 7 attack.
Last week, a Hamas commander—who Israel claimed orchestrated the terror attack—was killed in an airstrike on Gaza's Jabalia refugee camp. An underground Hamas installation beneath the buildings also collapsed, the IDF said.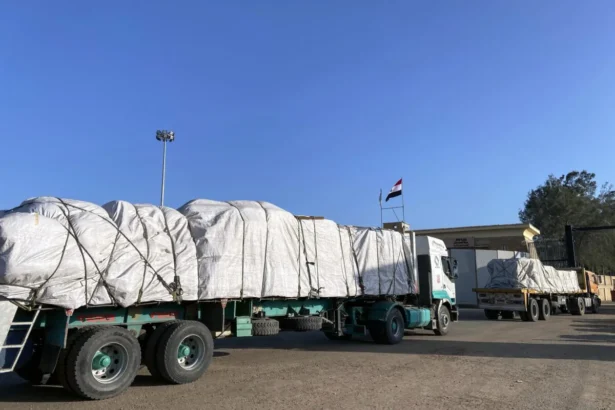 More than 1,400 people in Israel were killed in the Oct. 7 terror attack. Hamas also took more than 200 hostages during the attack which it is now using as bargaining chips in negotiations.
The Hamas-run Gaza Health Ministry said the death toll in Gaza has topped 9,500 since the escalation began. According to United Nations agencies, women and children accounted for 67 percent of the death toll.
U.N. agencies on Nov. 3 urged all parties to abide by international humanitarian law and called for an "immediate humanitarian pause" to prevent the situation from becoming "catastrophic."
Israel Rejects US Call for Temporary Ceasefire
President Joe Biden and Secretary of State Antony Blinken have both called for a temporary pause in the Israel–Hamas war to facilitate the flow of aid into Gaza, but the Israeli leadership rejected these calls.
Mr. Blinken, who on Friday was in Israel, reiterated U.S. support for Israel's campaign to crush Hamas but warned that Israel risks undermining the prospects for peace unless it acts quickly to improve humanitarian conditions in Gaza.
"As Israel conducts its campaign to defeat Hamas, how it does so matters," Mr. Blinken said.
"It matters because it's the right and lawful thing to do. It matters because failure to do so plays into the hands of Hamas and other terrorist groups," he added.
Israeli Prime Minister Benjamin Netanyahu said he had told Mr. Blinken that "we are continuing full force and that Israel refuses a temporary ceasefire that does not include the return of hostages."
Israeli President Isaac Herzog, who also took part in meetings with Mr. Blinken in Tel Aviv, also did not seem receptive to the U.S. calls for a pause.
Mr. Herzog said that Israel has the right to self-defense and said that Israeli authorities had repeatedly called for non-combatants to evacuate northern Gaza.
Tom Ozimek contributed to this report.
From The Epoch Times