Japan's Prime Minister Fumio Kishida has ruled out Japan's membership in the North Atlantic Treaty Organization (NATO) but has left open the possibility of allowing NATO to set up a liaison office in the country.
At a parliament session on May 24, Kishida acknowledged that NATO was planning to open an office in Japan but said that he was "not aware of any decision" the alliance had taken about the matter, Reuters reported.
This came after Japanese envoy Koji Tomita said the country was working towards opening NATO's liaison office, the first of its kind in Asia, to allow the U.S.-led military alliance to consult with its regional partners.
"I really haven't heard any final confirmation, but we are working in that direction," Tomita told reporters in Washington earlier this month, according to The Japan Times.
The office will help NATO to do consultations with its key Asia-Pacific partners (AP4)—Australia, New Zealand, Japan, and South Korea—and act as a point of contact with other nations in the region.
Nikkei Asia reported that the proposed plan is to open a one-person office in Tokyo next year. The idea was first discussed during NATO Secretary-General Jens Stoltenberg's visit to Tokyo on Jan. 31.
Commenting on the matter, Chinese Foreign Ministry spokesperson Mao Ning said that Beijing will closely monitor "NATO's continual eastward expansion in the Asia-Pacific."
NATO Accuses China of 'Bullying'
During his visit to Tokyo, Stoltenberg and Kishida agreed to strengthen the NATO-Japan cooperation. Stoltenberg said that "no NATO partner is closer or more capable than Japan" in the region.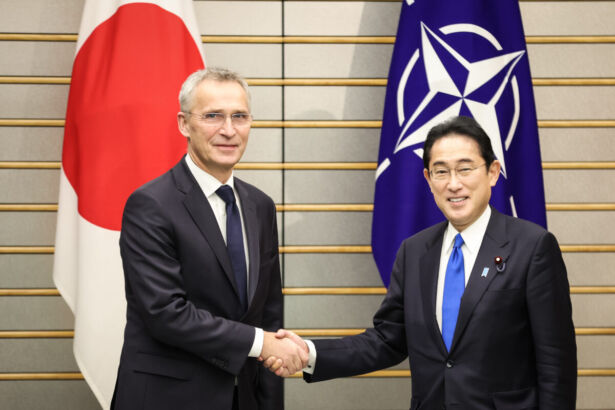 "We agree that transatlantic and Indo-Pacific security is deeply interconnected. What happens in this region matters to NATO. And what happens in Europe matters to you," he said at a joint press conference.
Japan approved three key defense documents last year, including the National Security Strategy, which refers to China as its "greatest challenge." The country seeks to have the ability to counterattack, a move widely seen as a departure from its post-war constitution.
Stoltenberg welcomed Japan's national security strategy and pledged to help Japan realize its vision for a "free and open Indo-Pacific."
"Your strategy recognizes that China's behavior is 'a matter of serious concern.' NATO agrees," he added, criticizing the Chinese Communist Party for "bullying its neighbors and threatening Taiwan."
Kishida announced that Japan plans to regularly attend high-level council meetings and chiefs of defense meetings to promote closer communication between Japan and the alliance.
According to a joint statement (pdf), both sides agreed to advance ties in areas such as cyberspace, space, disinformation, and critical and emerging technologies.
"With regard to China's rapid strengthening of its military capabilities and expansion of military activities, we strongly encourage China to improve transparency and to cooperate constructively with international efforts for arms control, disarmament, and non-proliferation," the statement reads.
Danish ambassador to Japan, Peter Taksøe-Jensen, said the geopolitical landscape had changed drastically since its 2010 Strategic Concept, which prompted NATO to bolster its relations with partners in the Indo-Pacific region.
"At the time, Russia was considered a potential partner, and there was no mention of China. In 2022, at the Madrid Summit, allied leaders decided that Russia was no longer a partner but a foe and that there was also an acknowledgment that China's rise would and could have an impact on trans-European security," he told Nikkei Asia.
"This is why it is important for NATO to keep up relations with our partners in this region."
Rebecca Zhu and Andrew Thornebrooke contributed to this report.
From The Epoch Times