Amazon founder Jeff Bezos on Friday announced that he is moving from Seattle to Miami, joining other high-profile billionaire entrepreneurs who have made the move to Florida.
"I've lived in Seattle longer than I've lived anywhere else and have so many amazing memories here," Mr. Bezos wrote on Instagram, including a decades-old video of him touring the "first office" of Amazon, which he started in his garage. "As exciting as the move is, it's an emotional decision for me. Seattle, you will always have a piece of my heart."
Mr. Bezos said that "my parents have always been my biggest supporters," and "they recently moved back to Miami, the place we lived when I was younger." He added, "I want to be close to my parents, and Lauren and I love Miami. Also, Blue Origin's operations are increasingly shifting to Cape Canaveral. For all that, I'm planning to return to Miami, leaving the Pacific Northwest."
Mr. Bezos, one of the richest people in the world, founded Amazon in 1994, starting it off as an online retailer for books. The company later moved to sell other products.
As the company grew rapidly in Seattle, it reshaped multiple areas of the city—namely the South Union area, where Amazon's headquarters are currently located.
Mr. Bezos, 59, stepped down as CEO of Amazon about two years ago and turned over the duties to Andy Jassy, the former head of Amazon Web Services. In the meantime, Mr. Bezos has served as the chairman of Amazon's board of directors. He also divorced his former wife, MacKenzie Scott, in 2019.
The Palm Beach Post recently reported that Mr. Bezos paid some $79 million for a seven-bedroom, 14-bathroom home in Indian Creek Village, located in Miami-Dade County. In August, The Associated Press reported he also bought a waterfront estate in the area for $68 million.
Other Billionaires Move to Miami
Billionaire investor and Citadel founder Ken Griffin revealed last year he was moving his company's headquarters from Chicago to Miami, citing the Windy City's crime rate as a reason for the decision.
He also reportedly moved his company's global headquarters to South Florida and said he was was motivated by Florida's business-friendly climate and tax advantages, and concerns about rising crime rates in Chicago.
Before the move, Mr. Griffin was long critical of the high crime in Chicago. Before relocated, he warned city officials that he would move his company if little was done.
"If people aren't safe here, they're not going to live here," he told The Wall Street Journal last year. "I've had multiple colleagues mugged at gunpoint. I've had a colleague stabbed on the way to work. Countless issues of burglary. I mean, that's a really difficult backdrop with which to draw talent to your city from."
Eric Schmidt, former chairman and CEO of Google, and his wife have been purchasing waterfront homes on Miami Beach's Sunset Islands area since 2020, The Real Deal reported.
Crime Up in Seattle
In recent years, Seattle has seen a significant uptick in crime, murders, and homelessness. Reports in September noted that homicides are on the rise in Seattle, and 2023's murder figures have already surpassed 2022's totals, according to The Seattle Times.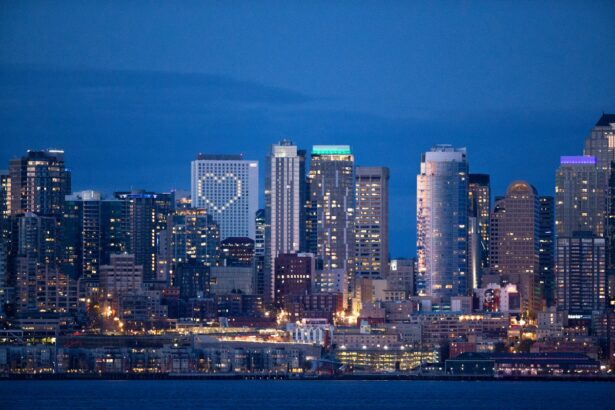 Some legal analysts suggested that the crime increase is due to soft-on-crime policies that local leaders, who are largely Democratic, have embraced since the 2020 riots.
At one point in mid-2020, some Seattle activist groups pushed to defund the city's police force by 50 percent and instead fund community public safety initiatives and affordable housing. At least seven city council members backed that move, according to The Seattle Times.
Data collected by the U.S. Census Bureau and other agencies shows that 7 percent of adults in Seattle have felt pressure to move in the past six months because they feel their neighborhood is not safe.
"The obvious consequences of those policies is an increase in crime and a less safe community where it's more difficult for people to live and do business," Zach Smith, legal fellow with the Heritage Foundation's Meese Center, told Fox News earlier this year.
"Seattle was at the forefront of the 'Defund the Police' movement and local leaders committed to cutting the city's police budget by half—though they had to back away from that audacious goal when confronted with the reality of rising crime rates," Mr. Smith said.
The city, which has long been run by left-wing Democrats, became a hub for the "defund the police" movement. A large section of downtown Seattle was taken over by rioters and occupation protesters in what they described as a self-declared autonomous zone, known either was "CHAZ" or "CHOP," coming after the Seattle Police Department temporarily fled its East Precinct building in the Capitol Hill area.
Seattle Mayor Bruce Harrell has said he wants more police officers on the streets. At the time, he offered a $30,000 recruitment bonus to spur the hiring of new officers.
"We need immediate action and innovation to respond to our public safety issues," Mr. Harrell, a Democrat, said in February. "We need more officers to address our staffing crisis."
From The Epoch Times