Former 2016 Green Party candidate Jill Stein announced Thursday that she will be seeking her party's nomination for president, potentially causing 2024 headaches for President Joe Biden and Democrats.
"The political system is broken," Ms. Stein said in a video on Thursday, announcing her presidential bid. "The bipartisan establishment failed us, and we need a party that serves the people."
She added that "our democracy is on life support" on the social media platform X, saying she will kick off her campaign in earnest on Nov. 21. "Belief in our political system is at historic lows and the number of Americans who feel that neither establishment party represents them is at a record high. We need real choices on the ballot, because without freedom of choice in elections, there is no democracy. It's time to revive the promise of democracy," the candidate, a former doctor, added on social media.
Ms. Stein is running under the Green Party's banner once again after former 2024 candidate Cornell West switched his party registration to independent. Mr. West, a lecturer and activist, is still running for the White House in 2024.
Notably, some Democrats in 2016 blamed Ms. Stein, in part, for Hillary Clinton's loss to then-candidate Donald Trump. She drew about 1.4 million votes nationally during that election, according to the Washington Post, while Democrats accused her of taking votes away from then-candidate Clinton in key battleground states like Wisconsin, Pennsylvania, and Michigan.
In 2020, the Green Party's candidate, Howie Hawkins, an environmental activist, got about half of what Ms. Stein votes in 2016, the Post noted.
Any potential criticism from Democrats likely won't phase Ms. Stein's bid, as her video suggests. She targeted Democrats for abandoning "working people" and claimed they aren't doing enough for the climate.
"Democrats have betrayed their promises for working people, youth, and the climate again and again, while Republicans don't even make such promises in the first place," she said Thursday. "And both parties are a danger to our democracy—expanding censorship, criminalizing protests, throwing competitors off the ballot, suppressing debates, rigging their primaries."
Ms. Stein also criticized Israel and Prime Minister Benjamin Netanyahu for his country's response to multiple Hamas terrorist attacks last month. An investigation into Israeli "war crimes" and the Biden administration's "role" should be launched, she said, adding that "these crimes must stop now."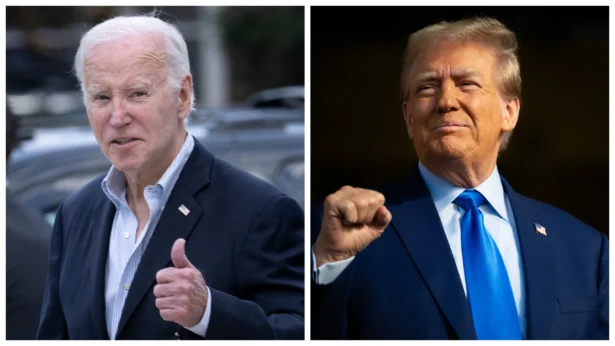 However, the impact of her candidacy—or outliers like Mr. West and independent candidate Robert F. Kennedy Jr.—is not clear. The Green Party is currently on the ballot in about 17 states.
It comes after a New York Times poll showed President Biden losing to President Trump in five of six battleground states, with a year to go until the November 2024 presidential election. That poll was taken before Tuesday's election, in which Republicans performed poorer than anticipated in several states, although the GOP did notch wins in multiple key areas.
The president is currently behind President Trump in Nevada, Georgia, Arizona, Michigan, and Pennsylvania while he's ahead by a slim margin in only Wisconsin, according to the poll. The outcome in all six states will help determine who wins the presidential election.
The press secretary for the White House, Karine Jean-Pierre, reacted to the dismal numbers by saying that polls should be taken "with a grain of salt." She referenced polls showing Republican Mitt Romney leading Democratic then-President Barack Obama ahead of the 2012 election, which Obama won handily.
"We should really be very mindful here and one of the reasons why is just a year ago, back in 2022 there was the red wave that never materialized," she added to reporters earlier this week.
The NY Times poll also showed that there are growing concerns about the current president's age. If 80-year-old President Biden gets elected in 2024, he would be 86 years old upon leaving office in January 2029.
Around 71 percent of registered voters agreed to some extent that he is "too old to be an effective president," while about 39 percent made a similar statement about President Trump, the poll found.
There has also been speculation that Mr. Kennedy could take votes away from either President Trump or President Biden. Data that was released earlier in November suggests that he is obtaining donations from former President Trump donors rather than those in favor of the Biden campaign.
A recent poll from Qunnipiac University also showed that in a hypothetical three-way matchup, Mr. Kennedy would get 22 percent, President Biden would get 39 percent, and President Trump would get 36 percent.
"The Democrats are frightened that I'm gonna spoil the election for President Biden … and the Republicans are frightened that I'm gonna spoil it for President Trump. The truth is, they're both right: My intention is to spoil it for both of them," Mr. Kennedy said in October about his 2024 prospects.
Reuters contributed to this report.
From The Epoch Times