House Republicans tried and failed to elect a speaker in a floor vote Oct. 17, prolonging the drama that began with the ousting of former Speaker Kevin McCarthy (R-Calif.) two weeks ago.
Rep. Jim Jordan (R-Ohio), who was the GOP conference's second choice to replace Mr. McCarthy, gained 200 votes on a first ballot cast in the early afternoon, well short of 217 needed to elect.
After a two-hour recess during which Mr. Jordan attempted to rally the holdouts, a second ballot was postponed until 11 a.m. on Oct. 18.
Patience has worn thin among many House Republicans, who have grown tired of the infighting that has kept the speaker's chair empty and the House idle for a fortnight while urgent national concerns, including a looming government shutdown and the Israel-Hamas war, call for legislative attention.
"When my constituents tell me are dysfunctional, they are absolutely right," Rep. Dan Meuser (R-Pa.) told reporters after the vote. "It's a shame," Mr. Meuser said, adding perhaps facetiously, that if Mr. Jordan is not elected he might enter the race himself.
"I'm not going to let this kindergarten continue. I'll do it," Mr. Meuser said.
Run-up to the Election
This speakership battle began when Mr. McCarthy was ousted from the role by a small faction of Republicans aided by 208 Democrats. Mr. McCarthy had been dogged by in-party opposition beginning with his January election, which required 15 ballots, a near record.
Majority Leader Steve Scalise (R-La.) and Mr. Jordan, chairman of the Judiciary Committee, announced their candidacies within days. Mr. Scalise was elected speaker designate by the Republican conference on Oct. 11. However, he withdrew a day later when it became clear that a small faction of Jordan supporters would not support his nomination.
Given the slender Republican majority, just five GOP members have the power to block any action by the majority, including the election of a speaker.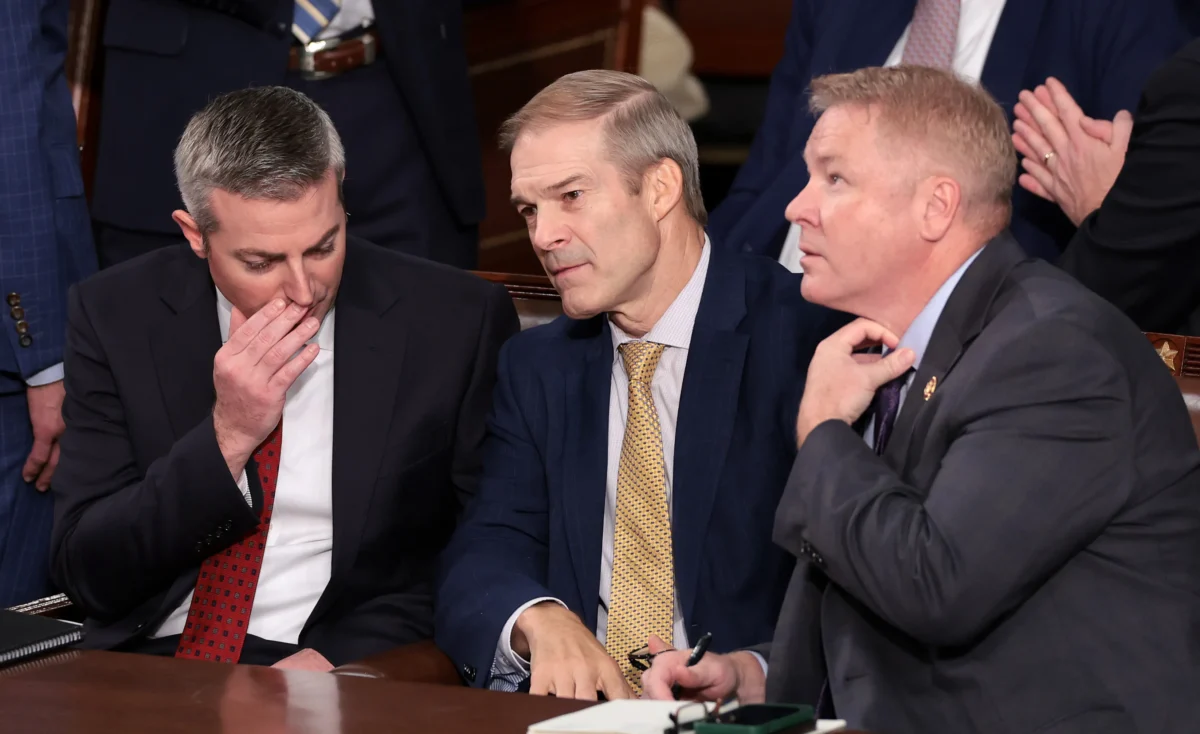 The conference met again on Oct. 13 and nominated Mr. Jordan, who was endorsed by former President Donald Trump. This time several members announced that they would not support Mr. Jordan's candidacy. Though Mr. Jordan had supported Mr. McCarthy's speakership and said he would support Mr. Scalise, a number of members believed his candidacy was engineered by the same factions that had ousted Mr. McCarthy and blocked the election of Mr. Scalise.
Though some holdouts threw their support to Mr. Jordan prior to the election, he proceeded to the vote knowing that at lingering opposition remained.
The Vote
The House convened with 220 Republicans and 212 Democrats in attendance, and one Republican absent.
Republican Conference Chair Elise Stefanik (R-N.Y.) nominated Mr. Jordan, a former wrestling coach, with a quotation from the biblical book of Esther saying, "Jim Jordan will be a speaker for 'such a time as this,'" picturing him as a fighter against government spending, official corruption, and international terrorism.
"He is a mentor, a worker, and above all, he is a fighter and the American people. And we know that Jim Jordan is a winner on behalf of the American people," Ms. Stefanik said in her nominating speech on the House floor.
Democratic Caucus Chair Pete Aguilar (R-Calif.) nominated Mr. Jeffries, depicting the New York Democrat as a bulwark against extremism and partisanship.
Mr. Jeffries drew 212 votes, and Mr. Jordan, 200. Mr. Scalise received seven, Mr. McCarthy got six, while seven votes were cast for other GOP candidates.
Mr. McCarthy and Mr. Scalise both voted for Mr. Jordan, signaling their intention to unite behind the conference nominee.
The 20 Republicans who did not vote for Mr. Jordan on the first ballot were: Reps. Don Bacon (R-Neb.), Ken Buck (R-Colo.), Lori Chavez-DeRemer (R-Ore.), Anthony D'Esposito (R-N.Y.), Andrew Garbarino (R-N.Y.), Mario Diaz-Balart (R-Fla.), Jake Ellzey (R-Texas), Tony Gonzales (R-Texas), Carlos Giménez (R-Fla.), Kay Granger (R-Texas), John James (R-Mich.),  Mike Kelly (R-Pa.), Jen Kiggans (R-Va.),  Nick LaLota (R-N.Y.), Doug LaMalfa (R-Calif.), Mike Lawler (R-N.Y.), Rep. John Rutherford (R-Fla.), Rep. Mike Simpson (R-Idaho), Rep. Victoria Spartz (R-Ind.), and Rep. Steve Womack (R-Ark.)
Many of them appeared to do so in protest against what they deemed the unfair treatment of Mr. Scalise and Mr. McCarthy over the preceding two weeks.
"I was for Kevin McCarthy the whole time, and I thought the process has been terrible—what has happened to him," Mr. LaMalfa said after the vote, but added that he intended to support Mr. Jordan on the second because the House had urgent business to attend to. "We need to move forward with this place today and get our work done," he said.
Rep. Nicole Malliotakis (R-N.Y.) downplayed the impact of the dissenters. "Even Pope Francis took five ballots to get elected, so let's just see how the rest of the day goes," she said jokingly.
Freedom Caucus Chair Scott Perry (R-Pa.) said, "He's an NCAA championship wrestler who's wrestled a lot of rounds. I think he can go the distance."
However, a number of holdouts still refused to support Mr. Jordan.
Mr. Diaz-Ballart said he did not intend to change his vote. "I voted for the guy who won the election," he said, speaking of Mr. Scalise. Rep. Ken Buck (R-Colo.) told NTD, sister media to The Epoch Times, that he would not vote for Mr. Jordan under any circumstances, citing his position on the 2020 presidential election result and Ukraine aid.
Of those who voted for other candidates, five represent swing districts that were carried by President Joe Biden in the 2020 election. Those are Reps. Bacon, DeRemer, Kiggans, LaMalfa, and Lawler.
During a recess after the vote, Mr. Jordan met with holdouts in an attempt to win their support while his advocates expressed confidence that he would succeed.
Of the 128 speaker elections held since Congress was created in 1789, just 15 have required more than a single ballot. Other than Mr. McCarthy, no sitting speaker has been involuntarily removed from office.
Jackson Richman, Joseph Lord, Emel Akan, Ryusuke Abe, and NTD's Melina Wisecup contributed to this report. 
From The Epoch Times