Sen. Josh Hawley (R-Mo.) has called on the FBI and the Department of Homeland Security to investigate the shooting at a private school in Nashville, Tennessee, on March 27 as a hate crime against Christians.
The Nashville Police Department (NPD) identified 28-year-old Audrey Hale as the shooter of six people, including three 9-year-old children, who were confirmed to have been killed at The Covenant School.
Police Chief John Drake identified Hale as transgender, and a LinkedIn page that was allegedly associated with Hale indicated that she used "he/him" pronouns in her biography.
The NPD said Hale was also a former student at the school and was being treated by a physician for an "emotional disorder."
In his letter to the FBI and the Department of Homeland Security (DHS), Hawley called the shooting a targeted attack (pdf).
"An individual identified by police killed six people—students Evelyn Dieckhaus, Hallie Scruggs, and William Kinney, and employees Cynthia Peak, Katherine Koonce, and Michael Hill—in a murderous rampage at a Christian school known as The Covenant School," Hawley wrote.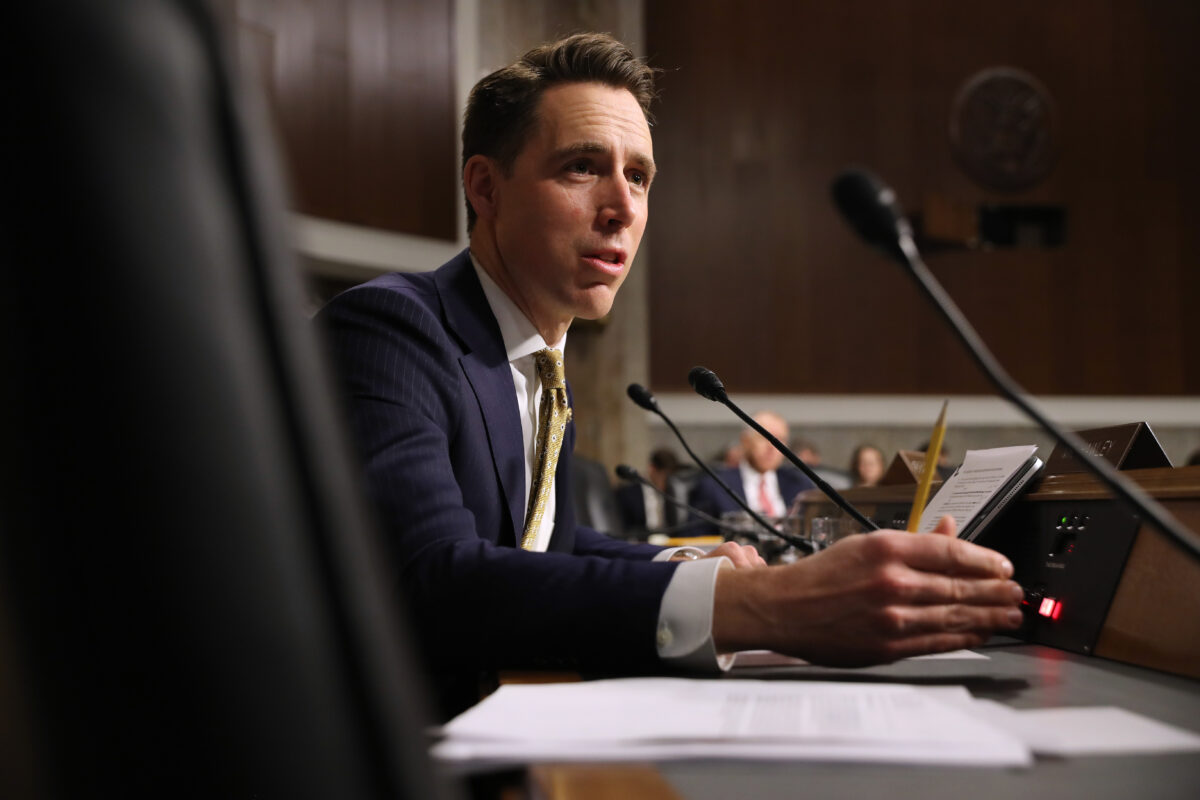 Surveillance footage shows Hale, wearing camouflage pants and a red baseball cap turned backward, shooting through the glass doors of the school to enter the building.
The NPD later released body-camera footage of the department's response to the shooting, capturing a search that led officers to the second floor where police shot and killed Hale at 10:27 a.m.
'Premeditated and Targeted'
Though Hawley said incidents like this are frequently labeled as "senseless violence," he argued Hale targeted Christians, and pointed to federal law which criminalizes acts of violence against people with religious affiliations as hate crimes.
"According to Nashville law enforcement, Hale's attack was both premeditated and 'targeted' against this Christian school, its students and employees," Hawley said. "Nashville police chief John Drake announced yesterday that 'we have a manifesto, we have some writings, that we're going over that pertain to this date, the actual incident . . . . We have a map drawn out of how this was all going to take place.'"
Hawley added that police believe Hale had "some resentment for having to go to that school."
"I urge you to immediately open an investigation into this shooting as a federal hate crime," Hawley said. "The full resources of the federal government must be brought to bear to determine how this crime occurred, and who may have influenced the deranged shooter to carry out these horrific crimes. Hate that leads to violence must be condemned. And hate crimes must be prosecuted."
Attorney General Merrick Garland was at a hearing of the Senate Appropriations Committee in Washington on March 28 to discuss the Biden administration's 2024 budget request, but he also answered several questions from lawmakers about the shooting.
Sen. John Kennedy (R-La.) asked Garland whether he will open a hate crime investigation, based on the fact that Hale targeted a Christian school.
"As of now a motive hasn't been identified," Garland said. "We are certainly working full time with them to try to determine what the motive is, and of course motive is what determines whether it's a hate crime or not."
'Trans Youth Are Troubled'
Rep. Tim Burchett (R-Tenn.) asked the NPD to release Hale's manifesto, telling Fox News that "trans youth are troubled."
"If they don't get the help they need they can grow up to have some serious issues, but I obviously don't believe they'll all grow up to be shooters like this," Burchett said. "We need to know what was going through this person's head, and the manifesto should be made public."
The Epoch Times contacted the DHS and FBI for comment.
An FBI spokesperson said its only current public statement on the shooting can be found on its FBI Memphis Twitter page, where it retweeted the Nashville Police Department's updates of the incident.
Jack Phillips and Katabella Roberts contributed to this report.
From The Epoch Times