MINNEAPOLIS—Former Minneapolis policeman Derek Chauvin betrayed his badge by "grinding" his knee into George Floyd's neck during a deadly arrest last May, a prosecutor said on Monday at a murder trial.
Chauvin's lawyers responded by saying that the former officer was simply following training from his 19 years on the force.
"The use of force is not attractive but it is a necessary component of policing," Eric Nelson, Chauvin's lead lawyer, said in his opening statement, referring to the videos that show Floyd, a 46-year-old handcuffed man, pleading for his life.
In his opening arguments, Jerry Blackwell, a prosecutor with the Minnesota Attorney General's Office, told the jury that officers who wear the Minneapolis police badge pledge never to use "unnecessary force or violence."
"You will learn that on May 25, Mr. Derek Chauvin betrayed this badge when he used excessive and unreasonable force upon the body of George Floyd," said Blackwell.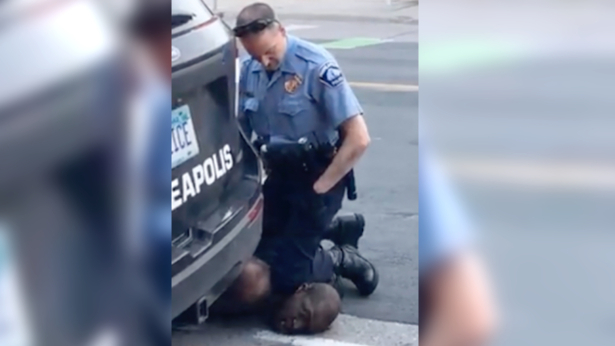 Blackwell displayed a still image from a bystander's cellphone video showing Chauvin with his knee on Floyd's neck, saying it showed Chauvin "grinding and crushing him until the very breath—no, ladies and gentlemen—the very life was squeezed out of him."
Chauvin and three other officers were trying to arrest Floyd on suspicion of using a counterfeit $20 bill to buy cigarettes, a misdemeanor that prosecutors said could have been handled with a summons to appear in court instead of an arrest.
Chauvin, 45, has pleaded not guilty to second-degree murder, third-degree murder and second-degree manslaughter. He faces up to 40 years in prison if convicted on the most serious charge.
The Minneapolis Police Department fired all four officers the day after Floyd's death.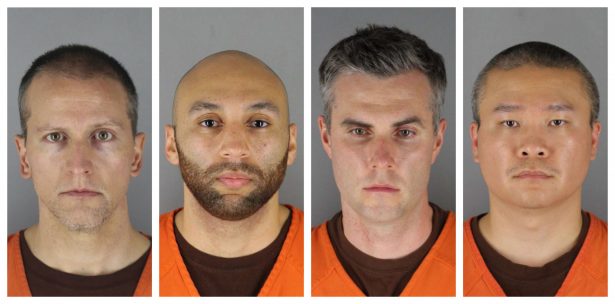 The trial is unfolding in a courtroom located near the top floor of a tower in downtown Minneapolis ringed with high barriers, barbed wire and soldiers from the state's National Guard. Small groups of protesters decrying police brutality blocked traffic at times in the surrounding streets.
Toward the end of his opening statement, Blackwell played for the jury the video of Floyd's death.
The defense attorney disputed that Chauvin was to blame for Floyd's death.
Floyd, 46, had none of the telltale signs of asphyxiation and he had fentanyl and methamphetamine in his system, Nelson said. He said Floyd's drug use, combined with his heart disease, high blood pressure and the adrenaline flowing through his body, caused a heart rhythm disturbance that killed him.
"This was not an easy struggle," he said, adding that the screaming of bystanders ended up "causing the officers to divert their attention from the care of Mr. Floyd."
"Derek Chauvin did exactly what he was trained to do over the course of his 19-year career," Nelson told the jury.
Blackwell, however, rejected the argument that Floyd's drug use or any underlying health conditions were to blame, saying it was the officer's knee that killed him.
Blackwell drooped his head and shut his eyes, feigning a stupor, telling the jury that someone overdosing on fentanyl would be unconscious, and not "screaming for their mother."
"That's not what an opioid overdose looks like," he said.
Chauvin's trial is being livestreamed over the objections of the prosecution. Judge Peter Cahill ordered that cameras be allowed largely because of the pandemic and the required social distancing, which left almost no room for spectators in the courtroom.
Three other former officers go on trial in August because Cahill ruled there wasn't enough space to try all four at once.
The Associated Press contributed to this report