A jury on Monday heard closing arguments in the trial of three Georgia men charged in the death of 25-year-old Ahmaud Arbery, with defense lawyers describing Arbery's death as a tragedy that occurred in an act of self-defense.
Arbery was fatally shot on a residential street on Feb. 23 last year as he ran through a small Georgia neighborhood. Three men were arrested in connection with his death after video footage of the incident emerged on May 5, 2020.
A father and son, Gregory McMichael, 64, and Travis McMichael, 34, were arrested and charged with murder and aggravated assault on May 7 last year in the fatal shooting of Arbery.
The individual who captured the 36-second mobile footage of the violent encounter, 50-year-old William "Roddie" Bryan Jr., was arrested on charges of felony murder and criminal attempt to commit false imprisonment on May 21.
The footage, which was captured from a vehicle near the scene, showed the father, a former county police officer, confronting Arbery. Shortly afterward, his son shot Arbery, the video showed.
The three men have pleaded not guilty to murder, aggravated assault, and false imprisonment, saying they did nothing wrong in jumping into pickup trucks to chase Arbery.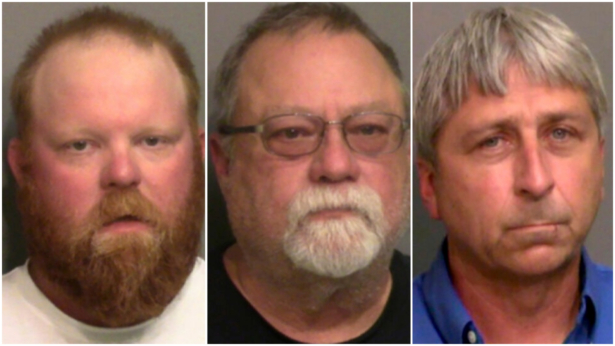 After 10 days of witness testimony, prosecutors said during closing arguments on Monday that the men "assumed the worst" about a black man "running down the street" and attacked him in a five-minute pursuit through Satilla Shores, a coastal Georgia suburb, last year.
"He ran away from them for five minutes," lead prosecutor Linda Dunikoski said. "No weapon. No threats. No way to call for help. Didn't even have a cell phone on him. Ran away from them for five minutes."
Dunikoski said the encounter with Arbery was initiated by the defendants, and so they couldn't argue that they acted in self-defense.
"All three of these defendants made assumptions, made assumptions about what was going on that day," Dunikoski said.
Meanwhile, the elder McMichael's lawyer, Laura Hogue, said the defendants had a duty to catch Arbery, whom she painted as a frightening burglar with "long dirty toenails," using a description from the autopsy report.
Arbery's mother, Wanda Cooper-Jones, exclaimed "wow," before quickly getting up from her seat and leaving the courtroom briefly after that remark.
The only defendant to take the stand, the younger McMichael, testified that he shot Arbery in self-defense, claiming that the 25-year-old had grabbed his weapon.
"There's no question that Ahmaud's hands are on this gun," Jason Sheffield, one of McMichael's lawyers, said in his closing argument. "You are allowed to defend yourself. You are allowed to use force that is likely to cause death or serious bodily injury if you believe it's necessary. At that moment, Travis believed it is necessary."
The defendants have also argued that they had a right to detain Arbery under Georgia's citizen's arrest law, which was repealed in a unanimous vote by state lawmakers amid public outcry over Arbery's death.
The prosecution's rebuttal was pushed back to Tuesday when the jury is excepted to begin deliberations.
Reuters contributed to this report.
From The Epoch Times