Former White House press secretary Kayleigh McEnany will take over the time slot formerly occupied by the "Tucker Carlson Tonight" show on Fox News from next week.
McEnany, who co-hosts the "Outnumbered" program, will anchor the 8–9 p.m. ET replacement show currently branded "Fox News Tonight" for at least a week, becoming the third interim host after the Rupert Murdoch-owned cable channel announced last month it and Carlson had parted ways.
"I am honored to share that I will be hosting Fox News Tonight … at 8pm ET all next week (5/8-5/12)!" McEnany wrote on Twitter Thursday evening. "Set your DVR [digital video recorder]," she added.
"Please join me next week as we dig into the state of politics, media, culture, and faith in America!" the on-air commentator who previously served under President Donald Trump concluded.
McEnany will fill in the time slot as a temporary anchor until a permanent replacement is found. The program has been presented by anchors Brian Kilmeade and Lawrence Jones so far.
Kilmeade, who co-hosts "Fox & Friends," was the first replacement during the week Carlson suddenly departed from the network. Kilmeade's show reported a subsequent drop in primetime ratings.
For all of March, Carlson's show averaged above 3 million viewers per program, while about 2.5 million watched Kilmeade's first show on April 24. However, the figure ultimately dropped to about 1.3 million on April 28, according to Nielsen ratings. Jones, meanwhile, drew 1.55 million—more than Kilmeade's second show, but not by much.
McEnany is a Harvard Law School graduate who worked for Trump's campaign and the Republican National Committee. She joined Fox News as an on-air commentator in March 2021, soon after Trump left office in January.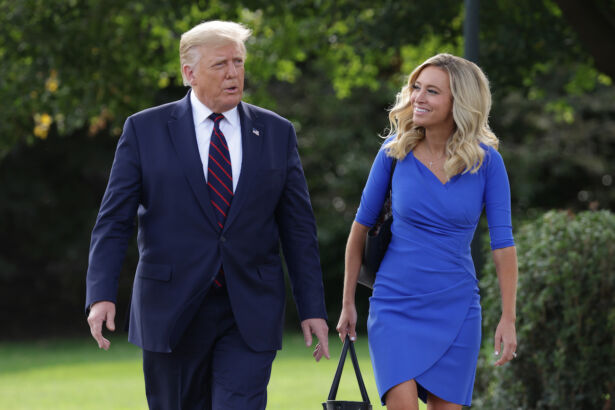 Soon after joining the network, McEnany was named a co-host of the hour-long daytime show "Outnumbered." According to Nielson Media Research cited by Fox News, the program is the most popular cable news program in its 12 p.m. ET time slot. The show features regular female panelists and a rotating male guest.
Before co-hosting "Outnumbered," McEnany also provided political analysis and insight during appearances on programs including "Fox & Friends," "America Reports," and "The Five."
Meanwhile, the nightly Fox programs hosted by Sean Hannity, Laura Ingraham, and Jesse Watters took hits to their respective ratings in the past week. "Gutfeld," hosted by Greg Gutfeld, was the only Fox News primetime show that saw an increase, according to the ratings.
When asked about Fox News' ratings drop, a spokesperson told The Epoch Times last week that "Fox News is leading cable news in primetime and today day (Wednesday, April 24) with viewers and A25-54," referring to the age demographic coveted by advertisers.
"For more than 21 years, Fox News Channel has been cable news' most-watched network in all categories with more Democrats, Independents and Republicans now tuning in than either CNN or MSNBC," the company said in a statement about its ratings this week. "Attracting more than 50 percent of the cable news viewing audience with the top 12 programs in cable news, Fox News' powerhouse team of journalists, analysts and opinion hosts are trusted more by viewers than any other news source."
Carlson has yet to give public indications about why he left Fox News. The "Tucker Carlson Tonight" frontman appeared in a two-minute video posted on his personal Twitter page that lambasted the state of the news media in general, drawing tens of millions of views.
Jack Phillips contributed to this report.