House Speaker Kevin McCarthy (R-Calif.) said that the Department of Justice's deal with Hunter Biden could trigger more legal trouble for the president's son after he bargained to plead guilty to three federal charges on Tuesday.
Hours after the agreement was announced, McCarthy said that the DOJ's investigation isn't linked to House Republicans' probes into the younger Biden's overseas business deals that Republicans allege involve bribery and influence-peddling.
Several weeks ago, Republicans on the House Oversight Committee were embroiled in a battle with the FBI over information that came from a paid FBI informant through an FD-1023 tip sheet. That document claimed that Hunter Biden and President Joe Biden each took $5 million in bribes from an executive at a Ukrainian energy company, Burisma Holdings, from an executive as the younger Biden sat on the company's board.
"This does nothing to our investigation," McCarthy told reporters Tuesday. "It actually should enhance our investigation because the DOJ should not be able to withhold any information now saying that there's a pending investigation. They should be able to provide Chairman [James] Comer with any information that he requires."
McCarthy, like other Republicans on Tuesday, criticized the DOJ for what they described as a slap on the wrist for the younger Biden. The U.S. attorney who is leading the case against Biden, David Weiss, said in a statement that the DOJ is currently conducting an "ongoing investigation" in the case.
When asked about the Department of Justice's investigation, McCarthy said that it's merely an attempt to allow the agency to continue to keep details from House Republicans. He suggested the agency can say that it cannot divulge any information or details because of an "ongoing investigation."
"How can Hunter Biden plead guilty, no jail time, and the DOJ say there's still an investigation [and] try to withhold information to the House? That's unacceptable and will not stand," McCarthy told reporters. "You cannot plead guilty, say you're not going to do jail time, and then say you can't give papers to the U.S. House of Representatives. That's not going to stand. That's not going to work."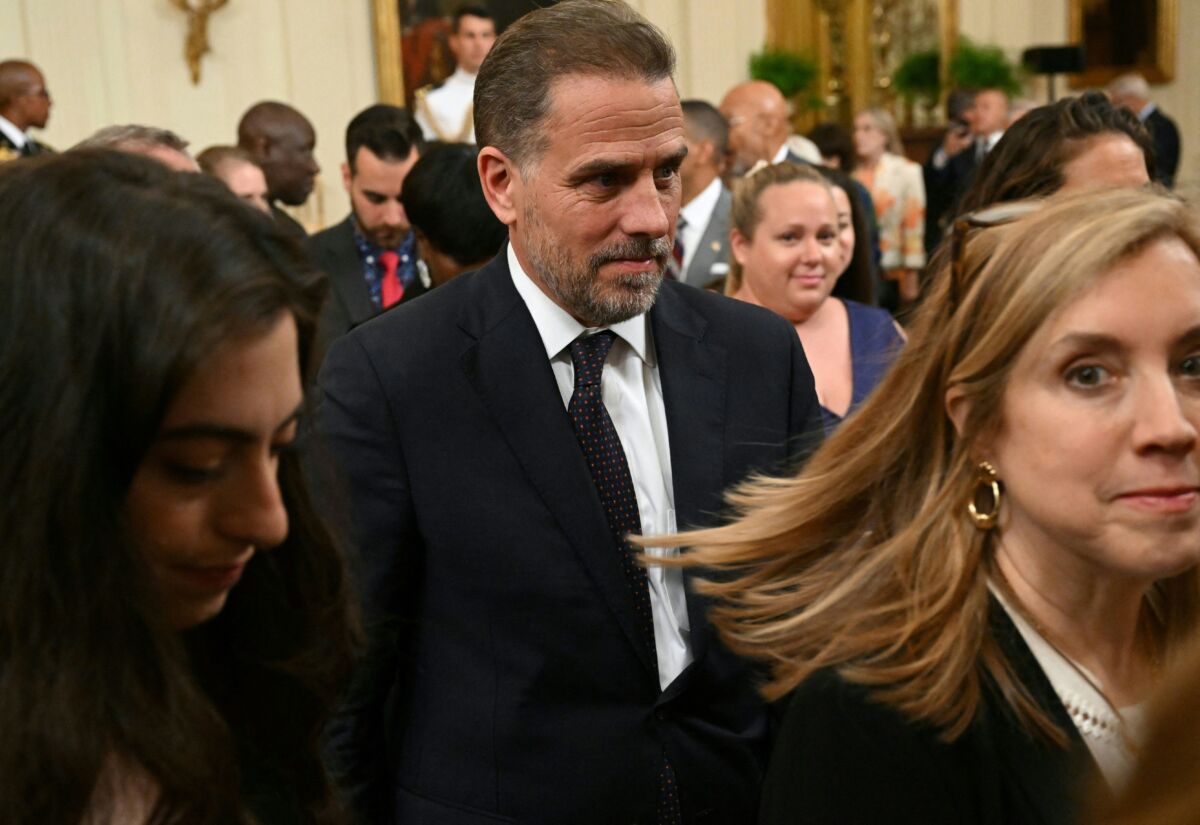 McCarthy and other Republicans said Tuesday that the DOJ plea deal suggests there is a two-tiered justice system in the United States, coming in light of the recent federal charges laid out against former President Donald Trump. Special counsel Jack Smith's office alleges that Trump mishandled classified documents and obstructed justice, leading to an unprecedented FBI raid targeting his Mar-a-Lago residence last year.
Last week, Trump pleaded not guilty to the charges. He was also charged in April by the Manhattan District Attorney's office in a separate case involving alleged payments made during the 2016 campaign.
"Because the question is, is it equal justice?" McCarthy asked. "So you have one leading opponent of the current president that is now indicted [and] is supposed to do jail time. You have a president's son that the investigation went on for a very long time that now has to do no jail time."
At the same time, recent polls show that Trump is the leading 2024 Republican presidential candidate, easily besting Florida Gov. Ron DeSantis and the rest of the GOP fray. On social media, Trump has said the charges against him are tantamount to election interference.
In late 2020, the New York Post reported on contents that were sourced from a laptop that Hunter Biden later confirmed belonged to him. Messages and emails show, in part, that the younger Biden allegedly called his father, then-Vice President Joe Biden, "the big guy" and said he was due to receive 10 percent from a lucrative Chinese energy venture. A former associate of Hunter's, Tony Bobulinski, came forward in October 2020 and asserted that the "big guy" was referring to Joe Biden.
On Tuesday morning, Hunter Biden agreed to plead guilty to tax crimes and unlawful possession of a weapon, according to the DOJ and his attorneys. Biden lawyer Chris Clark said in a statement that he believes that the matter is resolved.
"With the announcement of two agreements between my client, Hunter Biden, and the United States Attorney's Office for the District of Delaware, it is my understanding that the five-year investigation into Hunter is resolved," Clark said.
"Hunter will take responsibility for two instances of misdemeanor failure to file tax payments when due pursuant to a plea agreement. A firearm charge, which will be subject to a pretrial diversion agreement and will not be the subject of the plea agreement, will also be filed by the Government," Clark added.
When The Epoch Times contacted Clark on Tuesday, he declined to comment.
From The Epoch Times