Chinese transplant doctors at Shanghai's Renji Hospital recently published their first-of-its-kind research in an American academic journal, marking the first kidney pair transplant from preterm infants to adult recipients in a country facing allegations of human rights atrocities in its organ transplantation network.
The state-funded Shanghai Jiao Tong University published a press release on Feb. 27, touting that research from its affiliated hospital Renji Hospital had been published in the authoritative journal for organ transplantation American Journal of Transplantation.
The press release boasted that Renji Hospital and the Shanghai Children's Medical Center have been "constantly breaking through the limits of young and low body weight kidney transplant donors," and that it has to date performed 22 "successful" neonate kidney transplants.
It recognized a current lack of expert opinions and consensus guidelines in the global transplant community about the minimum acceptable age and weight of donors. But it concluded that because of this, "the clinical experience of using very low birth weight premature infants or neonatal kidney donors is extremely valuable and will help to accumulate clinical knowledge, build consensus in the industry, and benefit more uremia patients."
Doctors at Renji Hospital published in January of two "successful" en bloc kidney transplantations (EBKT)—both kidneys—from preterm infants weighing less than 1.2 kilograms (2.6 pounds) to adult recipients with end-stage renal failure.
The medical paper said that both the infants were delivered early by cesarean section due to fetal distress. However, it was determined that they would not survive. The parents of one child agreed to the withdrawal of life-sustaining therapy (WLST) and kidney organ donation after circulatory death (DCD) on the baby's second day of life, and the other parents agreed to withdraw life support on the fourth day of life.
One baby was pronounced dead 15 minutes after withdrawing life support measures, which included a 5 minute window after its mechanical heartbeat failed to be detected. The other baby was pronounced dead by doctors 25 minutes after the withdrawal of life support measures.
Both of the babies' small 3 centimeter-long kidneys were then removed to be transplanted to the adult recipients. Kidneys only remain viable for transplant for 24-48 hours after death.
Technical Bottlenecks and Ethical Concerns
In Western countries, recipients of neonatal kidney transplants are usually other infants, said Zain Khalpey, associate professor of Surgery, Medical Imaging, Physiological Sciences, and Biomedical Engineering at the University of Arizona.
However, one recipient of this procedure in China was 34 years old, according to the paper. The other was 25 years old.
"It is untested, unethical. If it's going into another child, sure. If it's going into an adult, I'm questioning it," Khalpey told The Epoch Times on March 4.
The first kidney transplant in human history occurred in 1954. It was done by Dr. Joseph Murray of Brigham and Women's Hospital, an affiliate of Harvard Medical School, where Khalpey was trained in cardiac surgery.
In 1963, Dr. Murray performed the first neonatal transplant. A baby received a kidney transplant from its identical twin but died of an infection after two and a half years.
"Since then, neonatal kidney transplant has become a routine procedure for infants and babies with kidney failure. And the success rate of neonatal kidney transplants is high, with one-year graft survivals of over 90 percent reported in some studies.
"However, the use of neonatal kidneys for adult transplant is rare" in the West due to technical and ethical issues, Khalpey said.
He pointed out that one technical challenge is potential clinical mismatches between donor and recipient, saying, "neonatal kidneys are smaller than the adults, and the size mismatch can lead to complications such as thrombosis or stenosis and kidney vein blockages.
"In addition, the neonatal kidneys are less developed than the adult kidneys, which can lead to differences in function and then [the patient could] be susceptible to injury."
Another difficulty is that infants that become organ donors can be born with congenital abnormalities.
"Congenital abnormalities are common in neonates, and some of these abnormalities can affect the function of the donated kidney. So, for example, a donated kidney with a congenital abnormality may be more prone to infection or may have a reduced filtering capacity. So using the kidneys for adult transplantation may therefore lead to higher risks of complications."
In addition, there are ethical issues associated with the transplantation of organs from infants to adults, according to Khalpey.
"I mean, the neonates are vulnerable. And the use of their organs for transplant raises concerns about coercion and the appropriate use of medical resources. And you know, in some cases, parents may feel pressured to donate their infant's organs, particularly if they're told that the donation will save the life of an adult," he added.
"And the pressure may be exacerbated if patients are from disadvantaged backgrounds or lack access to health care. You know the use of neonatal kidneys for adult transplants therefore disproportionately affects certain populations, raising concerns about equity and justice."
Another major ethical issue, Khalpey said, would be "the commercialization of neonatal kidney transplants. The use of neonatal kidneys for adult transplant may be seen as a way to increase the supply of organs for transplant in countries with long wait lists for a transplant, and this may lead to the commodification of neonatal organs and exploitation.
Khalpey said it was odd that a needy infant recipient was not present in the Chinese study.
"So it seems extremely odd that this was done. And it seems 'manufactured,'" Khalpey said, referring to a pre-designed transplantation.
Despite these concerns, Shanghai's Renji Hospital is touting the potential to use newborn donors as sources of organs for transplants to adults.
In Khalpey's analysis, he said the researchers may be motivated by a perceived "advantage" of infant organs.
If an infant's kidney is transplanted, it may last a very long time in the recipient because newborn kidneys have few antibodies that can attack the recipient tissues and cause organ rejection, "which is why the attraction of [Renji Hospital] doing it when they're neonates," he said.
The first authors of the above neonatal transplant finding are Li Dawei and Wu Haoyu, attending physicians in the Department of Urology at Renji Hospital. The co-authors are Zhang Ming, deputy director of the Department of Urology at the same hospital, and Bei Fei, director of the Department of Neonatology at Shanghai Children's Medical Center.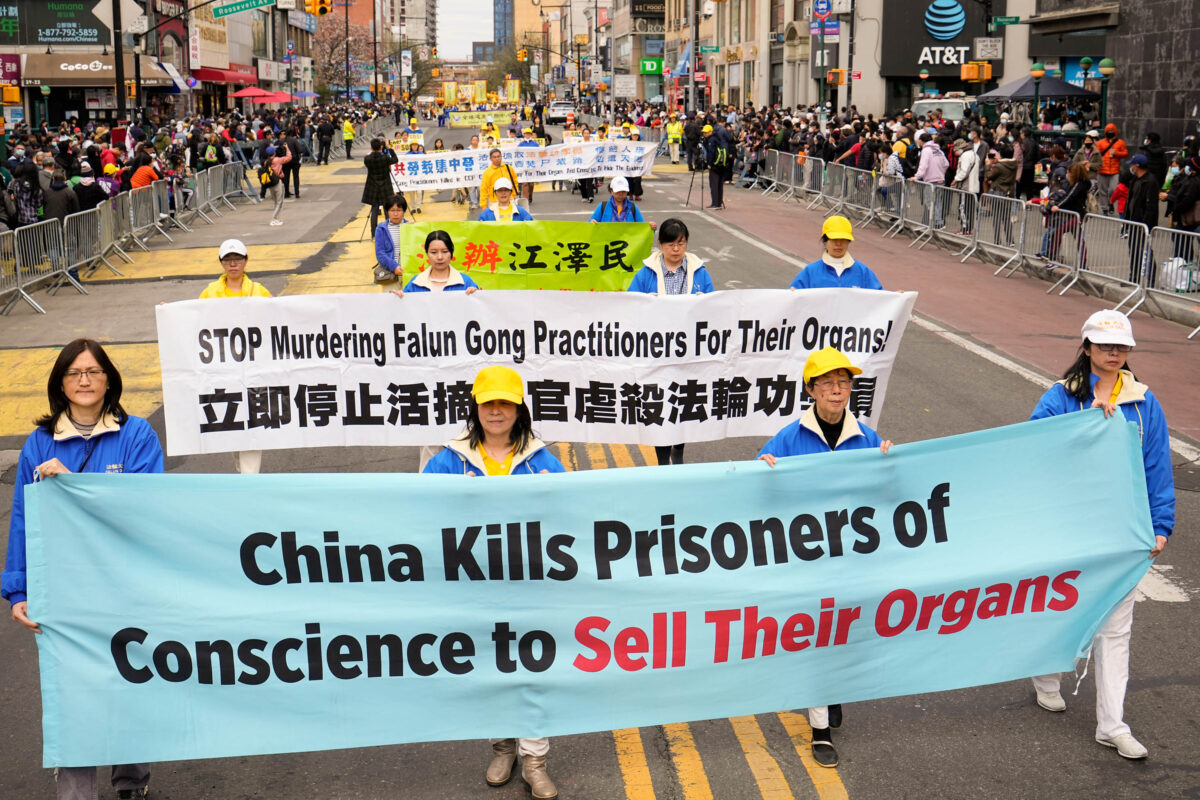 CCP Accused of Organ Harvesting Crimes
But Khalpey remains of the view that the American Journal of Transplantation should not have accepted the Shanghai Renji Hospital article as the Chinese Communist Party (CCP) has long been accused of violating international transplant industry regulations.
He believes the magazine's editors need to show they have asked the authors several questions to ensure ethical conduct: Did the baby's parents give their consent for the procedure free of coercion? Were the parents prisoners of conscience or members of a vulnerable group in China?
In April 2022, the same journal published a "computational text analysis to conduct a forensic review of 2,838 papers drawn from a dataset of 124,770 Chinese-language transplant publications," citing ethical concerns in the studies.
"Our algorithm searched for evidence of problematic declarations of brain death during organ procurement," the paper said. "We find evidence in 71 of these reports, spread nationwide, that brain death could not have properly been declared."
According to the U.S. Congress's Tom Lantos Human Rights Commission, "the analysis … supports the inference that transplant surgeons in the People's Republic of China (PRC) removed organs, including hearts and lungs, in violation of the internationally-accepted 'dead donor' rule, i.e., before donors have been (or could be) declared 'brain dead.'"
The CCP has also been widely accused of forced organ harvesting crimes.
Since 2015, Chinese Communist authorities have claimed that organs in China are obtained only from voluntary donors, but the integrity of this claim is questionable. Data shows that Chinese hospitals are performing several times more transplants than the highest estimates of organ donors could support.
In March 2020, an independent court issued its final verdict on the forced organ harvesting of prisoners of conscience by the CCP. On June 14, 2021, 12 United Nations officers said they were "extremely alarmed" by reports of organ harvesting of Falun Gong adherents, Uyghurs, Tibetans, and other ethnic minorities and Christians detained in China.
They called on the Chinese communist government to "allow independent monitoring by international human rights mechanisms."
This article has been updated for clarity.
From The Epoch Times