NORWICH, Vt.—A Vermont-based flour company is voluntarily recalling some bags of flour due to potential E. coli contamination.
The U.S. Food and Drug Administration posted on its website a statement from King Arthur Flour saying the company is recalling more than 14,000 cases of 5-pound unbleached all-purpose flour. The company said Thursday, June 11, that to date no illness had been reported in connection with the product.
The flour was distributed through retailers and distributors across the country. The recall doesn't include products sold through the King Arthur Flour website, Baker's Catalogue or the Baker's Store in Norwich, Vermont. The recall affects products with six lot codes and three "best used by" dates.
The company says it was informed by ADM Milling that certain wheat used to make the flour has been linked to an ongoing outbreak of E. coli infections.
Aldi Recalls All-Purpose Flour Due to Possible E. Coli Contamination
If you're planning on baking this weekend, make sure you check your flour. Grocery chain Aldi has issued a recall of its all-purpose flour over a possible E. coli contamination.
The recall affects 5-pound bags of Bakers Corner All Purpose Flour sold at Aldi stores in 11 states: Connecticut, Delaware, Massachusetts, New Hampshire, New Jersey, New York, Ohio, Pennsylvania, Rhode Island, Vermont, and West Virginia.
The recalled flour has a best used by date of Dec. 2, 2019, as well as a UPC code of 041498130404.
In a statement, Aldi advised customers who have purchased the recalled flour to discard it immediately or return it to their local store for a full refund.
The recall was "out of an abundance of caution," Aldi said in the statement. "Aldi takes the safety and integrity of the products it sells seriously."
The company went on to remind consumers not to eat any raw products made with flour because milling wheat grown outdoors could carry a risk of bacteria. Aldi also told consumers to wash their hands, work surfaces, and utensils thoroughly after they come in contact with raw flour.
Consumers with questions are told to call ADM Milling Co. Customer Service at 800-422-1688.
How to Prevent E. Coli Infection
"Flour is typically a raw agricultural product. This means it hasn't been treated to kill germs like E coli," the Centers for Disease Control and Prevention (CDC) states on its website. "Harmful germs can contaminate grain while it's still in the field or at other steps during flour production. The bacteria are killed when food made with flour is cooked. This is why you should never taste or eat raw dough or batter."
In 2016, an outbreak of E. coli infections linked to raw flour made 63 people sick.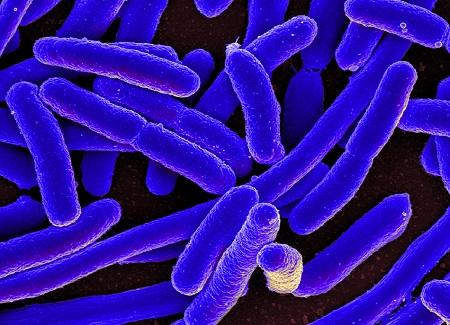 The CDC recommends following what's known as the Clean, Separate, Cook, and Chill guidelines to keep you and your family safe from E. coli infection and any other types of food poisoning. It's especially important to carefully follow these rules when preparing food for young children, pregnant women, people with weakened immune systems, and older adults.
Clean
Wash hands with warm, soapy water for 20 seconds before and after handling uncooked eggs, or raw meat, poultry, and seafood and their juices.
Wash utensils, cutting boards, dishes, and countertops with hot, soapy water after preparing each food item and before you go on to prepare the next item.
Don't wash raw poultry, meat, and eggs before cooking. Germs can spread to other foods, utensils, and surfaces.
Sanitize food contact surfaces with a freshly made solution of one tablespoon of unscented, liquid chlorine bleach in one gallon of water.
Separate
Keep raw meat, poultry, seafood, and eggs separate from other foods in your grocery cart and in your refrigerator. Keep eggs in the original carton and store them in the main part of the refrigerator, not in the door.
Keep raw meat, poultry, and seafood separate from ready-to-eat foods, such as salads and deli meat.
Use separate cutting boards and plates for produce and for raw meat, poultry, seafood, and eggs.
Never place cooked food on a plate that previously held raw meat, poultry, seafood, or eggs.
Cook
145°F for beef, veal, lamb, and fish (let the meat rest for 3 minutes before carving or eating)
145°F for pork and ham (let the meat rest for 3 minutes before carving or eating)
160°F for ground beef, ground pork, ground veal, and ground lamb
160°F for egg dishes
165°F for poultry (chicken, turkey, duck), including ground chicken and ground turkey
165°F for casseroles
Chill
Keep your refrigerator at 40°F or colder.
Refrigerate or freeze perishables, prepared foods, and leftovers within 2 hours (or 1 hour if the temperature is 90°F or hotter).
GQ Pan contributed to this report.