Peace talks between Russia and Ukraine were set to resume on Friday, the 37th day of the war, while Western officials said that around 20 percent of Moscow's forces in Ukraine were "repositioning" and were likely being sent out to neighboring Belarus for refit and resupply before a renewed offensive in Donbass.
Negotiations were set to resume by video on Friday, according to Ukrainian negotiator David Arakhamia, with the talks expected to build on a draft framework for Ukraine's neutrality and security guarantees put forward by Kyiv during an earlier round of face-to-face talks in Istanbul, Turkey.
Arakhamia said after Monday's talks in Instanbul that Ukrainian negotiators had put forward a proposal for a mechanism similar to the Article 5 mutual-defense clause of the NATO treaty that considers an attack on one member to be an attack on all.
While a number of Western countries have expressed broad support for some kind of security guarantees for Kyiv, there are few specifics so far and some reluctance among would-be guarantors to pledge to intervene militarily in case of a future attack on Ukraine.
While Moscow said it would need time to review Kyiv's proposal, both sides struck a somewhat hopeful note following Monday's round of negotiations. Still, there appears to be little optimism that an agreement will be reached soon.
Italian prime minister Mario Draghi, who spoke to Russian President Vladimir Putin by phone on Wednesday, recounted that Putin told him that "small steps had been taken in the talks" so far but that the conditions "did not exist" for stopping military action.
"Zelenskyy's willingness has always been total to initiate peace, the problem is to see if conditions are found for Russia also to want peace," Draghi said, adding that "so far the facts say that there has been no such desire."
Draghi added that Italy is "ready to help peace, but de-escalation is needed."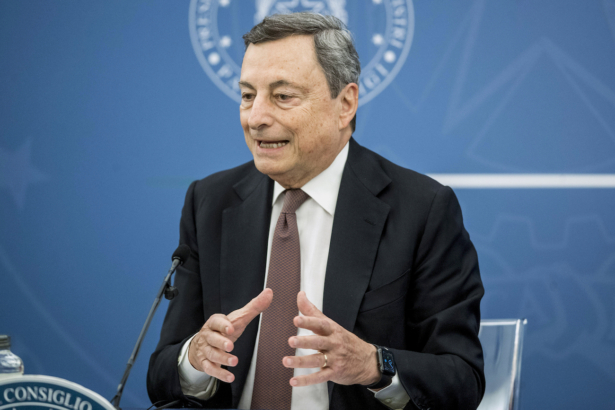 There was some hope following Monday's round of peace talks for de-escalation as the Kremlin announced it was "radically" cutting down on military activity near Kyiv and Chernihiv, framing it as an act of goodwill to facilitate further negotiations.
Western officials expressed doubt about the intent of the Kremlin's scale-back, noting that it appeared it was a move to reposition, refit, and resupply Russian forces for a renewed offensive.
NATO Secretary General Jens Stoltenberg said Thursday that Russian forces in Ukraine were not withdrawing but regrouping for a renewed offensive in eastern Ukraine, with an operational update from Russia's ministry of defense essentially confirming this view.
Stoltenberg made the remarks to reporters in Brussels, commenting on Moscow's earlier pledge to scale back operations around Kyiv and Chernihiv for what Russia's deputy minister of defense said was "for purposes of trust-building and creating conditions for holding talks further."
"According to our intelligence, Russian units are not withdrawing but repositioning. Russia is trying to regroup, resupply and reinforce its offensive in the Donbass region," Stoltenberg said.
Russia's ministry of defense on Wednesday confirmed the regrouping of its forces and affirmed that the aim was to enable them to concentrate their efforts on eastern Ukraine.
"All the main tasks of the Russian Armed Forces in Kiev and Chernigov directions have been completed. The objective of the regrouping of the Russian Armed Forces is to intensify action in priority areas and, above all, to complete the operation for the total liberation of Donbass," the ministry said in a statement.
In its most recent operational update on Friday, Russia's defense ministry said that units of the separatist-controlled so-called Lugansk People's Republic were "continuing their offensive" and overnight killed 40 Ukrainian infantrymen and destroyed an artillery battery and a number of vehicles.
Pentagon spokesperson John Kirby told a briefing on Thursday that intelligence sources determined that around 20 percent of Russian forces had "repositioned" so far as part of the Kremlin's claimed decision to "radically decrease" its military activities.
Kirby said it appears that the Russian forces are "going to be repositioned probably into Belarus, to be refit and resupplied and used elsewhere in Ukraine," with a possible destination being the Donbass region in eastern Ukraine.
The Donbass region contains Donetsk and Lugansk, the two regions partly controlled by separatists Russia has backed since 2014.
From The Epoch Times