A New York lawyer who torched a police car during the 2020 riots with a Molotov cocktail was sentenced Nov. 18 to 15 months in prison.
Urooj Rahman, the lawyer, saw her last-minute plea to the judge for no jail time rejected.
"I'm so incredibly sorry for my reckless and wrong actions," Rahman said in federal court in Brooklyn. "I don't think there's enough words to express my sorrow and regret. … I completely lost my way in the emotion of the night."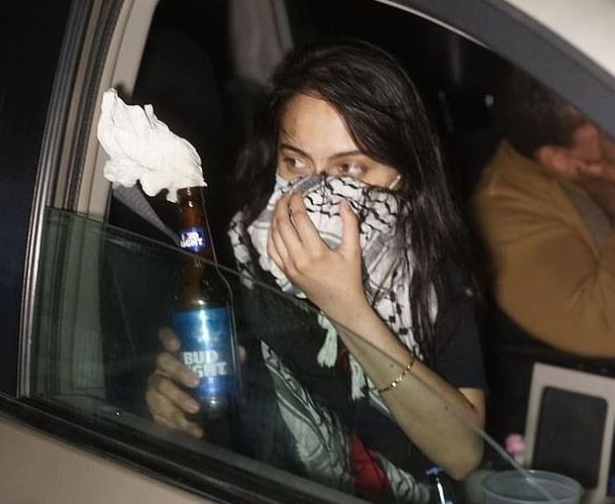 U.S. District Judge Brian Cogan, a George W. Bush appointee, said that Rahman is "a remarkable person who did a terrible thing on one night" but criticized the lawyer for thinking she could get away with violence.
"It displays an amazing amount of arrogance," Cogan said before handing down the sentence.
Rahman pleaded guilty to conspiracy in exchange for prosecutors dropping other charges. She faced up to five years in prison.
Rahman chucked the Molotov cocktail at an empty police vehicle in New York City on May 29, 2020, during a riot over the death of George Floyd in Minneapolis, Minnesota.
Security footage captured the act and police officers who pulled over the van in which Rahman and another lawyer, Colinford Mattis, were present found items to make another cocktail, including a lighter and a bottle filled with toilet paper and what was suspected to be gasoline.
In private messages obtained by investigators, Rahman and Mattis expressed support for burning police stations and encouraged others to engage in violence. They also mocked injured police officers and called officers "pigs."
"This [expletive] won't ever stop unless we [expletive] take it all down," Rahman told Loud Labs New York shortly before committing the crime.
Prosecutors recommended a prison term of 18 to 24 months, saying Rahman had accepted responsibility for her actions but that her actions could have led to "an extremely dangerous situation" if first responders had not quickly extinguished the burning car.
"The defendant's targeting of NYPD property with homemade firebombs is extremely dangerous criminal conduct that warrants a serious sentence," prosecutors said in a sentencing memorandum.
They also said that Rahman's history "present at least two highly significant mitigating factors," noting that there is no evidence that she carried out or planned violence before May 29, 2020, and that she has advanced degrees and was employed by a law firm that aided "underserved communities and indigent clients."
Defense attorneys argued Rahman did not knowingly create a substantial risk of death or serious bodily injury to other persons and that she "experienced deep ambivalence about the idea of using the Molotov cocktail."
"It was only when Urooj and Mr. Mattis saw a car that was already heavily damaged, unoccupied, and away from crowds that they ultimately acted," the lawyers said.
They asked for no further time in prison.
Rahman and Mattis have both been disbarred. Mattis is scheduled for sentencing next month.
The Associated Press contributed to this report.
From The Epoch Times