U.S. ambassador to Colombia, Kevin Whitaker, called on Venezuela's armed forces to help the aid across the border on Friday, Feb. 8.
Officials at a Cucuta warehouse organized staple foods and sanitary products into sacks during an event attended by Whitaker.
Venezuela's government on Friday said the United States should distribute humanitarian aid in Colombia where it is being stockpiled, while the opposition warned that blocking much-needed food and medicine could constitute crimes against humanity.
A day after the aid convoy arrived in the border city of Cucuta, President Nicolas Maduro ridiculed the United States for offering small amounts of assistance while maintaining sanctions that block some $10 billion of offshore assets and revenue.
Rival Juan Guaidó, who is recognized by dozens of countries as Venezuela's legitimate leader, warned military officers against blocking the arrival of aid amid spiraling disease and malnutrition brought on by a hyperinflationary collapse.
Venezuela's dire situation has fuelled a political crisis that has peaked over the last month, with Guaidó invoking a constitutional provision to declare himself the legitimate, interim president.
The aid seems unlikely to move into the country. The Red Cross urged Venezuelans not to politicize the aid issue, without saying how or if the aid would arrive.
To help ppl affected by #Venezuela crisis @USAID is transporting, stockpiling & pre-positioning relief supplies in #Colombia. Our goal: Deliver them to people in need on behalf of the American people @usembassyve @USEmbassyBogota @usaid_colombia @StateDept @USAenEspanol @USAIDLAC pic.twitter.com/wwIYXJG5SW

— USAID/OFDA (@theOFDA) February 8, 2019
'Middle-class Venezuelans Are Unable to Afford Food'
In 2014, the country's economy—which was almost entirely reliant on vast oil reserves—was crippled when oil prices shifted.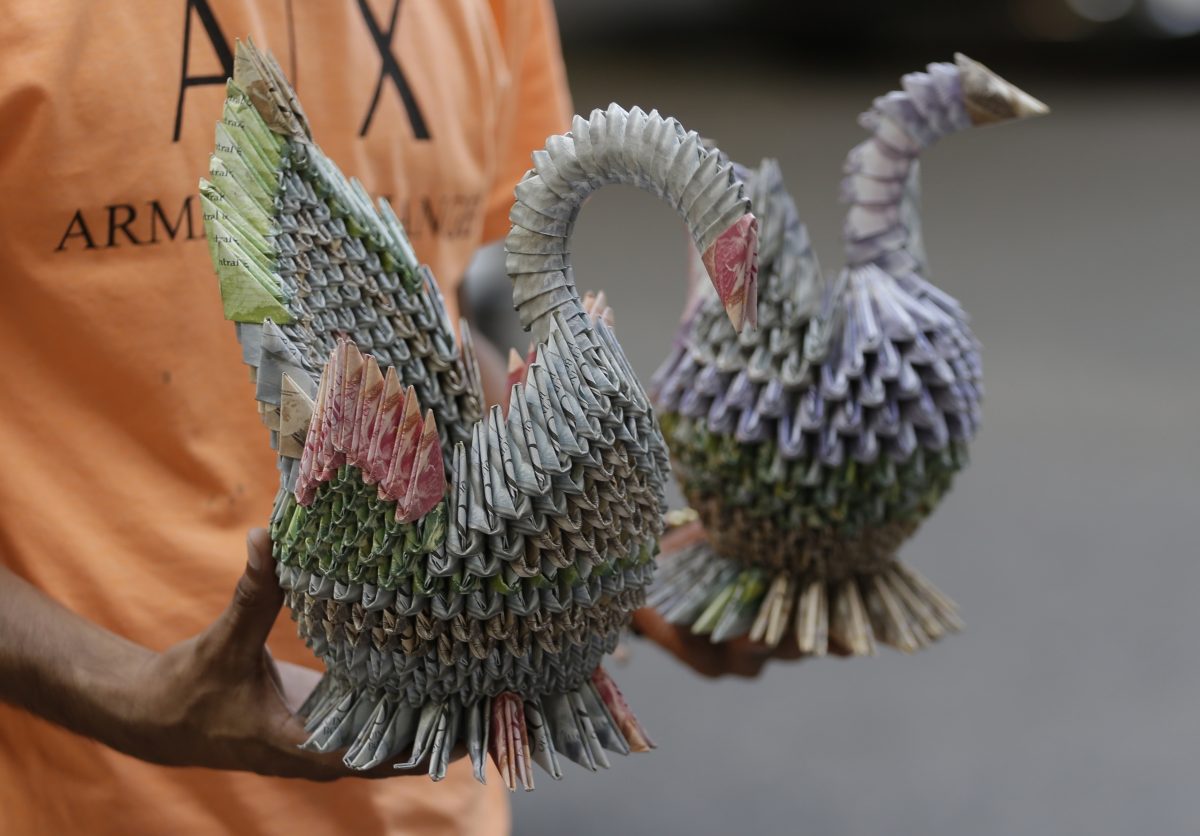 Last year, Maduro was forced to slash 5 zeros off the currency because hyperinflation, running at 4 percent a day, had left bank notes with less value than paper. The IMF predicted in October that inflation would reach the annual rate of 10 million percent in 2019.
"Venezuela's military under Maduro's orders is blocking aid," U.S. Secretary of State Mike Pompeo wrote on Twitter. "The Maduro regime must LET THE AID REACH THE STARVING PEOPLE."
The Venezuelan people desperately need humanitarian aid. The U.S. & other countries are trying to help, but #Venezuela's military under Maduro's orders is blocking aid with trucks and shipping tankers. The Maduro regime must LET THE AID REACH THE STARVING PEOPLE. #EstamosUnidosVE pic.twitter.com/L4ysYJaM6H

— Secretary Pompeo (@SecPompeo) February 6, 2019
In his State of the Union address on Feb. 5, President Donald Trump said that the United States stands with the people of Venezuela.
"We condemn the brutality of the Maduro regime, whose socialist policies have turned that nation from being the wealthiest in South America into a state of abject poverty and despair," Trump said.
According to The Borgen Project, an organization set up to fight hunger, "poor and middle-class Venezuelans are unable to afford food and often must wait in long lines known as 'colas' to find basic food like flour and rice."
"In the poorest segments of the population, especially in slums and areas of Caracas, malnutrition has increased greatly, as noted by many health workers. Often, families cannot afford two or three meals a day and those meals consist of just bread or banana."
Guaidó says the emergency shipment is a "test" for Venezuela's armed forces, to see if they obey orders from Maduro, or if they allow the much-needed aid to pass to the people of Venezuela.
Colombian Foreign Minister Carlos Holmes Trujillo said that any attempt to block aid from entering Venezuela is tantamount to "a crime."
"Committing such a crime would give even more reason for the unified countries to ask the International Criminal Court to investigate Maduro," Trujillo told reporters after a meeting with the head of the Organization of American States, Luis Almagro.
The Epoch Times reporter Simon Veazey contributed to this report.