Israel said Saturday it's "at war" after Hamas, the terror group that controls the Gaza Strip, launched a surprise attack against the country from the air, land, and sea.
In response to the assault, Israeli forces announced the launch of "Operation Swords of Iron," calling it a "large-scale operation to defend Israeli civilians against the combined attack against Israel by Hamas."
As of late Saturday, over 300 Israelis have been killed in the Hamas invasion, according to Israeli media. Israel's health ministry has reported that over 1,800 Israelis have been injured, including 18 in critical condition and 267 severe.
Meanwhile, the Gaza Health Ministry has said the Palestinian death toll in Gaza was 232 with over 1,700 wounded after Israel responded with hundreds of targeted airstrikes on Hamas and Islamic Jihad locations in the Gaza strip—which Hamas strategically establishes in heavily populated areas to use Palestinian civilians as a shield.
Here are the latest updates on the conflict.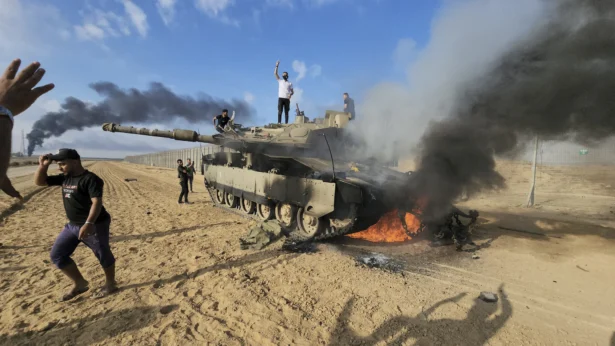 Reservists Called
IDF Chief Spokesman Brig. Gen. Daniel Hagari said on Sunday morning that the military will be calling up hundreds of thousands of reservists as Israeli forces make preliminary plans for ground troops to enter Gaza to thoroughly clear out Hamas's armed forces and military infrastructure following the deadly Saturday attack by the Islamist terrorists on Israel.
Mr. Hagari said that the IDF on Sunday would be focused on completely securing and retaking control of all of the 22 villages and 29 entry points breached by Hamas and Islamic Jihad a day earlier.
He added that there were no more known active hostage situations in Israeli homes, although searches for terrorist hiding in the invaded areas was ongoing.
The IDF has reported killing over 400 terrorists, wounded thousands, and captured dozens. Meanwhile, over 300 Israelis had died, with close to 1,800 wounded, and at least dozens captured.
Israel Strikes Hamas Intelligence Building
The IDF announced Sunday morning that its fighter jets have struck a building belonging to the head of the intelligence department in the Hamas terrorist organization. The airstrikes are part of its "Operation Swords of Iron."
"The IDF is currently continuing to strike terror targets in the Gaza Strip," the group added in its announcement at 9:08 a.m. Sunday local time.
So far, the IDF has conducted 500 targeted airstrikes on Hamas and Islamic Jihad locations, including command centers, hiding tunnels, and 10 large buildings.
Israel Strikes Lebanon After Hezbollah Attacks
Israel fired barrages of artillery into southern Lebanon on Sunday after Hezbollah targeted three Israeli military positions in the disputed Mount Dov region, also referred to as Shebaa Farms.
The Israeli military stated on Sunday that it retaliated with artillery strikes in Lebanon following cross-border mortar attacks. "IDF (Israel Defense Forces) artillery is currently striking the area in Lebanon from where a shooting was carried out," the IDF said.
There were no immediate reports of casualties.
Israel has held the Mount Dov region since 1967. It is a 15-square-mile (39-square-km) patch of land that both Syria and Lebanon claim are Lebanese.
Hezbollah, which effectively controls southern Lebanon, claimed it was in "direct contact" with the leaders of the Palestinian "resistance" groups. It added that it saw Palestinian attacks on Israel as a "decisive response to Israel's continued occupation and a message to those seeking normalisation with Israel."
Hezbollah Says Rockets and Mortars Fired at Israel
The Iran-backed Hezbollah terrorist group said in a statement on Sunday morning that it fired dozens of rockets and mortars at Israel "in solidarity" with Hamas's surprise attack on Israel.
The attack used a "large numbers of rockets and shells" that directly hit three Israeli positions in the contested Mount Dov region, the terrorist group said, adding it did so in solidarity with the "Palestinian resistance."
The IDF said it responded with artillery strikes as well as a drone strike. It did not report any Israeli injuries from Hezbollah's strike.
Meanwhile, there have been no immediate reports on Lebanese casualties.
'Leave Now,' Israeli PM Tells Palestinians in Gaza
Israeli Prime Minister Benjamin Netanyahu is urging Palestinian civilians in Hamas-controlled locations in the Gaza strip to leave immediately, in the hopes that they will vacate before the Israeli military up their response to the Islamist terrorist group's latest bloody offensive against Israel and its citizens that began on Saturday.
"I say to the residents of Gaza: Leave now because we will operate forcefully everywhere.," Mr. Netanyahu said of Hamas hiding places in Gaza, according to a statement posted on X around 4:25 a.m. Sunday local time from Tel Aviv.
"This morning, on Shabbat and a holiday, Hamas invaded Israeli territory and murdered innocent citizens including children and the elderly. Hamas has started a brutal and evil war," he said in his message on X, updating the world about the war acts leveled at Israel's citizens by the terrorists.
Saturday was the culmination of the week-long Torah-commanded harvest festival, Sukkot, for the Jewish people.
Israel's Military Shares Plan of Action
IDF spokesperson Lt. Col. Jonathan Conricus in his live briefing on X late Saturday shared the priorities of the Israeli military in the immediate days and weeks to come.
Its first priority is to restore the situation in the south of Israel to ensure safety to the Israeli communities there, Lt. Col. Conricus said. Thereafter, the IDF plans to obtain "a full and comprehensive tally of the numbers of Israelis," and account for all civilians and soldiers, including establishing their locations.
The second priority is "to make sure the border is closed and that future attacks are prevented and that Hamas won't have any other opportunities to attack Israel," he said.
"Third, and that's already ongoing, we will start to strike Hamas's military targets in Gaza. And that's the stage when we start responding to Hamas aggression and attacks," he added.
Situation 'Still Not Fully Under Control': Israeli Military
"This is a very sad day in Israel," Lt. Col. Conricus said in an update livestreamed on X late Saturday, in which he said that the situation is "still not fully under control," with fighting continuing in southern Israel.
"There are still Hamas terrorists inside Israel," Lt. Col. Conricus said, adding that Israeli special forces and IDF troops are continuing to fight, going house to house to clear communities of terrorists. He estimated that Israeli forces had managed to kill over 200 Hamas operatives.
Calling the Hamas attacks against Israeli civilians and soldiers "barbaric," Lt. Col. Conricus said that the loss of civilian life has been unprecedented.
While he cited the same 200-plus death toll figure that the IDF announced earlier in the day, Lt. Col. Conricus said that this "number will unfortunately rise."
The number of Hamas terrorists who crossed into Israel from Gaza to perpetrate their attacks was in the "high hundreds," he said, adding that they attacked dozens of Israeli communities and military bases.
"They went door to door, house to house, in search of Israeli civilians, executed in cold blood Israeli civilians in their homes," he said.
The terrorists then kidnapped and dragged into Gaza both soldiers and civilians, including women and children.
"I am sad to say that we have a significant number of Israelis held by Hamas in Gaza," he said, calling the number "unimaginable," though he did not provide a specific estimate as to how many.
The sheer number of abductions, he said, along with the known casualty count, would "shape and influence the future of this war against Israel and it will shape the future of what we're doing against Hamas."
The Tel Aviv skyline, seen in the background of the video, was quiet. Earlier in the day, there were barrages of Hamas rocket strikes streaking through the sky. The IDF spokesperson predicted that more strikes would come during the night.
He said there had been heavy barrages of missile attacks targeting central and southern Israel throughout the day.
"More than 3,000 rockets have been fired at Israel, aimed at Israeli civilians, and unfortunately they have claimed a heavy toll in human life and in human life in Israel," he said.
Lt. Col. Conricus said that the IDF would be focusing its efforts on striking Hamas targets inside Gaza in order to degrade the terror group's ability to perpetrate further attacks.
"This is going to be a long and difficult war."
Live briefing from Tel Aviv—with an IDF Spokesperson LTC (Res.) Jonathan Conricus https://t.co/nOU4IDlsQx

— Israel Defense Forces (@IDF) October 7, 2023
'Act of Savagery'
Former President Donald Trump addressed the Hamas attack in a speech during a campaign rally in Iowa on Saturday, in which he called for a forceful response to the assault.
"The Hamas terrorist invasion of Israeli territory … and the murder of Israeli soldiers today, and the brutal murder of citizens is an act of savagery that must and will be crushed," President Trump said. "It has to be dealt with very powerfully."
His remarks came as Israeli Prime Minister Benjamin Netanyahu said in a televised speech Saturday that the Hamas attack would not go unpunished.
"We will take mighty vengeance for this black day," Mr. Netanyahu said.
Saying that the Hamas terror group wants to "murder us all," the Israeli leader warned Palestinian civilians in Gaza to leave immediately because the Israeli military is going target Hamas hiding spots with strikes.
In his speech in Iowa, President Trump blamed President Biden's "really weak" leadership for incentivizing the assault.
"The Israeli attack was made because we are perceived as being weak and ineffective—and with a really weak leader."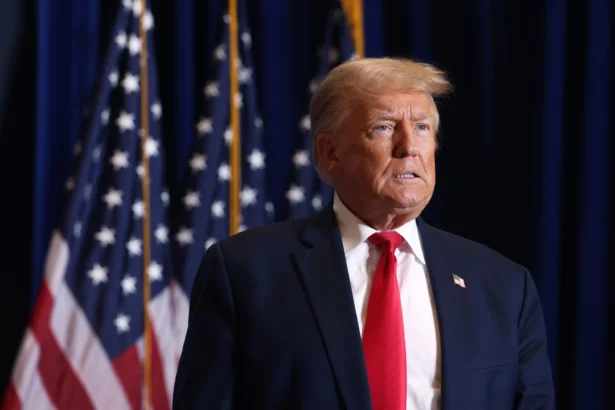 Israeli PM Vows 'Mighty Vengeance'
Mr. Netanyahu said in a televised speech Saturday that the Hamas attack would not go unpunished.
"Hamas launched a cruel and wicked war. We will win this war but the price is too heavy to bear," he continued.
"Hamas wants to murder us all. This is an enemy that murders mothers and children in their homes, in their beds. An enemy that abducts elderly, children, teenage girls," he added.
Numerous videos have been posted on social media appearing to show armed Hamas operatives abducting people and, in some cases, beating and abusing them. Among them was a video showing what appeared to be a killed young Israeli woman in the back of a pickup truck surrounded by terrorists.
Meanwhile, Hamas leader Ismail Haniyeh said the assault that had begun in Gaza would spread to other parts of Israel.
"This was the morning of defeat and humiliation upon our enemy, its soldiers, and its settlers," he said in a speech. "What happened reveals the greatness of our preparation. What happened today reveals the weakness of the enemy."
Mr. Netanyahu in his speech called on Palestinian civilians in Gaza to "leave now" because the Israeli military is going to "turn all Hamas hiding places into rubble."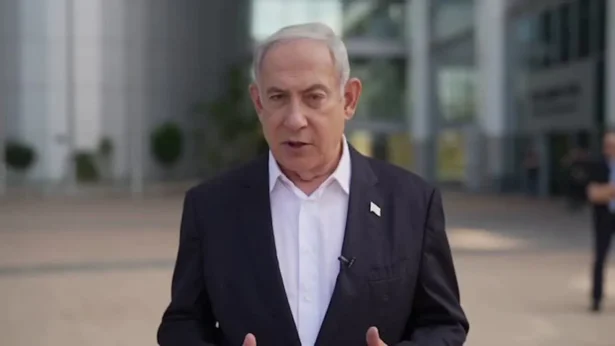 Israeli Commander Killed
The Israeli military has announced the death of one of its commanders in Saturday's clashes.
IDF said in a statement that Col. Jonathan Steinberg, the 42-year-old commander of the Nahal Brigade, was killed "during a confrontation with a terrorist."
Earlier, the Israeli military said in an update at around 4 p.m. ET that, since the Hamas attack was launched in the early morning hours, over 20 communities had been invaded by terrorist operatives.
"Terrorists rampaged and broke into homes—massacring civilians," IDF stated.
Both Israeli civilians and soldiers were kidnapped in Israel and transported into Gaza as hostages, it added.
Over 200 Israelis have been killed in the shock attack, IDF said, and over 1,000 have been injured.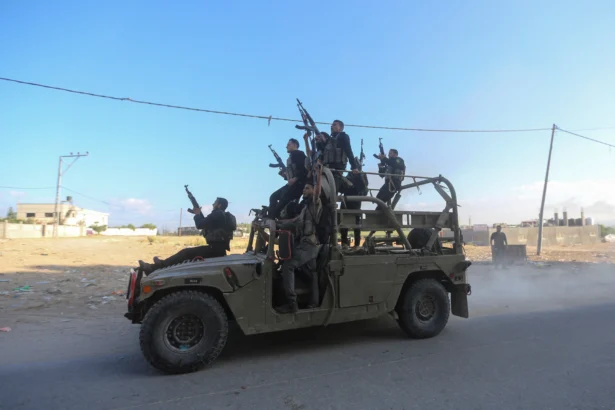 America 'Stands With Israel': Biden
President Joe Biden addressed the situation in Israel on Saturday, condemning the Hamas terror attacks and pledging support.
"The United States unequivocally condemns this appalling assault against Israel by Hamas terrorists from Gaza, and I made clear to Prime Minister Netanyahu that we stand ready to offer all appropriate means of support to the Government and people of Israel," President Biden said.
He issued a warning to "any other party hostile to Israel" that may be looking to take advantage of the situation not to exploit the current chaos.
The president added that U.S. support for Israel's security is "rock solid and unwavering," adding that he and the first lady are "heartbroken" for the tragic loss of life.
"My team and I are tracking this situation closely, and I will remain in close touch with Prime Minister Netanyahu," he added.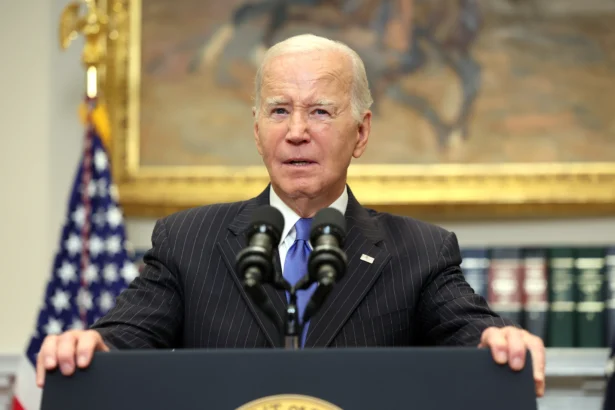 Hamas Takes Hostages
The Israel Defense Forces (IDF) said that Hamas has taken hostages and prisoners of war since launching its surprise assault, which took place on the 50th anniversary of a 1973 war in which Israel's Arab neighbors launched a surprise attack.
"There are hostages and prisoners of war that Hamas took. There are also deaths among IDF soldiers. We don't have an exact number yet—we are at war," said IDF spokesperson Brig. Gen. Danie Hagari.
Videos posted on social media show what appears to be Hamas terrorists taking Israelis captive, including Israeli soldiers.
One video shows Hamas fighters pulling Israeli soldiers out of a disabled tank, and kicking one of the soldiers as he lies on the ground, later motionless. The second soldier was led away by Hamas.
The Hamas terror group has said it's holding "dozens" of Israelis captive in the Gaza Strip, the coastal enclave that it controls.
Abu Obeida, a spokesman for the group's military wing, said the soldiers, including some officers, were captured during Saturday morning's surprise infiltration into southern Israel.
"They have been secured in safe places and resistance tunnels," Mr. Obaida said of the hostages.
IDF warned civilians in southern and central Israel to remain near shelters, and those in areas surrounding the Gaza Strip, inside shelters.
Numerous IDF units, including special forces, have been dispatched to areas around the Gaza Strip to protect civilians.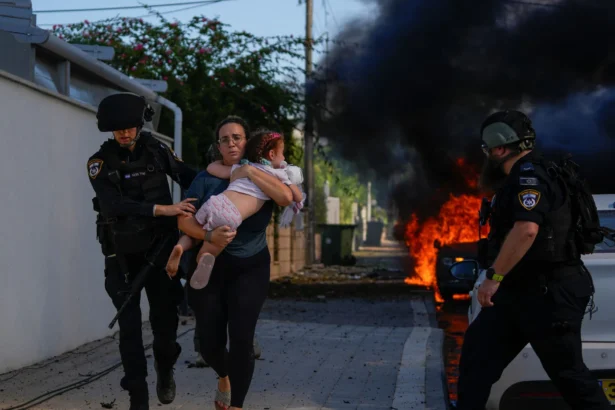 Fighting in 22 Locations
Israel responded to the Hamas attacks with massive air strikes deep inside the Gaza Strip, killing many and wounding hundreds, while vowing unprecedented retaliation.
"Our enemy will pay a price the type of which it has never known," Prime Minister Benjamin Netanyahu said. "We are in a war and we will win it."
An Israeli army spokesman said that fighting was continuing in 22 locations in southern Israel, roughly 12 hours after Hamas terrorists launched their assault.
Rear Adm. Daniel Hagari said that Israel was hitting targets in Gaza from the air and that ground operations would soon follow.
The IDF said in an operational update that Israeli fighter jets had struck 17 military compounds and four operational command centers belonging to the Hamas terror group in the Gaza Strip.
"The IDF is currently reinforcing the south and the communities surrounding the Gaza Strip with several operational forces," according to an IDF spokesperson.
"Operational commanders are arriving to manage combat in each location. Simultaneously, we have begun a wide mobilization of reserve forces for all IDF units," the spokesperson added.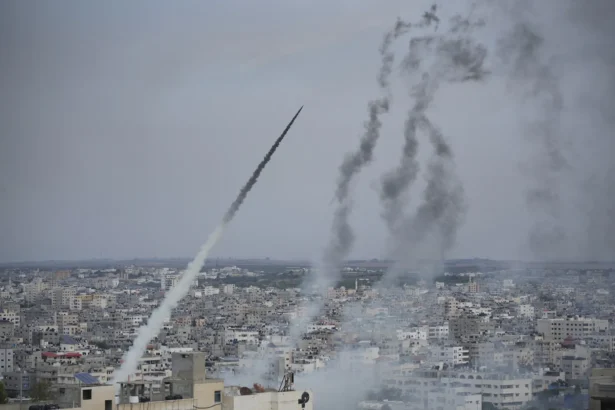 US Embassy in Israel Issues 'Shelter in Place' Order
The U.S. embassy in Jerusalem has issued several security alerts in response to the attacks.
First, it issued a "shelter in place" warning for embassy staff due to ongoing violence, prohibiting U.S. government personnel from traveling to Gaza and areas within seven miles of Gaza.
"U.S. citizens are reminded to remain vigilant and take appropriate steps to increase their security awareness as security incidents, including mortar and rocket fire, often take place without warning," the embassy said.
It added that it "is aware that there have been casualties as a result of these incidents" and that it's "closely monitoring the security situation" as a result of the attacks.
In a second security alert posted later on Saturday, the U.S. embassy said that the security situation remains "dynamic" as IDF forces have begun a military operation in Gaza, with crossings between Israel and Gaza closed until further notice.
"Since this morning, thousands of rockets have been fired from Gaza across southern and central Israel, including Tel Aviv and Jerusalem, and Hamas militants infiltrated Israeli areas near Gaza, killing and wounding civilians and Israeli security forces and taking hostages," the embassy said.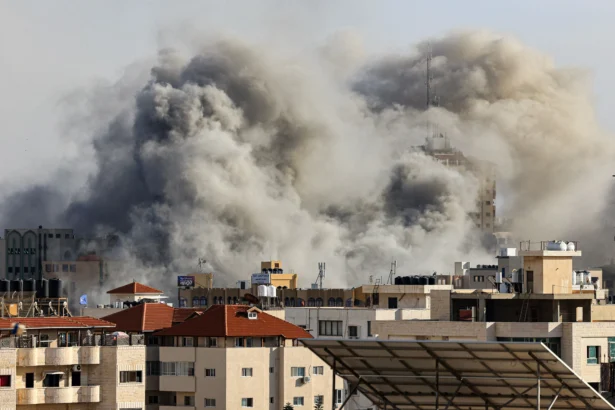 US Airlines Cancel and Divert Flights Bound for Israel
U.S. airlines have begun diverting and canceling flights bound for Israel's main international airport, Ben Gurion Airport, amid the ongoing violence.
United Airlines, Delta Air Lines, and American Airlines have all canceled Saturday and Sunday flights bound for Israel, according to FlightAware.
"The safety of our customers and crews is our top priority," United said in a statement. "We are closely monitoring the situation and we are adjusting flight schedules as required."
The U.S. embassy in Jerusalem said that the Ben Gurion Airport remains open "but the security situation and staff availability could affect flights. Please check with the airlines on the availability of flights and flight status.
Mimi Nguyen Ly, Melanie Sun, and The Associated Press contributed to this report.
From The Epoch Times