The war that began on Oct. 7 has become the deadliest of the five Gaza wars for both sides.
Here are the latest updates on the Israel–Hamas war:
______
Un Security Council Fails Again to Pass Resolution on Israel-Hamas War
The U.N. Security Council has failed again to address the Israeli–Hamas war in Gaza, rejecting rival United States and Russian resolutions.
The U.S. resolution would have reaffirmed Israel's right to self-defense, urged respect for international laws—especially protection of civilians—and called for "humanitarian pauses" to deliver desperately needed aid to Gaza. Wednesday's vote in the 15-member council was 10 countries in favor, 3 against, and 2 abstentions. The resolution was not adopted because both Russia and China cast vetoes.
The Russian resolution would have called for an immediate "humanitarian cease-fire," and unequivocally condemned Hamas's Oct. 7 attacks in Israel and "indiscriminate attacks" on civilians and civilian objects in Gaza. The vote was 4 in favor, 2 against, and 9 abstentions. The resolution wasn't adopted because it failed to get the minimum nine "yes" votes.
The council is charged under the U.N. Charter with maintaining international peace and security. But Wednesday's rejections, following its rejections last week of a Russian resolution and a Brazilian proposal, leave the Security Council divided and paralyzed in taking action on the Israeli–Hamas war.
Malta's U.N. Ambassador Vanessa Frazier told reporters before the vote that if both resolutions failed she would attempt to draft a compromise resolution.
U.S. Ambassador Linda Thomas-Greenfield accused Russia of submitting its text with no consultations "in bad faith." Russia's U.N. Ambassador Vassily Nebenzia called the U.S. draft a "politicized" proposal to shore up Israel.
________
Iraqi Militant Group Says It Attacked Base Housing US Forces in Syria
An Iranian-backed group in Iraq claimed responsibility for an attack on a military base housing U.S. forces in eastern Syria Wednesday, as a string of attacks targeting U.S. military facilities in Iraq and Syria persist.
The Islamic Resistance group in Iraq, an umbrella organization for several Iran-backed militias, said in a statement Wednesday that it had struck the Kharab al-Jir base in the northeastern Hassakeh province with rockets. They said they hit their target, without making any mention of casualties.
Washington did not immediately comment on the attack. U.S. Secretary of State Antony Blinken, in a call Monday with Iraqi Prime Minister Mohammed Shiaa al-Sudani, urged Sudani "to pursue those behind the attacks and fulfill Iraq's commitment to maintain the security at these installations," State Department spokesman Matthew Miller said in a statement Tuesday.
The past week has seen a spate of more than a dozen attacks on U.S. military facilities in Iraq in Syria, most of them claimed by the same group, which has said it is retaliating against America's backing of Israel in its war with Hamas.
________
Biden Condemns Attacks on Palestinians by Israeli Settlers in the West Bank
President Joe Biden on Wednesday said there is no going back to the "status quo" in Israel and the region following the deadly attack by Hamas on Oct. 7.
"When this crisis is over, there has to be a vision of what comes next," Biden said during a press conference at the White House with the Prime Minister of Australia. "And in our view, it has to be a two-state solution."
Biden said again that he believed the Israelis had the right—the "responsibility"—to respond to the attack. "The anger, the hurt, the sense of outrage that the Israeli people are feeling" following the attack is "completely understandable," he said.
But he also decried the attacks on Palestinians by Israeli settlers in the West Bank, and said it must stop and "stop now," and he said he remained focused on humanitarian aid into Gaza.
________
Macron Angles for International Coalition to Fight Hamas
French President Emmanuel Macron is promoting, with little success so far, the creation of an international coalition to fight the armed Palestinian group Hamas.
He pitched the idea during a two-day trip to the Middle East that started in Israel.
Leaders he met with in Israel, the West Bank, Jordan and Egypt didn't publicly address the issue.
The first response to the devastating Israel-Hamas war is "the fight against terrorism," Macron said Wednesday after his meeting with Egyptian President Abdel Fattah el-Sissi.
"The right response is to cooperate, to draw lessons from the international coalition against the Islamic State group" that intervened in Iraq and Syria, he added.
Macron first proposed the idea Tuesday after his meeting with Israel Prime Minister Benjamin Netanyahu, mentioning a "regional and international coalition" against the Hamas group that rules the Gaza Strip.
Netanyahu did not specifically comment on the French offer.
________
US Embassy in Kuwait to Limit Activity on US Military Bases After Iraqi Militia's Threats
The U.S. Embassy in Kuwait is acknowledging an Iraqi militia's threat to target U.S. military bases in the Mideast nation over the Israeli airstrikes targeting the Gaza Strip in its war on Hamas.
In a statement to American citizens, the embassy identified the threat as coming from Awliya Wa'ad al-Haq, or "The True Promise Brigades." That group, believed allied with Iran, has claimed an attack previously on the United Arab Emirates and Saudi Arabia.
"As a result, the U.S. Embassy in Kuwait is limiting its activity on U.S. military bases to essential and official events only," the embassy said in an alert sent to Americans.
________
Netanyahu Says He Will Be Held Accountable for Hamas' Attack
Israeli Prime Minister Benjamin Netanyahu says he will be held accountable for the bloody Oct. 7 massacre by Hamas militants, but that will only come after Israel's war against the Islamic militant group.
In a nationally televised address on Wednesday night, Netanyahu said that he was busy plotting a ground invasion of Gaza, though he refused to say when that might happen. He also expressed sorrow for the attack, which killed over 1,400 Israelis and saw over 200 others taken captive in Gaza.
"Oct. 7 is a black day in our history," he said. "We will get to the bottom of what happened on the southern border around Gaza. This debacle will be investigated. Everyone will have to give answers, including me."
________
US-led Forces Begin Live-Fire Exercises in Iraq, Syria After Attacks: Officials
United States-led coalition forces started live-fire exercises at bases in Iraq and Syria this week after multiple attacks on American soldiers in the past week, officials confirmed Wednesday.
The task force that operates the mission in Iraq and Syria to initially combat the ISIS terrorist group confirmed to media outlets that ground exercises are being carried out "to validate weapons systems and maintain crew proficiency and readiness" in the region.
Read more from here
_____
France to Send Navy Ship to Bring Aid to Gaza Strip, Macron Says
French President Emmanuel Macron said France is going to send a Navy ship to bring aid to hospitals in the Gaza Strip.
The ship will leave the French military port of Toulon, in the Mediterranean Sea, within 48 hours, he said. He didn't provide further details.
In addition, a French plane will arrive in Egypt Thursday to deliver medical equipment via a convoy to Gaza. "Others will follow," Mr. Macron said, adding that France wants to provide Gaza's civilian population access to medicine and medical care.
Mr. Macron's visit to Egypt Wednesday comes as part of a two-day tour to the Middle East that started with a visit to Israel meant to show France's support and solidarity following the Hamas attack on Oct. 7. The trip included a stop in Ramallah, in the West Bank, to meet with Palestinian President Mahmoud Abbas and another stop Wednesday morning in Jordan to have talks with King Abdullah II.
Mr. Macron in Egypt said, "There's no double standard … international law applies to everyone."
"All victims deserve our compassion, our commitment toward a fair and sustainable peace in the Middle East," he added.
________
Egypt's President Cautions His Forces Against Any Direct Involvement in War
Egyptian President Abdel Fattah el-Sissi cautioned his forces against any direct involvement in the Israel–Hamas war.
"My message to the army and people is not to make your military power make you rush into wrong decisions," Mr. el-Sissi said in front of dozens of tanks in the port city of Suez.
The president went on to say the Egyptian army has a history of dealing with crises "rationally and with patience."
Egypt has criticized Israel over its bombardment of Gaza, accusing it of trying to push hundreds of thousands of Palestinians onto its territory and nullify Palestinians' demand for statehood. Egypt maintains functional relations with both Egypt and Hamas, and has brokered peace deals between the warring sides during previous flare-ups.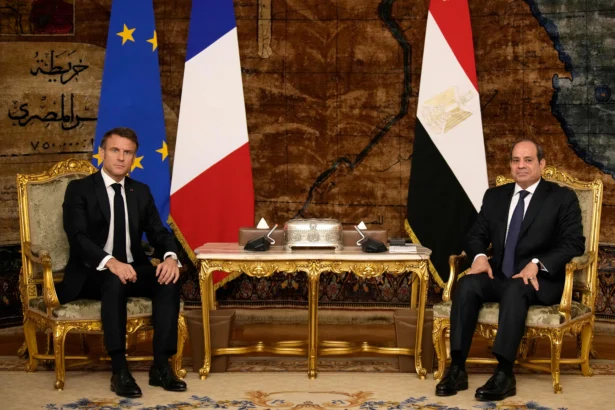 ____
Jordan's King Calls for International Community to Pressure Israel to End Gaza Strikes
King Abdullah II of Jordan called for the international community to pressure Israel to stop its attacks on Gaza and end its siege of the territory of 2.3 million Palestinians.
In a meeting with French President Emmanuel Macron on Wednesday in Amman, the monarch said that "stopping the war on Gaza is an absolute necessity, and the world must move immediately in this direction," according to the Jordanian royal court.
________
Qatar Says Hostage Talks With Hamas Still Ongoing
Qatar's foreign minister says that hostage negotiations with Hamas over the more than 200 people it took hostage during its Oct. 7 attack on Israel continue.
Sheikh Mohammed bin Abdulrahman Al Thani, who also serves as Qatar's prime minister, made the comments during a news conference with his Turkish counterpart in Doha on Wednesday.
"Regarding the progress on the hostage negotiation, it's still ongoing," Sheikh Mohammed said. "If we compare where we started and where we are right now, there is some progress and some breakthrough and we will remain hopeful."
He added: "The negotiations are still ongoing and at any moment of time, I think that if we will be able to get along between the two parties, I think we will see some breakthroughs hopefully soon."
Soft teddy bears with their eyes covered and showing signs of injury are displayed to highlight the young children and babies currently missing, believed to be being held hostage, by Hamas, in Tel Aviv, Israel, on Oct. 25, 2023. (Leon Neal/Getty Images)_______
Turkey's President Says Hamas Is a 'Liberation Group'
President Recep Tayyip Erdogan says the terrorist Hamas group isn't a terror organization, but a "liberation group" trying to protect its lands and citizens.
In an address to his ruling party's legislators on Wednesday, Mr. Erdogan also said he has canceled plans to visit Israel as part of his country's policy of normalizing its relations with the Jewish state, adding that Israeli Prime Minister Benjamin Netanyahu had "misused our goodwill."
Increasing his tone against Israel, Mr. Erdogan also described Israel's action in Gaza as one of the "bloodiest, most disgusting, and most savage attack in history."
"We have no problem with the Israeli state, but we never have, and never will, accept the atrocities committed by Israel and the fact that it acts as an organization rather than a state," he said.
The Turkish leader called for an immediate cease-fire, for humanitarian aid to be allowed into Gaza, and for talks for the release of hostages to begin. He also suggested the establishment of an international peace conference for Israel and the Palestinians.
"All sides must pull their fingers off the trigger, a cease-fire must be declared," he said.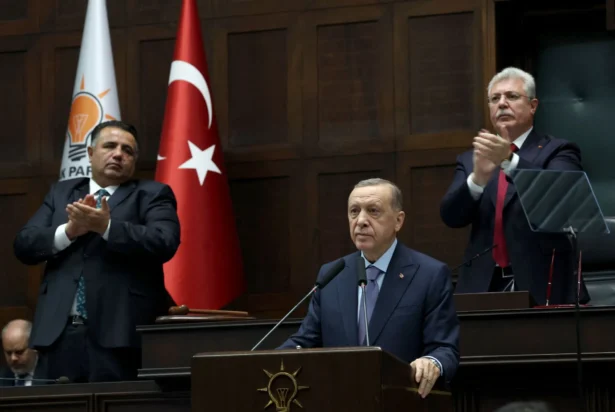 _____
Hezbollah Leader Meets With Senior Hamas and Islamic Jihad Officials
The leader of Lebanon's Hezbollah group held talks on Wednesday with senior Hamas and Palestinian Islamic Jihad figures in a key meeting of three top anti-Israel terrorist groups amid the war raging in Gaza.
A brief statement following the meeting said that Hezbollah's leader Hassan Nasrallah agreed with Hamas' Saleh al-Arouri and Islamic Jihad's leader Ziad al-Nakhleh on the next steps that the three—along with other Iran-backed terrorist groups—should take at this "sensitive stage."
Their goal, according to the statement that was carried on Hezbollah-run and Lebanese state media, was to achieve "a real victory for the resistance in Gaza and Palestine" and halt Israel's "treacherous and brutal aggression against our oppressed and steadfast people in Gaza and the West Bank."
_____
Israeli Airstrikes Hit Military Sites in Syria
Israeli airstrikes hit a number of military sites in southern Syria on Wednesday, killing eight soldiers and wounding seven others, according to Syrian state media.
The strikes targeted the Daraa countryside overnight and came from the direction of Israel, the SANA state-run news agency said, citing military officials.
The Israeli military said on Twitter that its fighter jets struck "military infrastructure and mortar launchers" of the Syrian army "in response to rocket launches from Syria toward Israel yesterday."
______
Rating Agency S&P Changes Israel Credit Outlook From 'Stable' to 'Negative'
Credit rating agency Standard & Poor's says it is changing its outlook on Israel's credit rating to "negative" from "stable" as the country fights a war against Hamas in Gaza in response to the terrorist group's devastating attack.
S&P said Tuesday it was revising the outlooks on its long-term foreign and local-currency ratings on Israel, citing the war, its potential to escalate into a broader regional conflict, and the impact that could have on the country's economy.
S&P left Israel's credit rating unchanged at AA-. The agency's highest rating is AAA. By revising the outlook, S&P is raising a warning flag signaling that a rating downgrade could happen in the future.
_____
Australia Sends More Transport Jets to Middle East
Australia said it sent an additional two air force transport jets to the Middle East in case citizens of the country need to be evacuated should hostilities escalate.
Acting Prime Minister Richard Marles said Wednesday that three aircraft were now in the region.
"All of this is a contingency and the purpose of it is to be supporting Australian populations that are in the Middle East if, in fact, this conflict gets worse," Marles told Nine Network television.
Marles did not say where the aircraft were sent other than they were not in Israel. He urged Australians who want to return home to take commercial flights now rather than wait for a possible military evacuation.
Australia has helped hundreds of Australians leave Israel aboard chartered flights and was working toward helping 79 leave Gaza.
________
Israel Vows Again to Destroy Hamas, Rejects Calls For Ceasefire in Gaza at UN Meeting
Israel is vowing again to destroy the Hamas terrorist group, rejecting calls for a cease-fire from the U.N. chief, the Palestinians, and other countries, at a high-level U.N. meeting. The Jewish state also said that the war in Gaza against Hamas is not merely its own but "the war of the free world."
Israel's Foreign Minister Eli Cohen also dismissed calls for "proportionality" in the country's response to Hamas' surprise attacks on Oct. 7 that killed 1,400 people. More than 5,700 Palestinians have since been killed in Gaza, according to the Hamas-backed Gaza Health Ministry.
Mr. Cohen told the U.N. Security Council the proportionate response to the Oct. 7 massacre is "a total destruction to the last one of the Hamas," calling the extremist group "the new Nazis." He added: "It is not only Israel's right to destroy Hamas. It's our duty."
Palestinian Foreign Minister Riyad al-Maliki said he came to the meeting "to stop … the ongoing massacres being deliberately and systematically and savagely perpetrated by Israel." He noted that "over 2 million Palestinians are on a survival mission every day, every night."
Under international law, Mr. al-Maliki said, "it is our collective human duty to stop" the Israeli attacks and bloodshed.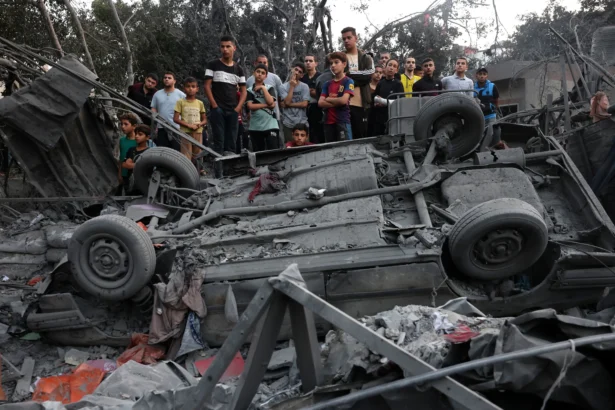 ________
US Fighter Squadron Arrives in Middle East
The New Jersey Air National Guard's 119 Expeditionary Fighter Squadron arrived in the Middle East on Tuesday, Pentagon press secretary Brig. Gen. Pat Ryder told reporters. The squadron has F-16 fighter jets, and officials would not say where exactly it went.
Ryder also said the United States is preparing for an increase in violence, noting that there have already been at least 13 attacks against troops and installations in Iraq and Syria.
"What we are seeing is the prospect for more significant escalation against U.S. forces and personnel across the region in the very near term coming from Iranian proxy forces and ultimately from Iran," he said during a Pentagon briefing.
He added that the United States won't hesitate to take action if needed to protect its forces and interests in the region.
________
France's Macron Calls For International Coalition Against Hamas
French President Emmanuel Macron proposed on Tuesday that an international coalition fighting the terrorist ISIS group in Iraq and Syria widen its scope to include the fight against the Palestinian terrorist group Hamas in Gaza.
Mr. Macron gave no details on how the U.S.-led coalition of dozens of countries, of which Israel is not a member, could be involved. His advisers said, however, that the coalition's participation would not necessarily imply boots on the ground, but could include intelligence-sharing.
While in Jerusalem with Israeli Prime Minister Benjamin Netanyahu, Mr. Macron expressed that both countries see terrorism as a shared threat. He stated, "France is ready for the international coalition against Daesh in which we are taking part for operations in Iraq and Syria to also fight against Hamas." He said the fight against Hamas "must be without mercy but not without rules."
Mr. Netanyahu did not directly respond to the proposal but said the fight was a battle between the "axis of evil" and "the free world." Mr. Macron's office said the idea was to draw inspiration from the coalition and that France was available to discuss with Israel and partners what could be relevant against Hamas, emphasizing its roles could go beyond ground operations, like training, intelligence-sharing, and curbing terrorism funding.
Careful to strike a balance, Mr. Macron also met Palestinian leader Mahmoud Abbas in Ramallah, the West Bank. Mr. Macron underscored that the conflict is devastating for both Israelis and Palestinians and reiterated his support for a two-state solution. Mr. Abbas, meanwhile, requested an end to the "aggression" on Gaza and emphasized protection for Palestinians.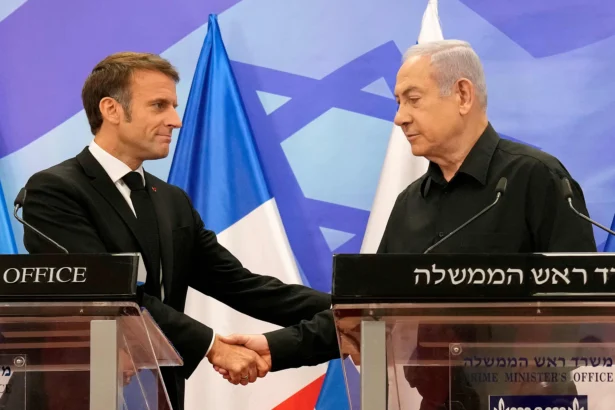 ________
WHO Calls For Immediate Ceasefire
The U.N. health agency called Tuesday for an immediate humanitarian cease-fire in Gaza to be able to distribute fuel and essential, life-saving health supplies, including to major hospitals in the strip's northern half.
"For people in the Gaza Strip, the situation is desperate. It will become catastrophic without the safe and continuous passage of fuel and health supplies, and additional humanitarian assistance," the World Health Organization said in a statement.
The WHO said some health facilities in northern Gaza, including the territory's largest Shifa hospital, were waiting for supplies and fuel. Among them is the Indonesian hospital, which suffered a brief power outage and was forced to shutter some critical services due to lack of fuel.
Gaza's only oncology hospital, the Turkish Friendship Hospital, remains partially functional, putting around 2,000 cancer patients at risk, the agency added.
Supported by the U.N. agency for Palestinian refugees, the health agency said it delivered 34,000 liters (about 9,000 gallons) of fuel Monday to four major hospitals in southern Gaza and the Palestine Red Crescent. That was only enough to keep ambulances and critical hospital functions running for a little over 24 hours.
The Israeli Defense Forces has accused Hamas of withholding fuel from the civilians of Gaza. On X, formerly Twitter, the IDF noted: "These fuel tanks are inside Gaza. They contain more than 500,000 liters of fuel. Ask Hamas if you can have some." The post is accompanied by aerial photos of where the fuel is being held.
These fuel tanks are inside Gaza.

They contain more than 500,000 liters of fuel.

Ask Hamas if you can have some. https://t.co/Dlag6VdbMq pic.twitter.com/WXzZMFr8yI

— Israel Defense Forces (@IDF) October 24, 2023
________
Kirby: A Ceasefire Now 'Really Only Benefits Hamas'
U.S. National Security Council spokesman John Kirby told reporters on Tuesday: "a ceasefire right now really only benefits Hamas."
"All I can tell you is we're going to continue to make sure Israel has the tools and the capabilities that they need to defend themselves," Mr. Kirby told a reporter when asked what he expects to unfold in the near future.
"We're going to continue to try to get that humanitarian assistance in, and we're going to continue to try to get hostages and—and people out of Gaza appropriately."
He added that a potential ground incursion by Israel "is a question for the Israeli Defense Forces."
"They get to make the decisions about what operations they're going to conduct or not," he said, adding, "a ceasefire right now is only going to benefit Hamas."
________
Previous Day's Notable News
US Troops in Iraq, Syria Attacked 13 Times in Past Week: Pentagon officials revealed Tuesday that U.S. troops at outposts across the Middle East were attacked 13 times within the past week, involving a combination of one-way drones and rockets. Read more here.
Israel Releases Unedited Footage of Hamas Attack: Israel's government screened a graphic and unedited 43-minute compilation video showing atrocities committed by Hamas terrorists during the Oct. 7 attack. The screening took place on Oct. 23 at a base in Tel Aviv. Read more here.
Blinken Says Ceasefire 'Would Allow Hamas to Remain': U.S. Secretary of State Antony Blinken repeatedly avoided endorsing calls for a ceasefire in the ongoing Israel–Hamas conflict, insisting Israel not only has the right to defend itself after an unprecedented attack by the Hamas terrorist group, but also to make sure Hamas cannot carry out similar attacks in the future. Read more here.
Stranded Americans Say US Embassy Did Not Help Them in Israel When War Started: Bishop Quigg and Annette Lawrence, who arrived in Israel just as the Israel-Hamas War broke out, have decried the embassy's lack of assistance. Read more here.
What is Hezbollah, the Terrorist Group Behind the Attacks in Northern Israel?: Hamas is not the only U.S.-designated terrorist group backed by Iran that is threatening Israel. Hezbollah has been firing rockets from Lebanon into the Jewish state while Hamas has been launching rockets from Gaza. Read more here.
Saudi Arabia Evacuates Embassy Staff and Families of Diplomats in Beirut: Lebanese airport officials say the evacuation was via two military planes that left Lebanon's capital on Tuesday. There was no official announcement from Saudi authorities, but the move came days after Saudi Arabia urged its citizens to leave Lebanon immediately. The departures come amid rising tensions along the Lebanon–Israel border where members of the Hezbollah terrorist group have been exchanging fire with Israeli troops on a daily basis.
Israeli Hostage Describes the 'Hell' of Harrowing Hamas Attack: Yocheved Lifshitz, an 85-year-old woman released by Hamas, told reporters Tuesday that the terrorists beat her with sticks, bruising her ribs and making it hard to breathe, as they kidnapped her during their attack on towns in southern Israel on Oct. 7. Read more here.
________
Casualties
More than 1,400 people have been killed and 4,450 have been injured in Israel. Most of the deaths are civilians slain during the initial Hamas attack on Oct. 7. At least 222 individuals, including foreigners, are believed to have been captured by Hamas during the brutal attack and taken into Gaza, the Israeli military said. Four hostages have been released as of Oct. 24.
Separately, on Oct. 10, the IDF reported that they killed approximately 1,500 Hamas terrorists since Oct. 7.
The Gaza Health Ministry, backed by Hamas, claimed that as of Oct. 24, more than 5,700 Palestinians have been killed and more than 16,200 have been injured in Gaza. The Epoch Times could not independently verify the death tolls cited by Hamas, which says it tallies figures from hospital directors. In past conflicts, some Palestinian deaths in Gaza were attributed to Hamas rockets that fell short.
________
Summary of Events
After the unprecedented attack by Hamas on Oct. 7, the Israel Defense Forces (IDF) responded on Oct. 13 by urging civilians in northern Gaza to evacuate, anticipating intensified military actions. This came after around 1,400 Israelis were killed in the initial attack, prompting Israel to launch "Operation Swords of Iron" aimed at neutralizing Hamas. Israel declared war on Hamas on Oct. 8 and later relaxed its gun license regulations, to enable more civilians to arm themselves. By Oct. 8, Israel had already started its evacuation campaign through mass text messages.
Hamas, an Iran-backed Islamist terrorist group, took control of Gaza in 2007 after clashing with Fatah, a rival Palestinian faction. While Fatah nowadays leans towards peaceful negotiations for a two-state resolution, Hamas denies Israel's right to exist and resorts to armed violence.
Hamas claimed to hold over 200 Israeli hostages and on Oct. 9 threatened to kill the hostages if Israeli airstrikes hit Gaza civilians "without warning." The IDF noted on Oct. 10 that Hamas intentionally locates its bases near civilian buildings like hospitals and schools, thus turning the buildings into valid military targets. It blames Hamas for intentionally doing this to maximize international condemnation of any Israeli attempts to fight back against the terrorists.
Israel on Oct. 9 cut off supplies of food, fuel, electricity, and medicine into Gaza and emphasized that the blockade would remain until all the hostages were released. By Oct. 11, Israel had established an emergency government and activated around 360,000 army reservists who have gathered along Israel's border with Gaza. The Israeli military also disclosed plans to target Hamas's sprawling tunnel network beneath Gaza City, which the terrorists use and is shielded by civilian structures above. Meanwhile, Hamas vowed to fight to the last drop of blood and told Gazan residents to refrain from evacuating the area.
The United States began charter flights on Oct. 13 and boat evacuations on Oct. 17 to evacuate Americans out of Israel. At least 33 Americans have died since the start of the war, as of Oct. 24, and at least 13 remain missing.
Jack Phillips, The Associated Press, and Reuters contributed to this report. 
See the previous day's updates here.