Monday marks the 10th day since the start of the most recent Israel–Hamas conflict on Oct. 7.
Here are the latest updates on the war:
_____
Biden Will Visit Israel Wednesday
President Joe Biden will travel to Israel on Wednesday to show support for the U.S. ally as concerns increase that the raging Israel–Hamas war could expand into a larger regional conflict.
U.S. Secretary of State Antony Blinken announced President Biden's travel to Israel as the humanitarian situation in the Gaza Strip grows more dire and as Israel prepares for a possible ground attack on the 141-square-mile (365-square-kilometer) territory to root out Hamas terrorists responsible for what U.S. and Israeli officials say was the most lethal assault against Jews since the Holocaust.
President Biden is looking to send the strongest message yet that the United States is behind Israel. His Democratic administration has pledged military support, sending U.S. carriers and aid to the region. Officials have said they would ask Congress for upward of $2 billion in additional aid for both Israel and Ukraine, which is fighting Russia's invasion.
Mr. Blinken made the announcement early Tuesday after more than seven hours of talks with Israeli Prime Minister Benjamin Netanyahu and other top Israeli officials.
_____
Israel Hits Southern Gaza With More Air Strikes
Israeli air strikes continue to lay waste to Gaza, hitting homes sheltering people seeking safer ground and wiping out 18 members of the same family.
Three families who had fled Gaza City were in a house that was struck early Monday in the southern city of Rafah. The attack killed a dozen people and left nine buried in the rubble, according to surviving family members.
A vast crater marked where the building had stood.
In the Nuseirat refugee camp in the middle of the besieged Gaza Strip, the bodies of 18 members of the Ghabayen family were loaded onto a truck.
"This is an entire family," said Mustafa Ghabayen, a relative. "Eighteen martyrs and three are still under the rubble."
_____
Putin Urges Peace in Phone Call With Netanyahu
Russian President Vladimir Putin reiterated his desire for peace between Israel and the Palestinians in a phone conversation with Israeli Prime Minister Benjamin Netanyahu, the Kremlin said Monday.
The Kremlin said Mr. Putin also urged a quick end to hostilities in earlier calls to Egyptian, Iranian, Syrian, and Palestinian leaders.
Speaking to Mr. Netanyahu, Mr. Putin expressed his "sincere condolences" to the families and friends of deceased Israelis and emphasized "his strong rejection and condemnation of any actions that victimize the civilian population."
The Kremlin said Mr. Putin reiterated his desire for "a peaceful settlement through political and diplomatic means."
_____
European Commission Vows to Triple Aid to Gaza
European Commission President Ursula von der Leyen said Monday that the European Union will increase humanitarian aid to Gaza starting with two flights this week via Egypt.
She said the Commission has tripled humanitarian aid for civilians in Gaza to 75 million euros ($79 million) and would "keep working with our partners in the region to assess and address the needs on the ground."
Von der Leyen denounced the "heinous" Hamas attacks and said "Israel has the right to defend itself in line with humanitarian international law."
The Commission head was speaking in Tirana at the end of a summit with Western Balkan leaders.
_____
Over 4,100 Killed in Israel–Hamas War
Some 400 of the 950 Israeli civilian bodies sent to the National Center of Forensic Medicine following the Hamas attacks remain unidentified, the head of the center said Monday.
"The amount of charred bodies that we receive now, the proportion is high," Dr. Chen Kugel said. "I don't know how long it will take."
He said there were DNA, dental records and CT scans to help identify the dead.
More than 1,400 Israelis were killed, the vast majority civilians, in the Oct. 7 attacks by Hamas terrorists.
The Gaza Health Ministry said 2,750 Palestinians have been killed since Israel launched counter strikes.
_____
Blinken, Netanyahu Shelter in Bunker Amid Air Raid Sirens in Tel Aviv
U.S. Secretary of State Antony Blinken and Israeli Prime Minister Benjamin Netanyahu sheltered in a bunker for five minutes on Monday when air raid sirens went off in Tel Aviv during their meeting, State Department spokesperson Matthew Miller said.
All the meeting participants have since moved out of the bunker, resumed their meeting and were going to a command center at Israel's defense ministry to continue their discussions, he said.
The incident occurred as President Joe Biden weighs a trip to the region himself amid an Israeli bombardment of Gaza after Hamas' deadly attack on Israel 10 days ago.
"During the Secretary's meeting with PM Netanyahu and the war cabinet, the air raid sirens went off and they sheltered in bunker for five minutes," Mr. Miller said.
Mr. Blinken returned to Israel after an intense series of visits with regional leaders to try to contain the Israel-Hamas conflict and secure humanitarian aid and safe passage for U.S. citizens and civilians in Gaza.
___
Hezbollah Says It Attacked Israeli Position Near Lebanon
Lebanon's terrorist Hezbollah group says its fighters have targeted an Israeli position along the border directly hitting a Merkava tank.
Hezbollah said in a statement that the Sunday evening attack hit an Israeli position near the Lebanese border village of Duhaira. It gave no other details about the attack.
_____
Kremlin Says Putin Called for Peace in the Middle East
Russian President Vladimir Putin has spoken with Egyptian, Iranian, Syrian, and Palestinian leaders, urging a quick end to the hostilities.
The Kremlin said in its readout of Monday's phone calls that Mr. Putin emphasized "the unacceptability of any form of violence against civilians" and noted that Moscow has submitted a draft U.N. Security Council resolution calling for an immediate humanitarian truce.
It noted that Mr. Putin and his interlocutors expressed "extreme concern" about the escalation of hostilities, "a catastrophic increase in the number of civilian casualties and a deepening humanitarian crisis" in Gaza.
Mr. Putin reaffirmed Russia's call for the resumption of a political process to help "reach a long-term and fair solution to the Palestinian problem on a well-known international legal basis, which would envisage the creation of an independent Palestinian state coexisting in peace and security with Israel."
Mr. Putin's foreign affairs adviser Yuri Ushakov said Mr. Putin was also scheduled to talk Monday with Israeli Prime Minister Benjamin Netanyahu.
_____
Shin Bet Head Takes Responsibility for No Warning Before Hamas Attack
The head of Israel's Shin Bet security service has taken responsibility for the bloody Oct. 7 Hamas rampage that killed over 1,400 Israelis.
In a message sent to Shin Bet workers and their families over the weekend, Ronen Bar wrote that "despite a number of actions we took, unfortunately, on Saturday, we were unable to create enough early warning to prevent the attack."
"As the person at the head of the organization, the responsibility for that is on me," he added. "There will be time for investigation—now is a time for war."
The letter was obtained by The Associated Press on Monday.
_____
EU Leaders to Meet to Discuss Israel-Hamas War
European Union leaders will hold an emergency summit on Tuesday as concern mounts that the war between Israel and Hamas could fuel inter-communal tensions in Europe and bring more refugees in search of sanctuary.
The leaders will also attempt to restore some order after a series of social media messages, statements, and visits by EU officials sowed confusion about the 27-nation bloc's intentions after Hamas attacked southern Israel.
_____
Blinken Meets With Israeli Official for 2nd Time in a Week
U.S. Secretary of State Antony Blinken has renewed pledges of American support for Israel in its war against Hamas as he returned to the country for the second time in less than a week.
In Jerusalem on Monday to consult with Prime Minister Benjamin Netanyahu and other senior officials, Mr. Blinken also briefed them about discussions he had with Arab leaders on the conduct of the war and the need to protect civilians.
Mr. Blinken "underlined his firm support for Israel's right to defend itself from Hamas' terrorism and reaffirmed U.S. determination to provide the Israeli government with what it needs to protect its citizens," State Department spokesman Matthew Miller said in a statement.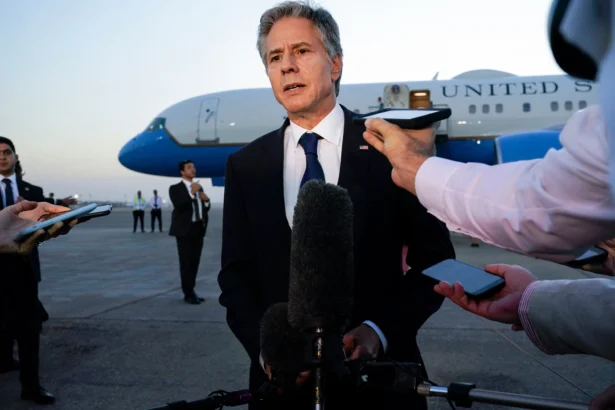 _____
Hezbollah Says It Has Attacked Israeli Border Posts
Lebanon's terrorist Hezbollah group says its fighters have targeted five Israeli posts along the border in the country's south.
Hezbollah said in a terse statement that various types of "direct weapons" were used in the late Monday afternoon attack.
Hezbollah gunmen have been destroying surveillance cameras placed on Israeli posts along the border amid heightening tensions.
____
Netanyahu Warns Terrorists in the North: 'Don't Test Us'
Israeli Prime Minister Benjamin Netanyahu has warned Hezbollah terrorists in Lebanon and their Iranian backers that they will pay a high price if they become involved in the war.
Speaking to the Israeli Knesset on Monday, Netanyahu warned Iran and Hezbollah, "Don't test us in the north. Don't make the mistake of the past. Today, the price you will pay will be far heavier," referring to Israel's 2006 war with Hezbollah.
With a ground invasion of Gaza expected, Israel is preparing for the potential of a new front opening on its northern border with Lebanon, where it has exchanged fire repeatedly with Hezbollah. The military has ordered residents from 28 Israeli communities close to the border to evacuate.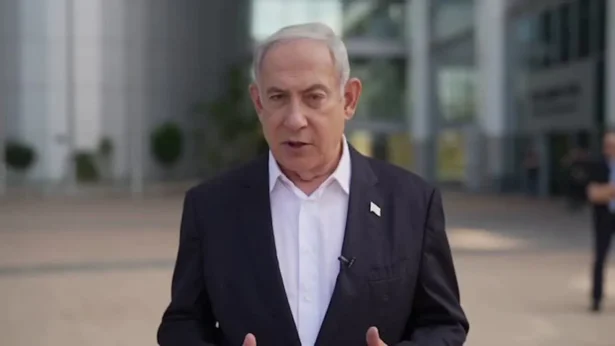 ______
Trucks Cross Into Egypt to Load Up With Fuel for Gaza
Oil tankers bearing United Nations flags have crossed into Egypt from Gaza to pick up fuel supplies for the besieged enclave.
The trucks were led across the Rafah border by a U.N. escort vehicle as people stood in line in hopes of crossing.
Hospitals in Gaza are expected to run out of generator fuel in the next 24 hours, endangering the lives of thousands of patients, according to the U.N. Gaza's sole power plant shut down for lack of fuel after Israel completely sealed off the 40-kilometer (25-mile) long territory following the Hamas attack.
_____
Hamas Said It Made Decision to Attack Israel Without Direction From Outside
Ahmed Abdul-Hadi, the representative of Hamas in Lebanon, insisted Monday that the decision to launch the surprise Oct. 7 attack in southern Israel was made by Hamas leadership and not directed by Iran or any other outside party, but he said that in the event of a ground invasion of Gaza, allied groups would intervene.
The war in Gaza is "a Palestinian battle and the decision to enter it was a Palestinian decision" made by Hamas and its military wing, the Izz ad-Din al Qassam Brigades, "together with the Palestinian resistance factions," he said in an interview with The Associated Press ahead of a conference convened by the group in Beirut.
Hamas officials have denied that Iran was directly involved in planning the deadly attack or gave it the green light, and to date, no government worldwide has offered direct evidence that Iran orchestrated the attack. However, many have pointed to Iran's long sponsorship of Hamas that has included training, funding, and providing it with weapons.
_____
France Accuses Hamas of Not Allowing Gaza Residents to Leave
France says Gaza residents must be allowed to leave, accusing Hamas of preventing them from doing so, and wants the blockade of Gaza eased to allow in humanitarian aid.
The message was delivered Monday by French Foreign Minister Catherine Colonna on a visit to Egypt, following talks the previous day with officials in Israel. "The blockade doesn't respect humanitarian law," she said. "Humanitarian aid must be permitted to enter Gaza, because it's unacceptable to leave women, men, children who aren't responsible for Hamas' crimes suffering like this."
Ms. Colonna also accused Hamas of preventing people from leaving Gaza. "It's unacceptable," she said. The minister reiterated that France is worried that the Israel–Hamas war could spread to other parts of the region, warning "the situation is serious, even dangerous."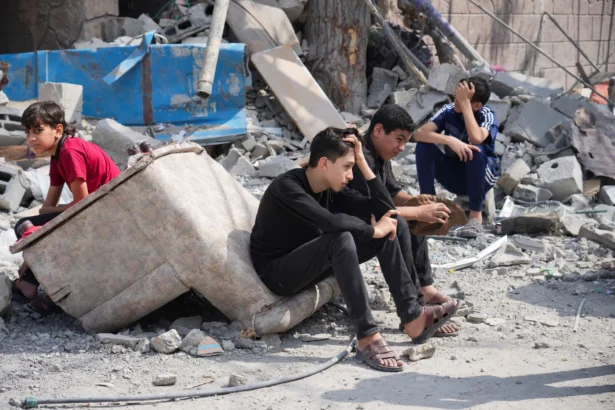 ______
Half of Israel's Hotel Rooms Filled With Gaza War Evacuees
Half of Israeli hotel rooms are being used to house families evacuated from communities near the Gaza Strip, where an Oct. 7 rampage by Hamas terrorists triggered a cross-border war, the head of the Israel Hotel Association said on Monday.
Israel has 56,000 hotel rooms and 28,000 are being provided to evacuees with the state footing the bill, said association chief executive Yael Danieli.
She told a parliamentary panel debating compensation for residents impacted by the war that an additional 27,000 from border towns near Lebanon were expected. The Israeli–Lebanon border has seen an increase in hostilities as the Gaza war rages.
These citizens need meals and other welfare support from the state, Ms. Danieli added.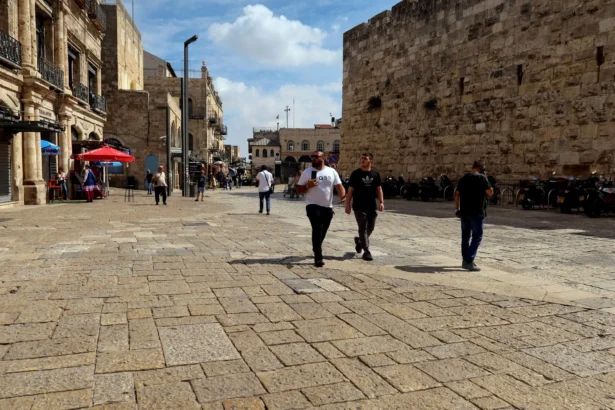 ______
Iran Says Hamas Is Ready to Release Hostages If Airstrikes Stop
Iran's Foreign Ministry said Monday that Hamas potentially was ready to release the nearly 200 hostages it is holding if Israel stops its campaign of airstrikes on the Gaza Strip. The terrorist group hasn't acknowledged making such an offer.
Iranian Foreign Ministry spokesman Nasser Kanaani spoke at a news conference in Tehran. Iran's theocracy is a main sponsor of Hamas in its fight against Israel, Tehran's regional archenemy.
Hamas officials "stated that they are ready to take necessary measures to release the citizens and civilians held by resistant groups, but their point was that such measures require preparations that are impossible under daily bombardment by the Zionists against various parts of Gaza," Mr. Kanaani said.
Hamas has said it will trade the captives for thousands of Palestinians held by Israel in the kind of lopsided exchange deals that have been reached in the past.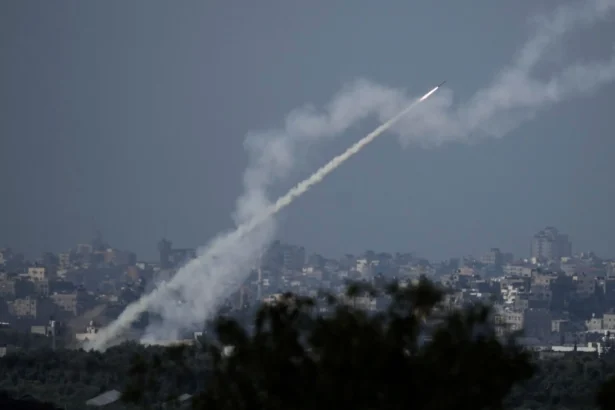 _____
Lebanese Government Scrambles to Avoid Being Dragged Into War
Lebanon's caretaker prime minister says the country's politically paralyzed government has been scrambling to ease tensions along its southern border with Israel and avoid dragging the tiny country into a new war.
Najib Mikati has spoken by phone with top U.S. officials and heads of state and top diplomats from the United Kingdom, France, Turkey, Qatar, Jordan, and Italy.
"Lebanon is in the eye of the storm, and the region as a whole is in a difficult situation," Mr. Mikati was quoted as saying in a statement from his office. The Lebanese government remains critical of Israel, but fears a new war could further devastate its battered economy and put the lives of its approximately 6.5 million people at risk.
There are concerns that the Iran-backed Hezbollah group and its powerful armed forces will ignore concerns from the Lebanese government and escalate once Israel launches a ground invasion.
Hezbollah and Israel have clashed along the border across several towns, but Hezbollah has not yet announced that it is joining the war.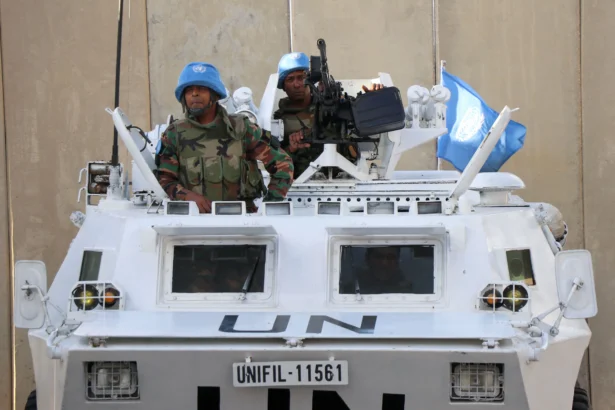 ____
China Says Israel Has 'Gone Beyond Self-Defense' in Response to Hamas Attack
The Chinese regime urged the Israeli government to stop its military actions in Gaza, saying Israel has "gone beyond self-defense" in response to the surprise attack by the Hamas terrorist group last week.
China's foreign minister Wang Yi delivered the message during a Saturday phone call with Saudi Arabian counterpart, Faisal bin Farhan Al Saud.
"Israel's actions have gone beyond self-defense," Mr. Wang claimed, urging the Israeli government to stop what he called "collective punishment of civilians in Gaza," according to the readout from China's foreign ministry.
Read more from here.
____
Syrian and Russian Leaders Discuss Israel–Hamas Situation
Syrian President Bashar Assad discussed the volatile situation in Gaza and ways of ending Israel's attacks with his Russian counterpart.
Mr. Assad's office said in a statement released Monday that Mr. Assad and Mr. Putin called for aid to be allowed to enter Gaza and for an end to the Israeli bombardment and displacement of Palestinians.
Israel's military has carried out several attacks in Syria over the past week, targeting the airports of Damascus and the northern city of Aleppo, putting them out of service.
___
Lebanese Army Finds Rocket Launchers on Border
The Lebanese army says search operations have led to the discovery of 20 rocket launchers near the Lebanon–Israel border.
The army said in a statement that four of the launchers discovered had rockets inside them and were ready to be fired.
The army said military experts are working on dismantling the launchers that were discovered near the village of Qlaileh, south of the port city of Tyre.
____
Hezbollah Takes Out Israeli Border Surveillance Cameras
Lebanon's terrorist Hezbollah group has started destroying surveillance cameras on several Israeli army posts along the border with Lebanon.
Hezbollah's military media arm released a video Monday showing snipers destroying surveillance cameras placed on five points along the Lebanon–Israel border, including one outside the Israeli town of Metula.
Hezbollah's aim appears to be to prevent the Israeli army from monitoring movements on the Lebanese side of the border.
____
Blinken Back in Israel After Tour of Arab States
U.S. Secretary of State Antony Blinken has returned to Israel for the second time in less than a week to consult with senior Israeli officials about discussions he had with Arab leaders over Israel's war with Hamas.
Mr. Blinken arrived in Tel Aviv on Monday after a six-nation tour of Arab states during which he heard the concerns of Arab leaders about an impending Israeli ground invasion of Gaza, causing a humanitarian catastrophe for Palestinians and possibly igniting a broader regional conflict.
His talks with Israeli Prime Minister Benjamin Netanyahu and members of his national security team come as the White House is weighing a potential trip to Israel by President Joe Biden as early as this week. Mr. Blinken will also meet separately with Israeli President Isaac Herzog, Defense Minister Yoav Gallant, and opposition leader Yair Lapid.
_____
UK Working to Prevent Conflict From Spreading
British Prime Minister Rishi Sunak said he is working with other leaders from around the world to ensure the Israel–Hamas conflict does not spread.
Mr. Sunak, who has spoken by phone to Israeli Prime Minister Benjamin Netanyahu and met King Abdullah of Jordan in London on Sunday, said: "Nobody wants to see regional escalation. And certainly the Israeli prime minister does not, when I've spoken to him."
Mr. Sunak said Britain has sent Royal Air Force surveillance aircraft to the eastern Mediterranean to "make sure that no arm shipments, for example, have been sent to other terrorist organizations in the region."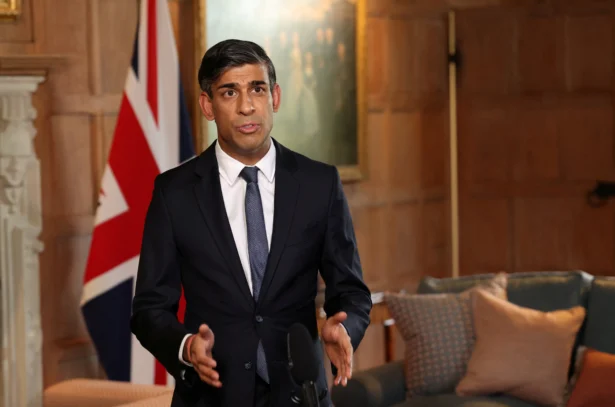 ____
US Says 30 Americans Killed in Israel, 13 Are Missing
The U.S. State Department says the number of Americans killed since the outbreak of war between Israel and Hamas has risen to 30.
"At this time, we can confirm the deaths of 30 U.S. citizens. We extend our deepest condolences to the victims and to the families of all those affected," the State Department said in a statement released Sunday. The United States is also aware of 13 missing citizens and has been in contact with their families.
Hamas terrorists stormed into Israel on Oct. 7 and murdered more than 1,400 Israelis, the vast majority of them civilians. The terrorists also kidnapped at least 155 people—a number that includes babies and the elderly—and are holding them hostage in Gaza. Their whereabouts are not publicly known, but their families have been urgently pressing for their release.
"The U.S. government is working around the clock to determine their whereabouts and is working with the Israeli government on every aspect of the hostage crisis, including sharing intelligence and deploying experts from across the United States government to advise the Israeli government on hostage recovery efforts," the statement said.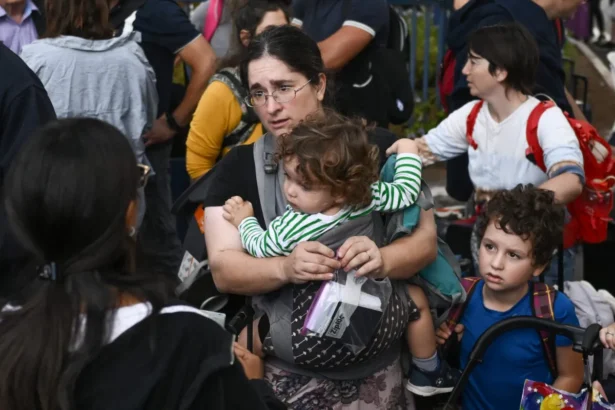 _____
WHO Says Lifesaving Aid Is Awaiting Entry at Rafah Crossing
The World Health Organization (WHO) said lifesaving assistance, including health supplies to serve 300,000 patients, is awaiting entry through the Rafah crossing into Gaza.
The crossing was closed because of airstrikes earlier in the war, and the United States has been trying to broker a deal to reopen the crossing to allow foreigners to leave and allow in humanitarian aid amassed on the Egyptian side.
The WHO, in comments to The Associated Press, reiterated calls for the immediate and safe delivery of medical supplies, fuel, clean water, and food, and other humanitarian aid into Gaza through Rafah crossing.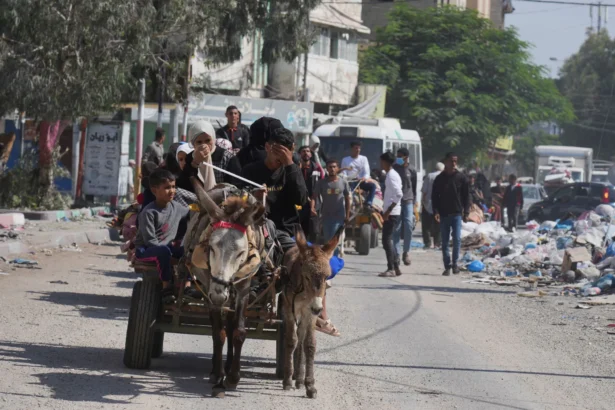 _____
UN Health Agency Rushes Medical Supplies to Lebanon
The World Health Organization says it has sent two shipments of medical supplies to Beirut in preparation for a potential escalation of the so-far sporadic clashes on the border between armed groups in Lebanon and Israeli forces.
The U.N. agency said in a statement Monday that it "has expedited the delivery of critical medical supplies to Lebanon in order to be ready to respond to any potential health crisis."
Two shipments containing "enough surgical and trauma medicines and supplies to meet the needs of 800 to 1,000 injured patients" arrived in Beirut from Dubai on Monday, the statement said.
Lebanon's health system has been overstretched since the country fell into a severe economic crisis four years ago. Many medical professionals have left the country and hospitals have faced supply and equipment shortages.
____
Israel Announces Evacuation of Residents Within 2 KM Zone Next to Lebanon
The National Emergency Management Authority of the Ministry of Defense and the IDF are announcing the implementation of a plan to evacuate residents of northern Israel who live in the area up to two kilometers from the Lebanese border to state-funded guesthouses.
Joint Ministry of Defense and IDF announcement:

The National Emergency Management Authority (NEMA) of the Ministry of Defense and the IDF are announcing the implementation of a plan to evacuate residents of northern Israel who live in the area up to 2 kilometers from the…

— Israel Defense Forces (@IDF) October 16, 2023
_____
Israeli Military Says 199 Hostages Being Held in Gaza, Higher Than Previous Estimates
The Israeli military said 199 hostages are being held in Gaza, higher than previous estimates.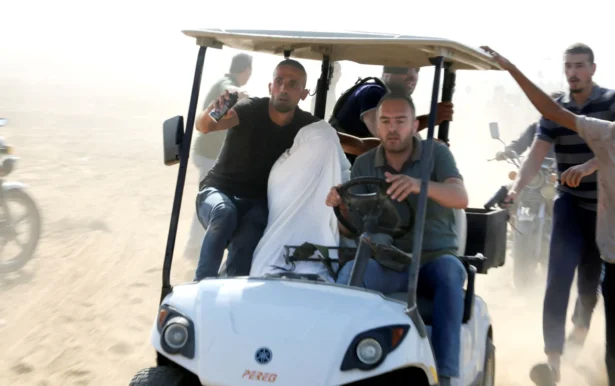 ____
Gaza Health Ministry: 2,750 Palestinians Killed, 9,700 Wounded in Israeli Strikes on Gaza Since Oct. 7
At least 2,750 Palestinians have been killed and 9,700 wounded in Israeli air strikes on the Gaza Strip since Oct. 7, the enclave's health ministry said on Monday.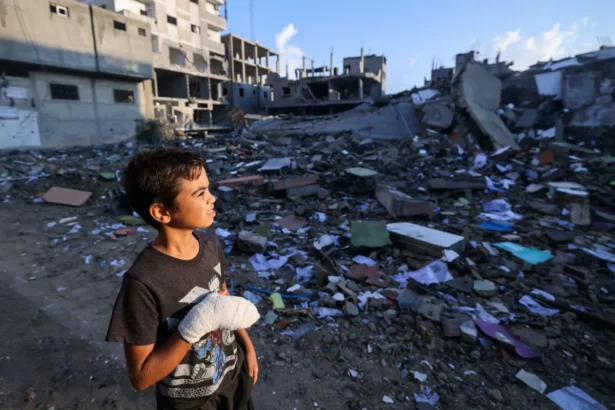 _____
Russia's Lavrov discusses Middle East crisis, Ukraine With China's Wang Yi
Russian Foreign Minister Sergei Lavrov discussed the worsening conflict in the Middle East with Chinese Foreign Minister Wang Yi in Beijing, Lavrov's ministry said on Monday.
"A thorough exchange of views took place on a wide range of international and regional issues, including the sharply aggravated situation in the Middle East," Russia's foreign ministry said.
During the bilateral talks, Mr. Lavrov and Mr. Wang also discussed the military conflict in Ukraine and efforts to resolve it through "political and diplomatic methods," the ministry said.

Russian Foreign Minister Sergei Lavrov attends a meeting with Chinese Foreign Minister Wang Yi in Beijing, China, on Oct. 16, 2023. (Russian Foreign Ministry/Handout via Reuters)
_____
Israel Denies Plan for Ceasefire in Southern Gaza to Allow Aid In
Israel said on Monday no ceasefire had been implemented in southern Gaza even though security sources in Egypt said a deal had been reached to allow foreigners out of the besieged Palestinian enclave and aid to be brought in.
The bombardment of Hamas-ruled Gaza continued overnight, with residents saying it was the heaviest pounding yet in nine days of conflict.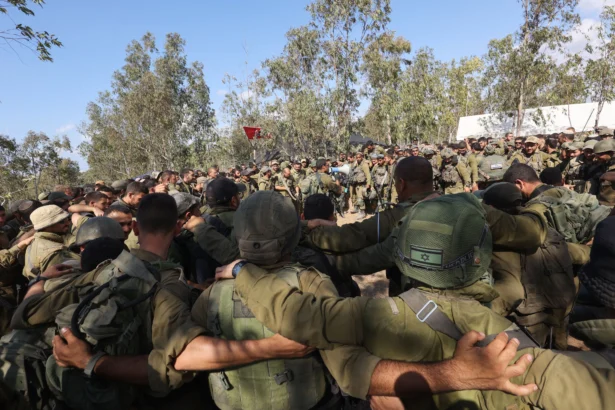 ______
Malaysia Does Not Agree With Western Pressure to Condemn Hamas: PM
Malaysia does not agree with Western pressure to condemn Palestinian terrorist group Hamas, Prime Minister Anwar Ibrahim said on Monday, amid widespread outrage over this month's deadly attack on southern Israel.
Western and European countries have repeatedly asked Malaysia to condemn Hamas in meetings, Mr. Anwar said, without providing details.
"I said that we, as a policy, have a relationship with Hamas from before and this will continue," Mr. Anwar told parliament.
"As such, we don't agree with their pressuring attitude, as Hamas too won in Gaza freely through elections and Gazans chose them to lead."
Muslim-majority Malaysia has long been a vocal supporter of the Palestinian cause and has advocated for a two-state solution to the conflict between Israel and the Palestinians. It does not have diplomatic relations with Israel.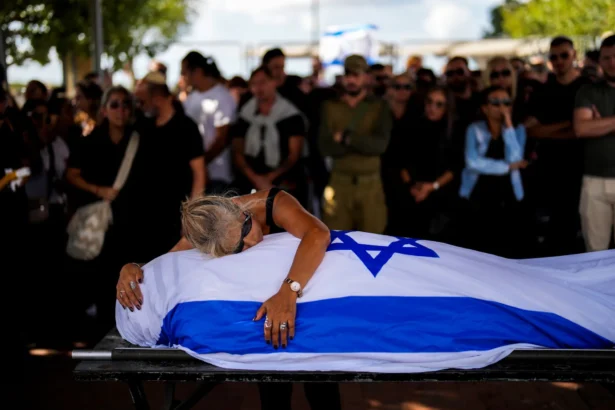 _____
Hamas Critique Removed From Palestinians' Abbas Comments on Israel Attack
The Palestinian Authority's official news agency published comments on Sunday by President Mahmoud Abbas that criticized Hamas over its actions but later removed reference to the terrorist group without providing an explanation.
The comments, published by WAFA on its website, came during a phone call between Mr. Abbas and Venezuelan President Nicolas Maduro. The two discussed Israel's bombardment of Gaza following Hamas' deadly rampage through Israeli cities.
The original WAFA report on Abbas' call included the line: "The president also stressed that Hamas' policies and actions do not represent the Palestinian people, and the policies, programs and decisions of the (Palestine Liberation Organization) represent the Palestinian people as their sole legitimate representative."
_____
North Gazan Resident Trying to Flee Says Hamas Blocking Civilian Exodus
In an Oct. 15 press release, the IDF shared a phone call reportedly between an Israeli intelligence officer from Unit 504 and a resident of the Palestinian city Jabalya, located north of Gaza City in the Gaza Strip.
In the 35-second recording, the resident tells the Israeli officer that Hamas has confiscated people's personal belongings, including their car keys and IDs, to prevent them from heading south for safety.
The IDF says, "This is further evidence that the Hamas terrorist organization is actively preventing Palestinians from evacuating south in order to protect themselves."
Earlier, the IDF had posted satellite pictures to X, the platform formerly known as Twitter, allegedly showing Hamas blocking southbound vehicles with their trucks across escape routes.
_____
Biden Agrees With Israel: Hamas Must Be Eliminated
U.S. President Joe Biden said on Sunday he believes the Hamas terrorist group must be eliminated but there should be a path to a Palestinian state, after top U.S. officials warned the war between Israel and Hamas could escalate.
Mr. Biden did not think American troops would be necessary on the ground as Israel has one of the "finest fighting forces." American warships are headed to the area in posturing to Iran and its proxies in the region against joining in the conflict.
The aircraft carrier the Dwight Eisenhower will join a small fleet including the massive Gerald R. Ford aircraft carrier in the eastern Mediterranean.
"Iran is the elephant in the room," a U.S. official briefed on the situation said about the increasing military presence. "The carriers are accompanied by warships and attack planes. Every effort is being made to stop this from becoming a regional conflict."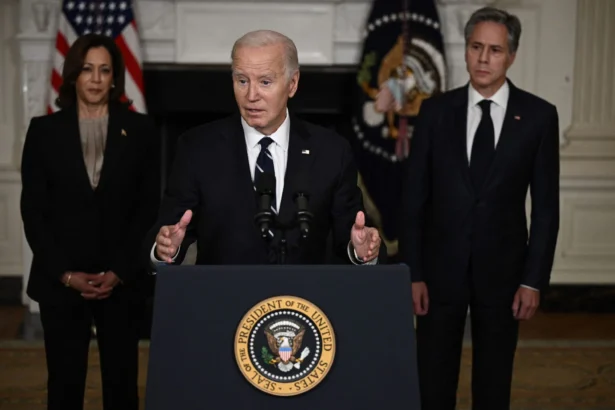 _____
Not Clear When Rafah Crossing Will Reopen
An Egyptian-controlled border crossing out of Gaza could reopen amid diplomatic efforts to keep Palestinian civilians safe and get aid into the Hamas-controlled strip that has been under intense Israeli bombing targeting Hamas terrorist assets since the group's rampage that killed 1,300 people on Oct. 7.
NBC News, citing a Palestinian official, reported the Rafah border crossing would open at 9 a.m. on Monday. Citing a security source, ABC News reported the crossing would open for a few hours on Monday without providing details. Reuters was not immediately able to confirm either report.
U.S. Secretary of State Antony Blinken said after a meeting with Egyptian President Abdel Fattah al-Sisi on Sunday that "Rafah will be reopened." He did not give a specific time but said that veteran U.S. diplomat David Satterfield, appointed on Sunday as a special envoy for Middle East humanitarian issues, will arrive in Egypt on Monday to work out the details.
Shocked by the assault on towns and villages and the taking of hostages, Israel is carrying out the most intense bombardment Gaza has ever seen, has imposed a strict blockade of water, food, and power until all hostages are freed, and is preparing a ground invasion. Israel has urged Palestinians to evacuate to southern Gaza, away from its coming heavy assault on the north.
Hundreds of metric tons of aid from several countries have been held up in Egypt's Sinai Peninsula for days pending a deal for its safe delivery to Gaza and the evacuation of some foreign passport holders through the Rafah crossing.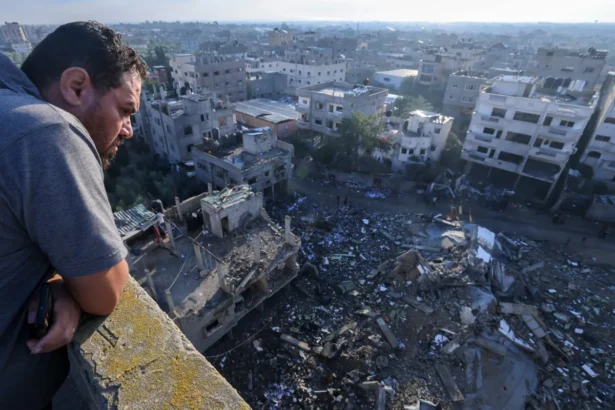 ____
Summary of Events So Far
The Israeli Defense Forces (IDF), early Friday, had ordered hundreds of thousands of civilians living in northern Gaza to evacuate as it vowed to annihilate the terrorist group Hamas in response to its unprecedented attack on Oct. 7. Hamas is an Iran-backed Islamist terrorist group that took charge of the Gaza strip from rival Palestinian group the secular Fatah, in factional fighting that started in 2007.
The Fatah in 2023, unlike Hamas, largely supports peaceful negotiations for a two-state solution to secure Palestinians' territorial claims, whereas Hamas does not acknowledge Israel's right to existence and resorts to armed violence.
Some 1,300 people in Israel were killed in the surprise attack, which shook the country because of horrifying mobile phone video footage and reports from medical and emergency services of atrocities potential war crimes in the towns and kibbutzes that were overrun.
The Israeli Defense Forces swiftly announced "Operation Swords of Iron," which aims to eliminate the Hamas terror group so it can never again attack Israel.
Israel formally declared war on the Hamas Islamists on Oct. 8 and eased its gun license standards to enable more citizens to arm themselves. Israel's prime minister called on Gazan civilians to evacuate the region on Oct. 8, which was followed by a campaign of mass text messages urging civilians to evacuate before the planned assault on Hamas was well and truly underway.
Hamas terrorists in Gaza are holding at least 199 hostages taken from Israel in its Oct. 7 assault, and on Oct. 9, threatened to kill the hostages if Israeli airstrikes hit Gaza civilians "without warning." The IDF had noted on Oct. 10 that Hamas terrorists have embedded themselves in civilian buildings and as such, made those structures valid military targets. It blamed Hamas for intentionally building its operation centers next to key civilian institutions, like hospitals and schools, to maximize international condemnation of any Israeli attempts to fight back against the terrorists.
On Oct. 11, Israel established an emergency government and a special war cabinet to oversee its military response. It has also called up some 360,000 army reservists who have since gathered along the Gaza border.
Israel's military said it planned to target Hamas's sprawling network of tunnels built under Gaza City—protected by a layer of Palestinian civilian buildings on the surface. Meanwhile, the Hamas terrorist group has vowed to fight to the last drop of blood and has told Gazan residents to stay.
Hamas has said it wants to end the "Israeli occupation" of Palestinian territories, and that the attack was in retaliation for Israel's "desecration of the Al-Aqsa" mosque in East Jerusalem, which is overseen by the Jordan-run Jerusalem Awqaf and Aqsa Affairs Department. Israel has been accused of interfering in its operations, including on April 8 when Israeli police were seen at the mosque with the Israeli Foreign Ministry saying that people who "barricade themselves inside [the al-Aqsa mosque] are a dangerous mob, radicalized and incited by Hamas and other terror organizations."
While entry to the Al-Aqsa mosque is reserved for Muslims, the Al-Aqsa compound, known as the Temple Mount by the Jews, is also home to two Jewish temples. However, entry to Al-Aqsa mosque by Israeli police has been restricted to older worshipers visitors from time to time, with the Israeli government citing security reasons during clashes often surrounding religious holidays or during its anti-terrorism raids on terrorist targets in the West Bank.
Tens of thousands of people in Gaza are estimated by the United Nations to have fled south since Israel's warning.
Israel has cut off supplies of food, fuel, electricity, and medicine into Gaza as it called for Palestinian civilians to evacuate ahead of its planned military bombardment to rid Hamas from the Gaza Strip. It has vowed to maintain the complete siege until all hostages are freed by Hamas.
The United States began charter flights out of Israel on Friday to evacuate Americans from the region. President Joe Biden on Oct. 11 said the U.S. government is working with the Israelis to rescue the Americans taken hostage by Hamas. But the administration has told reporters that it has no plans to send troops to Israel, White House national security spokesman John Kirby said on Oct. 12.
At least 29 Americans have died and 15 Americans are unaccounted for since the start of the war, the State Department confirmed on Saturday.
Iran has warned of "far-reaching consequences" if Israel's targeted airstrikes on Hamas targets in Gaza does not stop. Meanwhile, U.S. Defense Secretary Lloyd Austin has assured Israel: "We have your back."
_____
See the previous day's updates here.
Dorothy Li, The Associated Press, and Reuters contributed to this report.