Defense Secretary Lloyd Austin has vowed to take "any additional measures necessary" to safeguard against national security leaks and has ordered a review of intelligence access, he said during a press conference on Thursday.
Austin's comments came shortly after the FBI arrested 21-year-old Massachusetts Air National Guard member Jack Teixeira in connection with a major leak of dozens of highly sensitive documents relating to the Russia–Ukraine war.
Teixeira was found after the Department of Justice (DOJ) launched a probe into the matter in April, although he is believed to have started sharing the documents online as far back as January.
At the press conference, Austin commended the FBI and DOJ's "swift" arrest in connection with the probe.
He said the Department of Defense, in close partnership with the Intelligence Community and its interagency partners, "will continue to review the national security implications of this unauthorized disclosure."
"As Secretary of Defense, I will also not hesitate to take any additional measures necessary to safeguard our nation's secrets," Austin said, adding that he is "directing the Under Secretary of Defense for Intelligence and Security to conduct a review of our intelligence access, accountability, and control procedures within the Department to inform our efforts to prevent this kind of incident from happening again."
Intelligence Leaked Online
Austin also stressed that "every U.S. service member, DoD civilian, and contractor with access to classified information has a solemn legal and moral obligation to safeguard it and to report any suspicious activity or behavior."
Teixeira, a junior airman with the Air National Guard's 102nd Intelligence Wing, worked as a cyber transport systems journeyman, meaning he was an IT specialist responsible for military communications networks, including their cabling and hubs.
According to defense officials, Teixeira would have had a higher level of security clearance in that role, given that he was tasked with accessing and ensuring the network was protected, although officials have yet to confirm if he did.
Officials believe Teixeira leaked the Pentagon documents earlier this year across platforms such as Discord, an instant messaging social platform popular with gamers.
Some of the documents were also posted to the Telegram app and 4chan.
The confidential files included estimated numbers of Russian and Ukrainian casualties that conflict with official estimates and intelligence assessments of both allies and adversaries, among other things.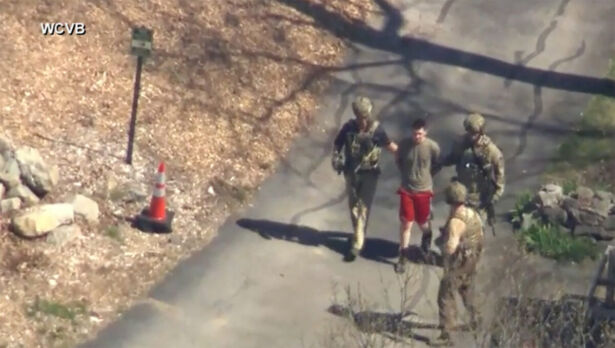 The FBI said Teixeira was arrested on Thursday at a residence in North Dighton, Massachusetts.
"Since late last week the FBI has aggressively pursued investigative leads and today's arrest exemplifies our continued commitment to identifying, pursuing, and holding accountable those who betray our country's trust and put our national security at risk," the agency said in a statement.
Attorney General Merrick Garland said the probe into Teixeira centers on the unauthorized removal, retention, and transmission of classified national defense information.
Teixeira is set to appear in court in Massachusetts on Friday. It is not clear if Teixeira has retained a lawyer.
'Deliberate Criminal Act'
Speaking at a press conference earlier on Thursday, Pentagon press secretary Brig. Gen. Patrick Ryder called the leak a "deliberate criminal act to violate" the stringent guidelines the DOD has in place to safeguard classified and sensitive information.
He noted that any individual working for the DOD that has been granted security clearance signs a nondisclosure agreement and is aware that it is a criminal act to violate the agreement and would receive regular training on the proper handling of classified information.
"I want to emphasize that this was a deliberate criminal act to violate those guidelines and rules, in the same way, that if you locked your front door and somebody came into your house and took something, you followed your procedures and you locked your door, but somebody went in your house and took something and put it out on the street, that's what we're talking about here," Ryder said.
The Associated Press contributed to this report.
From The Epoch Times