A convicted terrorist released from prison in January stabbed two people in south London before he was shot dead by police on Feb. 2.
The attacker, who was under active police surveillance at the time of the stabbing, was identified by Metropolitan Police Deputy Assistant Commissioner Lucy D'Orsi as 20-year-old Sudesh Amman. He had been released at the end of January after serving half of his three year sentence for terrorism-related offenses.
Amman, who has been described as having a "fierce interest in violence and martyrdom," had been convicted for publishing graphic terrorist videos online and had stockpiled instructions on bomb making and knife attacks, according to police.
"The suspect had been recently released from prison where he had been serving a sentence for Islamist-related terrorism offenses," D'Orsi said.
Armed with a knife and with a fake bomb strapped to his body, the 20-year-old stabbed two people in the commercial and residential south London neighborhood of Streatham, outside a major pharmacy on a busy shopping afternoon.
Officers had been trailing Amman at the time of Sunday's attack, D'Orsi said.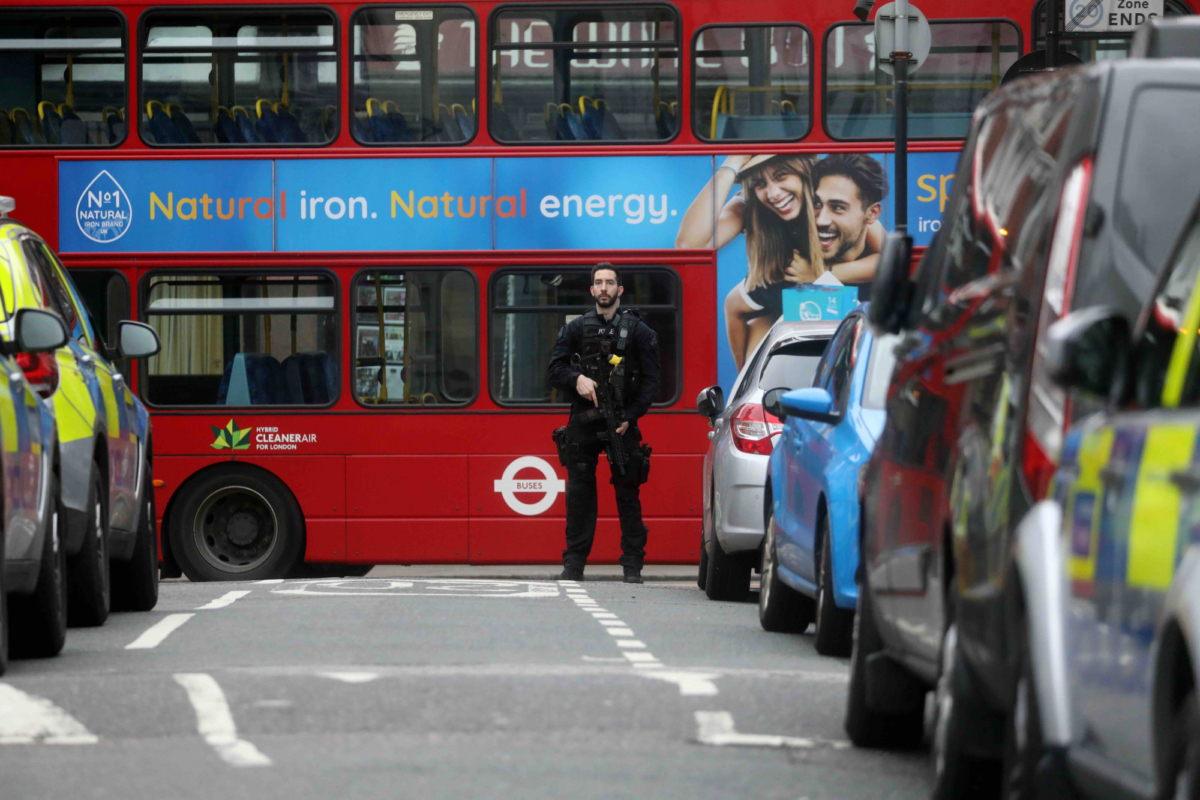 Three people were injured in the incident. One person in his 40s was in a life-threatening condition, although his condition has since improved and he is no longer in danger, D'Orsi said. The second victim is hospitalized with minor injuries, and another woman in her 50s is believed to have been discharged with non-life threatening injuries.
It is believed that the victims will survive Sunday's attack. Police believe the female victim in her 20s who remains in hospital was injured by flying glass after the attacker was shot dead.
"The situation has been contained and officers from the Met's Counter Terrorism Command are now leading an investigation into the incident.

The incident was quickly declared as a terrorist incident and we believe it to be Islamist-related."

— Metropolitan Police (@metpoliceuk) February 2, 2020
D'Orsi said in a statement that armed officers were in "immediate attendance" following the incident, which unfolded at around 2 p.m, and that the attacker was shot as part of a "proactive Counter Terrorism operation."
"We are confident that this is an isolated incident that has been contained," she said, adding that there was no "continuing danger" to the public, and an investigation into the incident is underway.
Streatham High Road remains closed and the area is cordoned off, with added police patrols put in place. Police have requested the public to stay away from the usually busy area.
Alexis Boon, the former head of the Metropolitan Police Counter Terrorism Command, said at the time of Amman's prior conviction that his "fascination with dying in the name of terrorism" was evident from a notepad the command recovered from his home.
"Amman had scrawled his 'life goals' in the notepad and top of the list, above family activities, was dying a martyr and going to 'Jannah'—the afterlife," Boon said, the Telegraph UK reported.
"It's not clear how Amman became radicalized but it is apparent from his messages that it had been at least a year in development. Whatever the circumstances, this case is a reminder of the need to be vigilant to signs of radicalization and report it."
Johnson to Announce Fundamental Changes for Dealing With Terrorism Offenses
UK Prime Minister Boris Johnson said he will on Monday announce plans for "fundamental changes to the system for dealing with those convicted of terrorism offences" following the terror-related incident, as part of a series of measures to strengthen Britain's response to terrorism.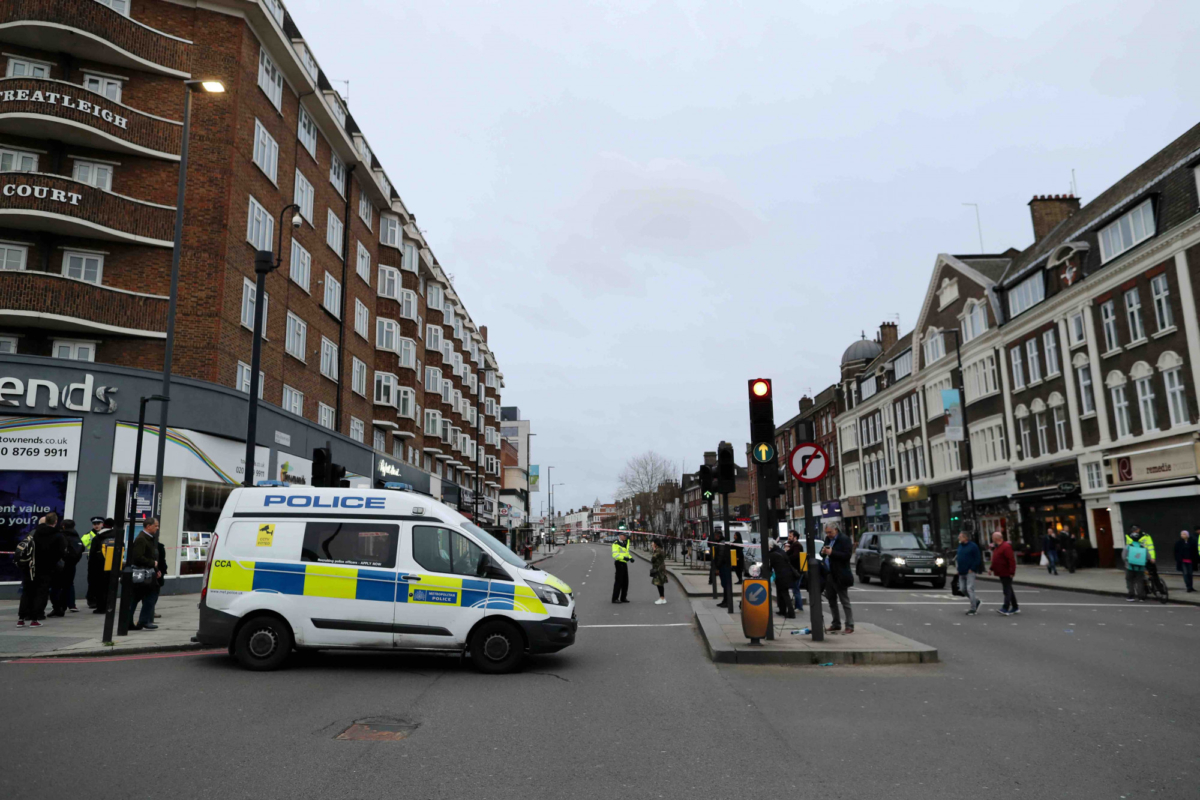 The move also follows November's London terror attack, in which police shot dead a man wearing a fake suicide vest who stabbed two people to death and wounded three more. The man, with Islamist militant sympathies, had also been jailed for terrorism and was released early.
"My thoughts are with the injured victims and their loved ones following today's horrific attack in Streatham," Johnson said in a statement. "I want to pay tribute to the speed and bravery of the police who responded and confronted the attacker—preventing further injuries and violence—and all of the emergency services who came to the aid of others.
Thank you to all emergency services responding to the incident in Streatham, which the police have now declared as terrorism-related. My thoughts are with the injured and all those affected.

— Boris Johnson (@BorisJohnson) February 2, 2020
"Following the awful events at Fishmonger's Hall in December, we have moved quickly to introduce a package of measures to strengthen every element of our response to terrorism—including longer prison sentences and more money for the police," Johnson said.
"Tomorrow, we will announce further plans for fundamental changes to the system for dealing with those convicted of terrorism offenses."
London Mayor Sadiq Khan urged community resolve in the face of another attack.
"Terrorists seek to divide us and to destroy our way of life,″ he said. "Here in London we will never let them succeed."
The Associated Press contributed to this report.