Within the Chinese Communist Party (CCP), even lowly officials at the bottom rung of the Party bureaucracy can get their hands on million of dollars when committing graft.
On Dec. 19, the state-run newspaper China Discipline Inspection Daily—the publication of Central Discipline Inspection Commission, the Chinese regime's anti-corruption agency—ran an article detailing a corruption case involving Yang Rongfu, former deputy director of the farming service center at Diaopu, a small residential area in Taizhou City, a coastal metropolis in Jiangsu Province.
Yang's responsibilities included setting up regional agricultural policies based on local economic data; providing loans, insurance, and poverty subsidies to farmers; and marketing local agricultural products.
Yang's office was at the sub-district level—among the lowest ranks within the Chinese regime's administrative hierarchy. Thus, Yang was at the very bottom of the Party bureaucracy.
Yet Yang was able to lay his hands on 599 million yuan (about $90.1 million) and pocket a chunk of it for himself.
In April 2012, he started misappropriating public funds—money meant for local villages. Yang agreed to lend out 800,000 yuan (about $121,128) in the government's coffer to a man surnamed Ji, a loan provider, who would pay a monthly interest rate of one percent. Ji later paid back the loan with interest and deposited the money in the farming service center's public account.
This initial borrowing was the start of a long-term "cooperation" between Yang and Ji.
At the end of 2013, when Ji asked to borrow money again, Yang demanded that the borrowing interest rate be raised to 1.2 percent. When Ji paid the sum back, he would deposit the borrowed funds with only 0.6 percent of the interest into the public account. Ji would hand the remaining 0.6 interest to Yang in cash.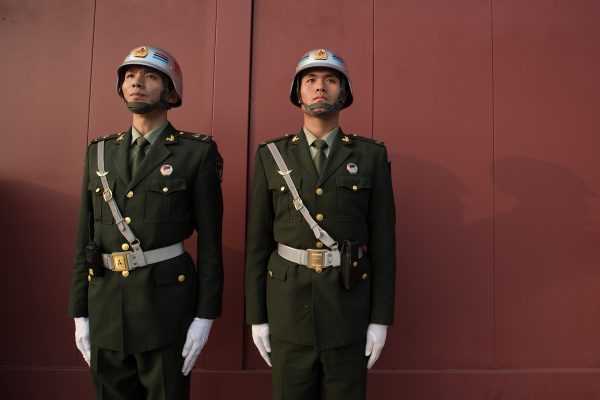 Slowly, the amount that Ji borrowed steadily increased. By September 2015, Yang had lent out a total of 504 million yuan (about $76.3 million) to Ji, and in return, Yang pocketed a total of about 400,000 yuan ($60,564) in interest.
Yang also lent out public funds to a local, low-level Party secretary surnamed Chen—a total of 86.58 million yuan (about $13.1 million), and another 8.5 million (about $1.3 million) to a business owner surnamed Cao. It is not known how much Yang pocketed from Chen and Cao.
To earn more money, Yang even took out 200,000 yuan ($30,280) that he had earned from his schemes, and put it into Ji's loan business to earn high interest rates.
In March 2016, after Ji failed to pay back a 5.78 million yuan loan on schedule, Yang turned himself in to the local Party authorities at Diaopu.
In June 2017, Yang was sentenced by the People's Court in Gaogang District to 11 years imprisonment for misappropriating public funds a total of 161 times, amounting to 599 million yuan (about $90.1 million). After Yang appealed, the People's Court in Taizhou upheld the initial sentencing, according to China Discipline Inspection Daily.
Party officials like Yang are considered "flies"—party jargon for low-ranking party officials caught in China's anti-corruption campaign. High-ranking officials are called "tigers." From 2012—when Chinese leader Xi Jinping took power—to June 2017, the campaign has punished over 1.34 million party officials with a township-level or lower position.   
Yang is hardly the only "fly" with his hands on so much money. In March 2017, Huang Huahui, deputy director at the housing security office within the Guangzhou municipal government, was sentenced to life imprisonment, for accepting bribes totaling about 89 million yuan (about $13.4 million) to buy 11 housing units, according to the Chinese regime's mouthpiece Xinhua.

Yu Fuxiang is a former party secretary in charge of the Shuguang Village Party Committee, a tiny village located in Harbin, capital of Heilongjiang, China's northernmost province. In August 2017, he was found guilty of misappropriating over 200 million yuan (about $30.2 million) in public funds, according to Xinhua. He has since been stripped of his Party membership, and turned over to the criminal justice system for investigation.
From The Epoch Times