Global economic growth will slow this year to 2.8 percent, down from 3.4 percent in 2022, according to the International Monetary Fund's (IMF) World Economic Outlook (WEO). The baseline forecast suggests the GDP growth rate will climb to 3 percent next year.
Advanced economies are forecast to witness output of 1.3 percent this year, down from 2.7 percent. Economies in emerging and developing markets will experience growth rates of 3.9 percent this year, down from 4 percent last year.
In the United States, the annual real GDP growth rate is expected to be 1.3 percent in 2023, down from 2.1 percent a year ago. It will then slow further, to 1.1 percent.
The U.K. economy is predicted to contract this year, sliding from 4 percent in 2022 to negative 0.3 percent. GDP will then rebound to 1 percent in 2024. In the eurozone, overall growth is projected to advance 0.8 percent in 2023, down from 3.5 percent last year. This includes Germany (negative 0.1 percent), France (0.7 percent), Italy (0.7 percent), and Spain (1.5 percent).
This year, China and India will see GDP growth rates of 5.2 percent and 5.9 percent, respectively. Russia's economy will expand by 0.7 percent in 2023 and 1.3 percent in 2024.
However, the IMF's WEO report warned that there is plenty of uncertainty and downside risks in its "plausible baseline alternatives," such as tightening global financial conditions or weaker economic fundamentals, which could result in a 15 percent chance of a 1 percent global growth rate.
"We are therefore entering a perilous phase during which economic growth remains low by historical standards and financial risks have risen, yet inflation has not yet decisively turned the corner," said Pierre-Olivier Gourinchas, the IMF's chief economist. "More than ever, policymakers will need a steady hand and clear communication. The appropriate course of action is contingent on the state of the financial system."
Inflation Is 'Stickier' Than Expected
The IMF's baseline scenario shows that lower commodity prices will allow global headline inflation to ease to 7 percent in 2023, down from 8.7 percent last year. Headline inflation will further fall, to 4.9 percent, in 2024.
Core inflation, which eliminates the volatile food and energy sectors, is expected to fall at a slower pace. The core is projected to decline to 5.1 percent this year, up 0.6 percentage points from the January forecast of 4.5 percent.
IMF researchers do not expect inflation will return to countries' target levels before 2025, highlighting that "inflation is much stickier than anticipated even a few months ago." Economists aver that inflation is higher than many would have anticipated at this stage of the monetary-tightening cycle.
"At this point in a tightening cycle, we would expect to see more signs of output and employment softening," said Gourinchas, who also serves as the director of research at the IMF, at a press briefing. "Instead, both output and inflation estimates have been revised upward for the last two quarters, suggesting stronger than expected global demand. This may call for monetary policy to tighten further or to stay tighter for longer than currently anticipated."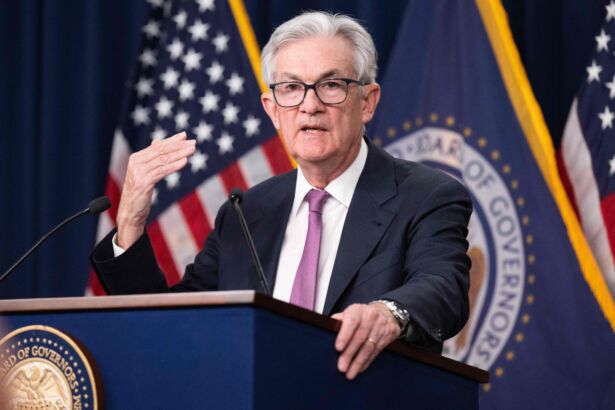 Over the last year, the Federal Reserve and its counterparts have embarked upon aggressive tightening involving higher interest rates and balance-sheet reduction. Despite the banking turmoil lingering in the backdrop of the U.S. and European economies, the IMF recommends restoring price stability.
"Our advice is for monetary policy to remain focused on bringing down inflation," he said.
Fed Chair Jerome Powell confirmed to reporters during last month's post-Federal Open Market Committee (FOMC) policy meeting press conference that the central bank would stay the course of restoring price stability. At the same time, the Fed's Survey of Economic Projections (SEP) suggests that the institution is penciling in one more rate hike this year, as the median federal funds rate is forecast to be 5.1 percent.
In addition, according to data from the CME Fed Watch Tool, the futures market is calling for rate cuts heading into 2024.
The U.S. Consumer Price Index (CPI) will be released on Wednesday. The annual inflation rate is expected to ease to 5.2 percent, while the core inflation rate is forecast to edge up to 5.6 percent.
Oil Prices
WEO estimates show that crude oil prices are projected to decline by 24 percent this year and another 5.8 percent next year.
The WEO does not include the effects of the crude oil production cut by the Organization of the Petroleum Exporting Countries (OPEC) and its allies, OPEC+. The report consists of an average 2023 price of $73 per barrel, but Gourinchas conceded that it is still being determined if this price could be sustained for the rest of the year.
IMF models show that for every 10 percent jump in oil prices, there is a 0.1 percentage point reduction in growth and a 0.3 percentage-point jump in inflation.
West Texas Intermediate (WTI) crude oil was trading above $80 a barrel on the New York Mercantile Exchange on Tuesday. Brent, the international benchmark for oil prices, was flirting with $85 a barrel on the ICE Futures exchange.
From The Epoch Times