The City of Cincinnati announced on Friday that it will shut down its Ohio River intake to prevent any possible contamination from the East Palestine, Ohio, train derailment earlier this month.
The city, in a statement, said that it and the Greater Cincinnati Water Works (GCWW) are monitoring the Ohio River, one of the largest rivers in the United States, after the chemical spill in East Palestine. Earlier this week, an Ohio environmental official confirmed that a plume of chemicals was observed traveling down the Ohio River, and at the time, it was located near Huntington, West Virginia.
"Out of an abundance of caution," the City's statement said, "GCWW will shut off the Ohio River intake ahead of the anticipated arrival of the last detectable chemical concentration in the river." As the water intake is closed down, the city will switch to its water reserves.
A day before, GCWW said in a statement that water sample testing showed "no detectable levels of the chemicals" connected to the derailment as well as the controlled burn. The Environmental Protection Agency previously said the Norfolk Southern-operated train was carrying vinyl chloride, butyl acrylate, ethylene glycol monobutyl ether, and ethyl hexyl acrylate.
Also, the water agency's statement said that it did 133 tests of Ohio River water, finding it was negative for butyl acrylate, vinyl chloride, ethylene glycol monobutyl ether, and ethyl hexyl acrylate. Those chemicals are used in industrial production for a range of inks, dyes, paints, adhesives, enamels, and plastics.
"Our City Administration is prepared for these types of events. I understand the concern, and I'm confident that temporarily shutting off the Ohio River intake is the best move," City Manager Sheryl Long said in a statement Friday. "There's zero risk that our water reserves contain contaminants from the train derailment site, and tapping these reserves will give us all peace of mind. I want to thank GCWW, who are truly the best of the best, and state that I have full faith in their decision-making and their ability to keep us safe."
Meanwhile, the city of Ashland, Kentucky, confirmed that it, too, would close off its water supply from the Ohio River while the plume passes downstream. Officials said that it was done as a precautionary move.
"We want to reiterate this is precautionary, and your water is safe to drink," Ashland officials said in a statement Friday.
'That Water's OK'
Ohio Gov. Mike DeWine wrote on Twitter Wednesday that water testing results in East Palestine showed there were no contaminants in the municipal water system, which receives its water from five wells. On Friday, DeWine told a news conference that further testing confirmed there was no contamination, but he added that Sulfur Run, a creek located near the train derailment site, was still heavily contaminated.
The Ohio River, he added, is very well monitored and that the "water that's coming in that they're testing is fine." DeWine continued, "We rely on these people every day to make sure that water's OK … they're telling us that water's OK."
It comes as Sen. J.D. Vance (R-Ohio) released a video of him placing a stick in Leslie Run creek, located near the crash site and connects to Sulfur Run, that revealed an oily, rainbow-colored slurry of chemicals. Videos posted by a Fox affiliate reporter and a local woman showed them throwing rocks into an East Palestine waterway, triggering a similar reaction.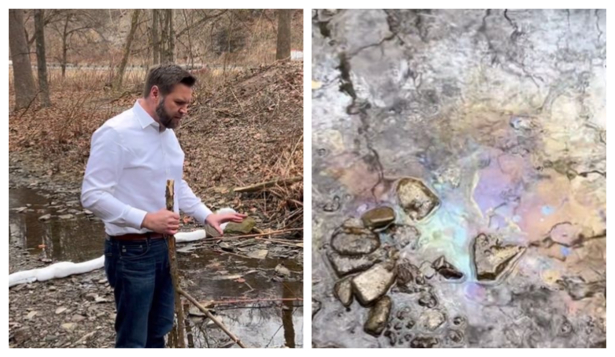 "There are dead worms and dead fish all throughout this water," Vance said in the video posted on Twitter.
Sulfur Run flows into Leslie Run, which then flows into North Fork Little Beaver Creek, which flows into Little Beaver Creek, which then discharges into the Ohio River, according to the Ohio Environmental Protection Agency. The agency said that recent tests in East Palestine show "there is no indication of risk to East Palestine Public Water customers."
As for Norfolk Southern, the firm released a letter on Thursday saying that it will clean up the crash site and its CEO, Alan Shaw, pledged not to abandon the community. The letter was released as lawsuits started to pile up against the company.
"I know you also have questions about whether Norfolk Southern will be here to help make things right," Shaw wrote. "My simple answer is that we are here and will stay here for as long as it takes to ensure your safety and to help East Palestine recover and thrive."
When reached for comment, Norfolk Southern told The Epoch Times Thursday that it will not comment on specific claims about the derailment due to a pending National Transportation Safety Board investigation and will not comment on litigation. So far, the company has not responded in court to the lawsuits.
From The Epoch Times