LAS VEGAS—A former Southern California street gang leader pleaded not guilty Thursday to murder in the 1996 killing of rapper Tupac Shakur in Las Vegas—a charge prompted by his own descriptions in recent years about orchestrating the deadly drive-by shooting.
Duane Keith "Keffe D" Davis is the only person still alive who was in the vehicle from which shots were fired and the only person ever charged with a crime in the case. In court on Thursday, Mr. Davis stood in shackles as he awaited proceedings and waved to his wife, son, and daughter in the packed spectator gallery.
"Not guilty," Mr. Davis said when Clark County District Court Judge Tierra Jones asked for his plea.
The judge told Mr. Davis that prosecutors are not seeking the death penalty in the case, which could put Mr. Davis in prison for the rest of his life if he is convicted. Mr. Jones also named county special public defenders Robert Arroyo and Charles Cano to represent Mr. Davis at taxpayer expense, after Mr. Davis lost his bid to hire private defense attorney Ross Goodman.
Mr. Goodman two weeks ago said prosecutors lack witnesses and key evidence, including a gun or vehicle, for the killing committed 27 years ago. Outside the courtroom on Thursday, Mr. Goodman said Davis was still trying to hire him. Davis' family members declined to comment.
Clark County District Attorney Steve Wolfson told reporters that he and a panel of prosecutors decided the case against Mr. Davis was "not the kind of case that should proceed with the asking of the death penalty." He didn't specify reasons for that decision.
Mr. Wolfson also declined to respond to Mr. Goodman's criticism of the evidence, saying that a jury will weigh the results of the police investigation.
In court, Mr. Davis wore dark-blue jail garb and answered several questions, telling the judge that he attended "a year in college," wasn't under the influence of drugs, medication or alcohol, and he understood he is charged with murder. The judge set his next court date for Tuesday to schedule the trial.
Mr. Davis, 60, is originally from Compton, California. He was arrested Sept. 29 outside a home in suburban Henderson where Las Vegas police served a search warrant July 17. Mr. Davis remains jailed without bail, did not testify before the grand jury that indicted him, and declined from jail to speak with The Associated Press.
The indictment alleges Mr. Davis obtained and provided a gun to someone in the back seat of a Cadillac before the car-to-car gunfire that mortally wounded Shakur and wounded rap music mogul Marion "Suge" Knight at an intersection just off the Las Vegas Strip. Shakur died a week later. He was 25.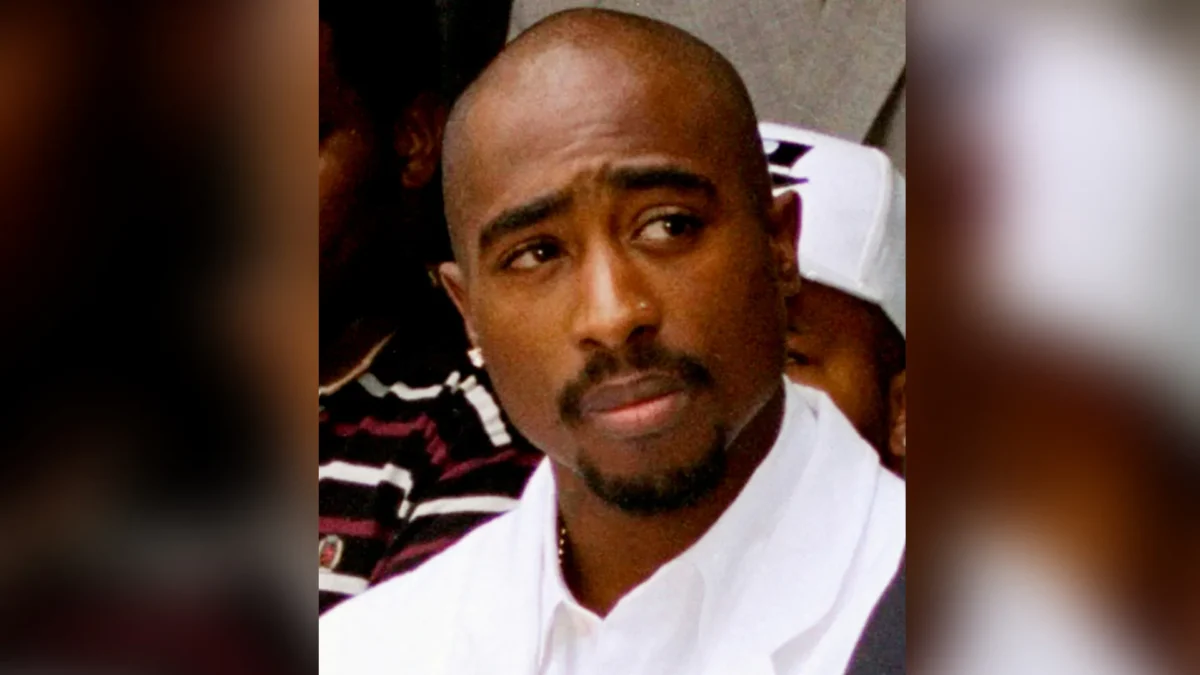 Mr. Knight, now 58, is in prison in California, serving a 28-year sentence for the death of a Compton businessman in 2015. He has not responded to messages through his attorneys seeking comment about Davis' arrest.
Prosecutors allege that Shakur's killing in Las Vegas came out of competition between East Coast members of a Bloods gang sect and West Coast groups of a Crips sect, including Mr. Davis, for dominance in a musical genre dubbed "gangsta rap."
The grand jury was told the Sept. 7, 1996 shooting in Las Vegas was retaliation for a brawl hours earlier at a Las Vegas Strip casino involving Shakur and Mr. Davis' nephew, Orlando "Baby Lane" Anderson.
Prosecutors told a grand jury that Mr. Davis implicated himself in the killing in multiple interviews and a 2019 tell-all memoir that described his life leading a Crips sect in Compton. Mr. Davis has said he obtained a .40-caliber handgun and handed it to Anderson, a member of Davis' gang, in the back seat of a Cadillac, though he didn't identify Anderson as the shooter.
Anderson, then 22, denied involvement in Shakur's killing and died two years later in a shooting in his hometown of Compton. The other back seat passenger and the driver of the Cadillac are also dead.
In his book, Mr. Davis wrote that he told authorities in 2010 what he knew of the killings of Shakur and gang rival Notorious B.I.G, whose legal name is Christopher Wallace, to protect himself and 48 of his Southside Compton Crips gang associates from prosecution and the possibility of life sentences in prison.
Wallace, also known as Biggie Smalls, was shot and killed in Los Angeles in March 1997, six months after Shakur's death.