NEW YORK—A man who had been threatening people aboard a New York City subway train died after fellow riders tackled him and one put him in a chokehold that lasted until his body went limp, according to police officials and video of the encounter.
Jordan Neely, 30, died from compression of the neck, the city's medical examiner determined Wednesday.
On Monday afternoon, he was yelling and pacing back and forth on an F train in Manhattan, witnesses and police said, when he was restrained by at least three people, including a U.S. Marine veteran who pulled one arm tightly around his neck.
Video of the altercation posted online by a freelance journalist showed the man lying beneath Neely, holding him in a headlock position for several minutes as Neely tried and failed to break free. A second passenger pinned Neely's arms while a third person held down his shoulder.
Neely lost consciousness during the struggle. EMTs and police arrived after the train stopped at a station. He was pronounced dead at a Manhattan hospital shortly after.
The 24-year-old Marine veteran was taken into custody and released without charges. His name has not been released publicly.
The medical examiner's office classified Neely's death as a homicide and the manner as a chokehold, but noted that any determination about criminal culpability would be left to the legal system.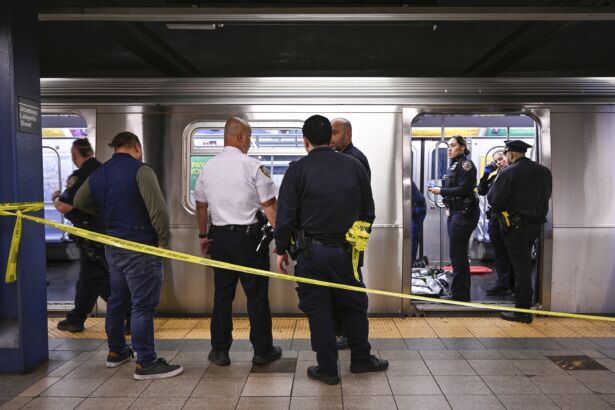 The Manhattan district attorney's office said it is investigating.
"As part of our rigorous ongoing investigation, we will review the Medical Examiner's report, assess all available video and photo footage, identify, and interview as many witnesses as possible, and obtain additional medical records," read a statement from a spokesperson for the DA.
The freelance journalist who recorded the incident, Juan Alberto Vazquez, told the New York Post that Neely was screaming "in an aggressive manner," and complaining of hunger and thirst. Neely did not physically attack anyone, Vazquez said, adding that the Marine veteran approached the man after he threw his jacket to the ground.
Vazquez said the man screamed: "I don't mind going to jail and getting life in prison. I'm ready to die."
The video starts with Neely already on the subway car's floor, with the man's left arm around Neely's neck, locked into his other arm positioned against the man's head. A second man holds Neely's outstretched arm while pinning the other hand against his body. Neely is mostly still, but half a minute later tries to struggle out of the headlock. Eventually, he goes limp.
During an appearance on CNN on Tuesday night, New York City Mayor Eric Adams said there were still too many unknowns.
"We don't know exactly what happened here," Adams said, adding that "we cannot just blatantly say what a passenger should or should not do in a situation like that, and we should allow the investigation to take its course."
Andre Zachery, Neely's father, told the New York Daily News that he had not seen his son in four years.
Zachery told the paper that Neely's mother also died violently. Christie Neely was strangled in New Jersey in 2007, according to news accounts at the time. Her body was found days later in a suitcase along a roadway. Neely, who was 14 when she died, testified against his mother's boyfriend at his murder trial.
Neely was living on the streets and had a history of mental health issues. He had more than 40 prior arrests and an active warrant out for his arrest from a felony assault.