Manhattan District Attorney Alvin Bragg confirmed on Thursday evening that his office contacted lawyers for former President Donald Trump to "coordinate his surrender" to the DA's office for arraignment after a grand jury handed down an indictment hours earlier.
In a statement posted to Twitter, Bragg's office wrote that the indictment against Trump "remains under seal" and that "guidance will be provided when the arraignment date is selected." Other details were not provided.
— Alvin Bragg (@ManhattanDA) March 30, 2023
Trump will have to travel to Manhattan to face the charges against him, which stem from alleged hush-money payments that he made to adult performer Stormy Daniels and model Karen McDougal during the 2016 campaign. Bragg's office reportedly is seeking to charge the former commander-in-chief with misclassifying payments, although details of the case are not clear as the indictment remains under seal. In New York, judges often unseal them after charges are brought in person.
"President Trump has been indicted. He did not commit any crime," Trump lawyers Joe Tacopina and Susan Necheles said in a statement. "We will vigorously fight this political prosecution in Court."
In a statement shortly after the indictment was handed down, the former president described it again as a "witch-hunt" and said it was merely an attempt to politically harm him.
"This is Political Persecution and Election Interference at the highest level in history," Trump said in a Thursday statement. "The Democrats have lied, cheated and stolen in their obsession with trying to 'Get Trump,' but now they've done the unthinkable—indicting a completely innocent person in an act of blatant Election Interference."
If the case ever makes it to trial, it's likely that former Trump attorney Michael Cohen will have to testify. The disbarred lawyer, who frequently appears on MSNBC, pleaded guilty to a range of felony charges, including making false statements to a bank, in 2018 before spending time in a federal prison in Otisville, New York.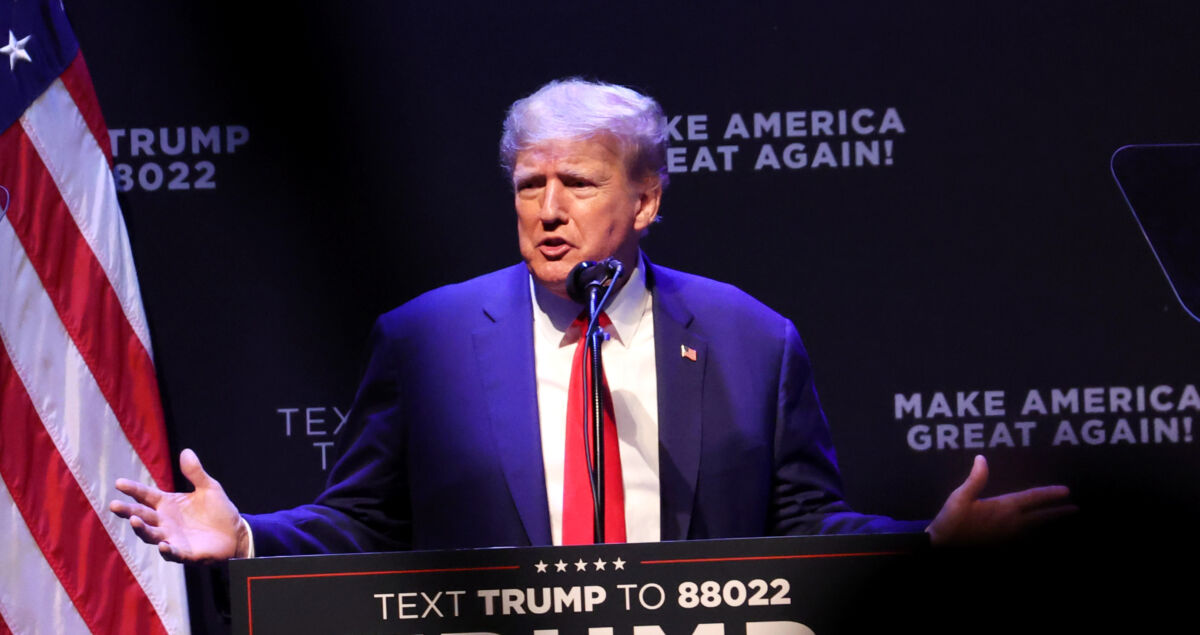 Cohen has alleged that Trump paid Daniels, whose real name is Stephanie Clifford, $130,000 in 2016 to keep quiet about an alleged affair in the early 2000s. Trump has categorically denied the claims.
A lawyer of Trump ally Rudy Giuliani, Bob Costello, told multiple news outlets in the past two weeks that he testified in front of the Manhattan grand jury and said he attempted to discredit Cohen's statements, saying that he is an unreliable witness and was once his attorney. But Cohen said that he never signed a waiver with Costello and disputed his remarks on MSNBC last week.
"I stand by my testimony and the evidence that I provided to the district attorney of New York," Cohen told MSNBC on Thursday. "It's extremely important that we let the process work out, and that people do still understand that there is a presumption of innocence in this country," he added.
The case, meanwhile, could serve to bolster Trump's 2024 presidential campaign as it would thrust the former president into the media spotlight, in which Trump appears to thrive. On Truth Social, he's frequently posted about the case, claiming that Bragg is a left-wing district attorney who obtained campaign cash from controversial billionaire financier George Soros.
"These Thugs and Radical Left Monsters have just INDICATED the 45th President of the United States of America, and the leading Republican Candidate, by far, for the 2024 Nomination for President. THIS IS AN ATTACK ON OUR COUNTRY THE LIKES OF WHICH HAS NEVER BEEN SEEN BEFORE," wrote Trump on Thursday night. "IT IS LIKEWISE A CONTINUING ATTACK ON OUR ONCE FREE AND FAIR ELECTIONS. THE USA IS NOW A THIRD WORLD NATION, A NATION IN SERIOUS DECLINE. SO SAD!"
Trump has said that he won't stop campaigning if he's charged. The former president is under investigation in Fulton County, Georgia, for his activity following the 2020 election, and a Department of Justice special counsel is working on several probes targeting him, including whether he mishandled allegedly classified materials that led to the FBI raid of his Mar-a-Lago resort last year.
Bragg's case will have no legal bearing on whether he can become president. The U.S. Constitution has only three requirements for who can become president: they have to be aged 35 or older, be a natural-born U.S. citizen, and they have had to have lived in the country for 14 years, legal experts have said.
From The Epoch Times