Marianne Williamson, the first Democrat to formally challenge President Joe Biden for the 2024 primary, has accused the Democratic National Committee (DNC) of making it "easier" for the 80-year-old incumbent to win the party's nomination.
During an appearance on Fox News' "The Next Revolution" Monday, Williamson railed against the DNC's recent decision to plan to forgo primary debates altogether, despite multiple candidates vying for the party's nomination.
"I am still getting some patronizing treatment, and as we know … the DNC has said that there will be no debates and they are clearly doing what they can to make it easier for the president to win the nomination. But I'm out there, and I have another opponent who is out there," Williamson said.
"The American people are waking up. The only way to protect our democracy is through the practice of more democracy," she continued. "So, the American people at a time like this—for the sake of our democracy—should have options, should have as much array in front of them of ideas, whether they're on the left or on the right, whether they're on the Republican Party of Democratic Party. That's democracy."
"It's not just that I deserve to have a chance to get my message out there. I think the American people deserve to hear whoever is running and what they have to say," she concluded.
Williamson, a bestselling self-help book author, announced that she's running for president in 2024 in early March. She first gained national attention in 2020 when she unsuccessfully sought the Democrat nomination for the nation's highest office amid a crowded field of contenders.
Since declaring, the 70-year-old Texas native has accused the DNC of "rigging" the nomination process in favor of Biden on multiple occasions, arguing it should be the voters' choice whether there should be primary debates.
"The DNC should not be rigging this system," Williamson told ABC's "This Week" in March. "They don't even pretend anymore. They're not even covert about their swaying the primary season. They're very overt about it."
When asked if she expects an opportunity to debate Biden, Williamson said the president "certainly should" debate her and allow voters to decide who deserves the nomination.
While the DNC has not publically announced that it will not be holding any primary debates in the upcoming election cycle, The Washington Post reported on April 20 that the national Democratic Party will "support Biden's reelection" and "has no plans to sponsor primary debates."
The move has prompted several prominent figures to respond, including Tesla CEO Elon Musk. "You and other candidates deserve that opportunity!" Musk declared in a post on Twitter.
System Is 'Rigged'
Williamson is not the only Democrat to decry the DNC's reported plans. Presidential candidate Robert F. Kennedy, Jr.—the son of former Sen. Robert F. Kennedy and nephew of former President John F. Kennedy—recently weighed in on the matter as well.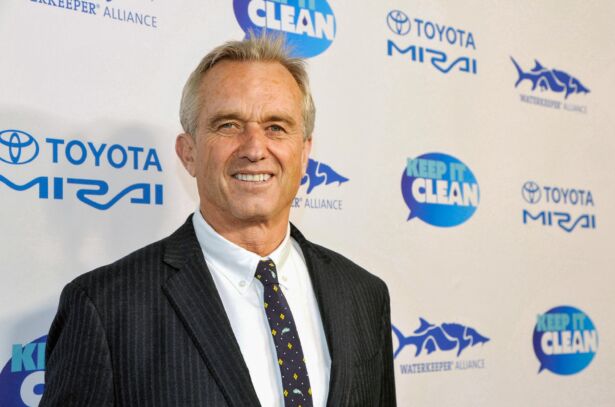 "Debates and town halls are part of the democratic process," Kennedy told The Epoch Times in April. "We're living in a time when there's a lot of Americans who believe our democracy is broken. And I think both political parties have to bend over backward to start restoring faith in democracy and election integrity."
"Americans think the entire system is rigged against them," he added. "And if the DNC goes through with this—its plan to not have debate—I think that will serve as … an unfortunate confirmation to a lot of Americans that the system is indeed rigged."
Biden, currently the oldest president in U.S. history, announced his 2024 reelection campaign in April after months of hints and comments that he would seek a second term. The incumbent will have to convince voters he has the stamina for another four years in the White House amid poor approval ratings and voter concerns about his age.
Democrats say Biden is running because he feels he is the only candidate who stands a chance against former President Donald Trump, the current frontrunner for the GOP presidential nomination in 2024.
In announcing his candidacy, the Pennsylvania native declared it his job to defend "freedom."
"The question we are facing is, whether, in the years ahead, we have more freedom or less freedom. More rights or fewer," Biden said in a video announcing his reelection bid. "This is not a time to be complacent … That's why I'm running for reelection," he added.