The U.S. Marine veteran who put Jordan Neely in a fatal chokehold aboard a subway in New York City earlier this week has been identified through his lawyers as Daniel Penny.
In a statement issued by Penny's criminal defense attorneys on Friday, the lawyers said their 24-year-old client expresses condolences to Neely's relatives, arguing Penny and other passengers were acting in self-defense.
His lawyers, Thomas Kenniff and Steven Raiser, said Neely had been "aggressively threatening" their client and other passengers on an F train in Lower Manhattan Monday afternoon, noting Penny and others "acted to protect themselves, until help arrived."
"Daniel [Penny] never intended to harm Mr. Neely and could not have foreseen his untimely death," the lawyers said.
The two lawyers from the firm Raiser & Kenniff did not provide other details of what exactly happened, other than to say Neely aggressively threatened passengers on the subway.
Neely died on Monday when Penny pulled him to the floor—which was captured on camera—and pinned him with a hold he learned during combat training.
Juan Alberto Vazquez, a freelance journalist who recorded the clip, told the New York Post that Neely had been threatening and screaming at other passengers "in an aggressive manner" while also complaining of hunger and thirst, but he had not physically attacked anyone.
According to authorities and eyewitnesses, Neely started to scream at one point indicating he was "fed up" and doesn't care anymore whether he would go to jail and be sentenced to life imprisonment.
Vazquez told the paper that the Marine veteran approached Neely after he threw his jacket to the ground. In the freelance journalist's video, two other riders are also seen restraining Neely's arms as Penny holds him in a headlock. After they let go of the man, he is seen lying motionless on the floor.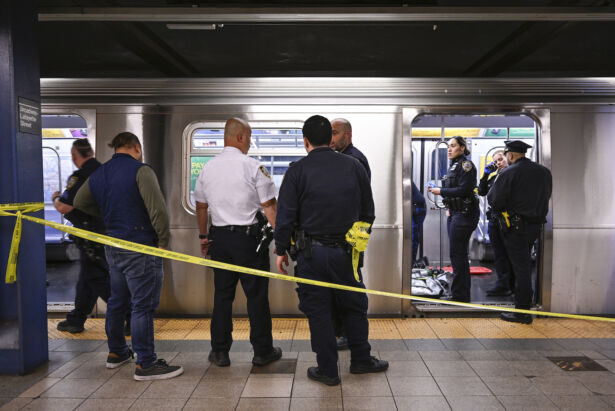 No arrests were made by police, prompting outrage from some who demanded criminal charges for Neely's death. Meanwhile, several sources, citing law enforcement, say Penny was briefly taken into custody after the deadly encounter and then released without criminal charges.
Lengthy Rap Sheet
The 30-year-old homeless man whose friends say suffered from worsening mental health had a lengthy criminal record including more than 40 prior arrests ranging from disorderly conduct to assault and an active warrant out for his arrest from a felony assault.
Most recently, he was charged with assaulting a 67-year-old woman leaving a subway station. After pleading guilty, he missed a court date, leading to the warrant for his arrest that was still active at the time of his death.
"Neely had a documented history of violent and erratic behavior, the apparent result of ongoing and untreated mental illness," Penny's lawyers said Friday, blaming elected officials for turning a blind eye to mental illness in the state.
"We hope that out of this awful tragedy will come a new commitment by our elected officials to address the mental health crisis on our streets and subways," they said.
The Manhattan District Attorney's Office is currently investigating the incident.
If a case does go forward, an argument of self-defense would likely brush up against a "tricky" legal requirement, according to Mark Bederow, a former assistant district attorney in Manhattan.
Under New York's penal code, a person who uses deadly force must not only prove that they feared for their own life or someone else's, but that any reasonable person would have felt the same way.
Bederow predicted Manhattan District Attorney Alvin Bragg may choose to bring the case before a grand jury, a process sometimes used in controversial or complex cases. A charge of second-degree manslaughter or criminally negligent homicide was most likely, he said.
Walter Signorelli, a former New York Police Department inspector, said he was uncertain charges would be filed, given the apparent fear among riders in response to Neely's behavior. If the case went to trial, he said a jury could empathize with the defendant.
"It's not like he's a villain," Signorelli said. "He did what he thought was right and what seemed reasonable to him. He's stepping up where most people turn away."
The Associated Press contributed to this report.