A former U.S. Marine will be arrested and charged with manslaughter on Friday in the death of a homeless man in the New York City subway, according to Manhattan District Attorney Alvin Bragg.
Daniel Penny, 24, is reportedly expected to turn himself in at the NYPD's 5th Precinct in Chinatown on Friday morning.
"We can confirm that Daniel Penny will be arrested on a charge of manslaughter in the second degree. We cannot provide any additional information until he has been arraigned in Manhattan Criminal Court, which we expect to take place tomorrow," Bragg said in a statement on Thursday.
The Marine veteran was seen on a viral video putting Jordan Neely, 30, in a chokehold on the F train on May 1, allegedly causing him to die of compression of the neck, according to the medical examiner. Witnesses have reported that Neely has allegedly harassed passengers for years.
Neely was known to impersonate Michael Jackson in the subway system. Witnesses reported that Neely was complaining loudly, allegedly shouting, "I want food," "I'm not taking no for an answer," "I'm ready to go back to jail," and "I'll hurt anyone on this train."
Penny's lawyers said he did not mean to kill Neely, who they allege had been behaving aggressively toward other passengers on the subway car. Neely has a record that includes 40 prior arrests and he had an active warrant out for his arrest related to a felony assault.
Penny's legal team expressed condolences to Neely's family. Neely's family's attorney called for Penny to be imprisoned. A fundraiser to support Penny's legal defense, set up by his lawyers, has raised over $113,000.
Penny was taken into custody following the incident and later released. The delay in charging Penny and the killing itself has sparked protests, with some labeling it "white vigilantism" against people of color, as Neely was black and Penny is white.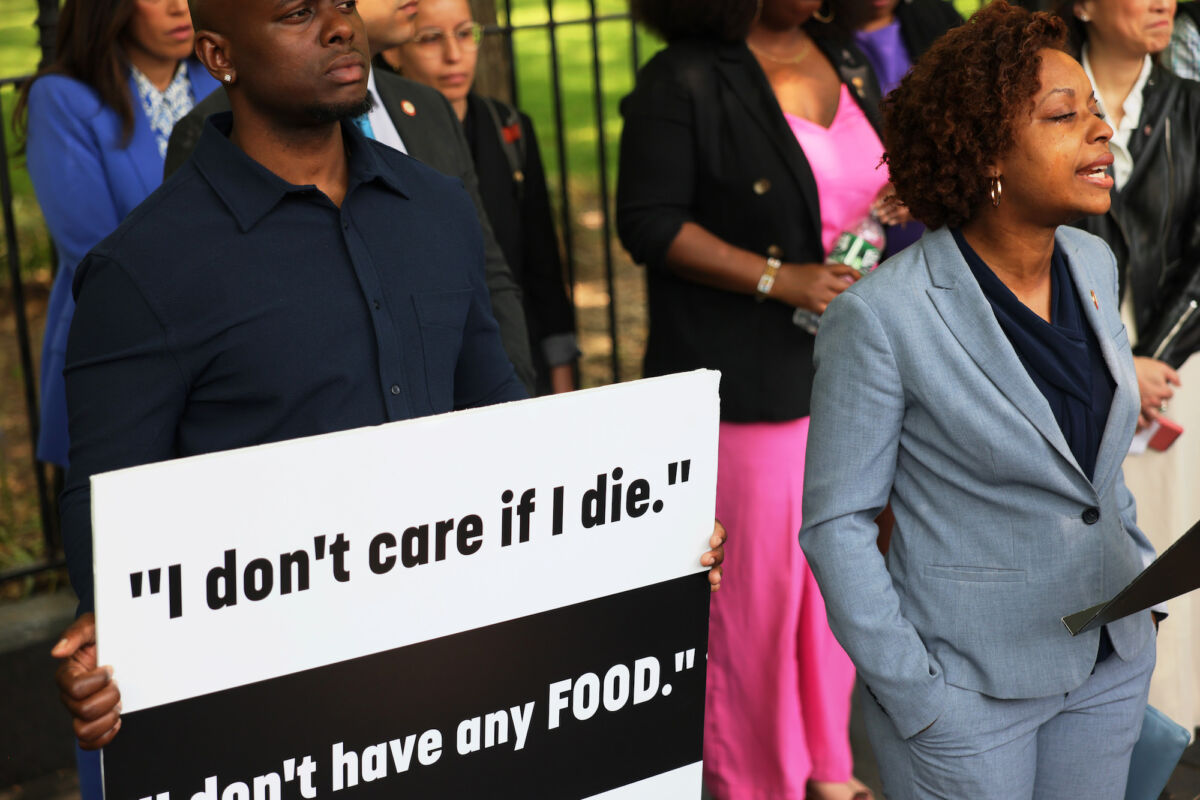 Divided Opinions
The video of Neely's death has brought renewed attention to crime in the subway and the city's growing homeless population.
Neely's death has divided opinions, with some seeing it as the murder of an innocent black man who needed compassion during a mental health crisis and others seeing it as protecting the public from a potential threat.
New York City Mayor Eric Adams said in a statement on May 1 that "any loss of life is tragic" while noting that "there were serious mental health issues in play."
"Let's let the DA conduct his investigation with the law enforcement officials. To really interfere with that is not the right thing to do," Adams said.
New York Rep. Alexandria Occasio-Cortez reacted to Adams's statement, expressing frustration that she couldn't outright accuse Perry of murder.
"This honestly feels like a new low: not being able to clearly condemn a public murder because the victim was of a social status some would deem 'too low' to care about," she wrote on Twitter. Adams's statement did not include the words "too low."
Video footage shared on Twitter by the account Mythinformed shows that Neely and another man who helped restrain him rendered aid by placing Neely into a "recovery position" after he fell unconscious. The video also shows Neely was still alive after Penny released him from the chokehold.
Following Neely's death, Bragg's office released a statement calling it a "solemn and serious matter" that was being thoroughly probed.
"As part of our rigorous ongoing investigation, we will review the Medical Examiner's report, assess all available video and photo footage, identify and interview as many witnesses as possible, and obtain additional medical records," the statement read.
On May 3, NYC Comptroller Brad Lander expressed frustration with Penny's use of force to subdue Neely.
"NYC is not Gotham. We must not become a city where a mentally ill human being can be choked to death by a vigilante without consequence," he wrote on Twitter.
Responding to the tweet, former NYPD Commissioner Bernard Kerik asserted that the public has a right to defend itself.
"You would, rather New Yorkers, be terrified, assaulted and murdered at the hands of lunatics and thugs! If you were doing your job, there would be more police on the subway system, so these things would not happen. But do not tell people that they cannot defend themselves!" Kerik wrote.
From The Epoch Times