FALLSTON, Md.—A Maryland man, whose father called law enforcement to report him suicidal, was taken into custody early Friday, ending a 39-hour manhunt during which he wounded two Baltimore County police officers in separate shootings and holed up in a wooded area behind a suburban shopping center, authorities said.
David Linthicum, 24, was already on the run when he shot the second officer, a detective, and stole his department-issued vehicle Thursday night, police said.
Officers eventually stopped Linthicum about 20 miles away using spike strips. From there, Linthicum fled into the woods but was surrounded by officers from multiple law enforcement agencies, with a helicopter illuminating the scene from above. Eight hours later and without further injury, they had him in handcuffs, authorities said.
The ordeal began when police responded to a call about a person in distress at Linthicum's Baltimore County home Wednesday afternoon. When an officer arrived, Linthicum's father told the officer his son was suicidal. Together, they walked downstairs to Linthicum's room in the basement, according to charging documents.
"As they entered the bedroom, they saw David Linthicum laying on his bed and holding a high-powered rifle," the documents say.
Linthicum fired about 15 rounds toward the officer and his father, who both "fled the residence to seek cover from any further gunshots," according to police. The officer realized he had been struck and was transported to a hospital; Linthicum fled the scene.
After receiving treatment, the officer was discharged from the hospital later that night.
Meanwhile, federal and state law enforcement joined the manhunt that would continue throughout the following day and night as Linthicum evaded capture.
Around 9:20 p.m. Thursday, authorities warned residents to shelter in place in the area surrounding Linthicum's home, saying he had been spotted nearby.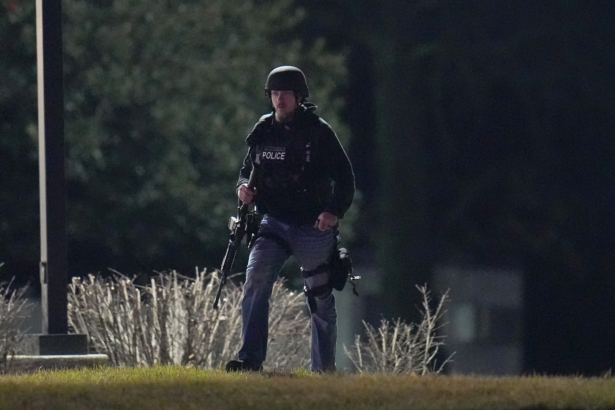 In an update Friday afternoon, officials with the Baltimore County Police Department said the detective, who was patrolling the area in connection with the manhunt, saw Linthicum walking along a road near his house.
When the detective exited his unmarked pickup truck and approached the suspect on foot, Linthicum raised a rifle and pulled the trigger, firing numerous rounds and striking the officer multiple times, according to charging documents. The officer returned fire as Linthicum stole the truck and drove away, the documents say.
The detective suffered gunshot wounds to his face, torso, leg, and arms, police wrote. He had been wearing a ballistic vest and was in stable condition as of Friday morning, Interim Baltimore County Police Chief Dennis Delp said during a news conference.
"He's going to need a significant amount of reconstruction," said Dr. Thomas Scalea, physician in chief at the University of Maryland Medical System's Shock Trauma Center, who told reporters outside the hospital Thursday night that the detective was on life-support. "He'll be with us for a while."
In a statement released Friday afternoon, Gov. Wes Moore asked Marylanders to keep the injured officer in their thoughts.
"He and his fellow officers are true heroes, who unselfishly put their lives on the line to protect Marylanders," Moore said. "We are grateful to have restored peace in the communities affected and vow to bring this individual to justice."
Once Linthicum was surrounded in the woods Thursday night, officers used several "less lethal" tactics to encourage him to surrender, including flash bangs. He tried to hide in a rocky area, but officers used a helicopter and drones to locate him before he was finally captured at around 5:45 a.m. Friday, Harford County Sheriff Jeffrey Gahler said.
"Eventually it culminated in our personnel going hands-on with him and physically, after some resistance, being able to place him into custody," Gahler said.
He said Linthicum was intermittently communicating with officers during the standoff, but much of what he said was irrelevant to the situation at hand. For example, in response to the flash bangs, Linthicum made a comment about how much he likes fireworks, Gahler said.
Linthicum "sustained no injuries as a result of his arrest," but was sent for a medical review "out of an abundance of caution," the sheriff said.
He was later transferred into Baltimore County Police custody, officials announced Friday afternoon.
"Our community is safer with this individual in custody where he belongs," Gahler added at a news conference.
Gahler said police found a firearm in the recovered vehicle and Linthicum had ammunition on him when he was arrested. The area was being searched in case he dropped another firearm in the woods.
Linthicum has been charged with 11 total offenses, including armed carjacking and three counts of attempted first-degree murder.
Harford County schools in the Fallston area were closed Friday. Some Baltimore County schools were also closed Thursday while the manhunt was underway.
Court records show Linthicum pleaded guilty to drug possession with intent to distribute in 2019 and received probation before judgment. Officials said there was no immediate indication drugs were involved in the latest crimes.
A person who answered the phone Friday morning at a number listed under Linthicum's father's name declined to comment.
By Julio Cortez and Lea Skene