Maui authorities have released the responses from 911 dispatchers as blazing wildfires overtook the historic town of Lahaina on Aug. 8, revealing the chaos that accompanied the disaster.
The calls were obtained by The Associated Press (AP) through a public records request. The recordings, which cover the period from 3:30 p.m. to 5:30 p.m., reveal how quickly dispatchers became inundated with calls as thousands reached out for help.
With police and firefighters all occupied, the dispatchers became increasingly powerless to render help, resorting to offering advice like "Leave if you have to leave" and assuring callers that responders were in the area.
According to the Maui Police Department, there were some 4,500 emergency texts and calls that day. Normally, dispatchers get about 1,600 calls a day.
"It was an extremely dynamic situation that day, in which our dispatchers adapted to the best of their abilities," Alana Pico, a police spokesperson, told AP.
The fire, fueled by strong winds from a passing hurricane, ended up killing 98 people and caused an estimated $5.5 billion in damage. It completely leveled the Lahaina tourist destination.
To respect the callers' privacy, authorities redacted names and addresses from the recordings.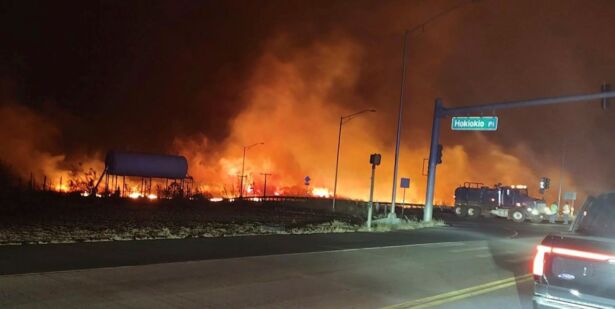 Chaos
A man calling 911 had sprayed water on his house to prevent it from catching fire, with homes burning around him as strong winds fanned the flames: "I don't know if we can get out," he reported.
A family huddled in a fireplace called in as smoke alarms beeped incessantly. "I cannot get out of my door—there's flames blowing into the house!"
Another woman pleaded. "I have a baby."
At 3:31 p.m., a woman called about an 88-year-old man who was unable to walk and who she had to leave behind in their house. "He would literally have to be carried out," she said. "I just had to leave him because I had the rest of my family in the car."
A few minutes later, a woman called from the Hale Mahaolu Eono group senior residence, saying she was one of four people left as the flames pushed closer.
"Are we supposed to get evacuated?" she asked, panic in her voice.
"OK, ma'am, if you feel unsafe, listen to yourself and evacuate," the dispatcher replied.
The woman went outside in hopes of hitching a ride, as cinders rained down around her. Eventually a car stopped and she managed to escape. Authorities would later learn that multiple people died at the senior residence facility.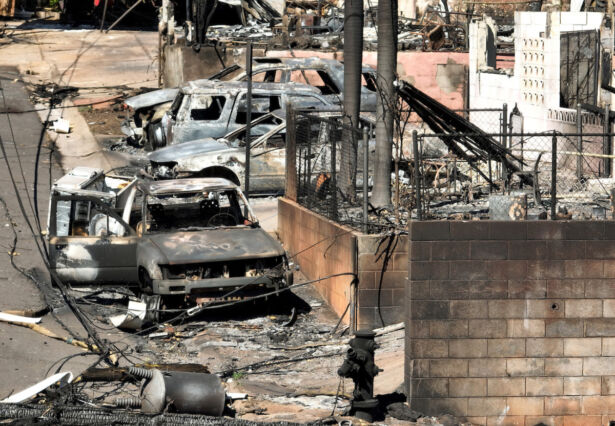 At 5:25 p.m., more than two hours after the fire began, it seemed some dispatchers still didn't have a good grasp of the scale of the unprecedented disaster—or of the speed at which the fires were spreading. One dispatcher told a caller stuck in traffic that emergency workers were busy "because Lahaina has a couple of house fires going on right now."
"If you're safe, you need to stay there," she said. "If you're not safe, you need to find some way to get to the ocean."
Very often, dispatchers apologized for being unable to send assistance, as all emergency personnel was already out in the streets coping with the disaster.
Trapped in Traffic
Many of the calls came from people stuck in cars on roads blocked by fallen trees and powerlines, with trees and houses around them ablaze.
In the chaos of the moment, some emergency responders miscalculated certain situations as they improvised to help people escape the fires. One caller said cars were being routed into a gated parking lot but eventually were forced to turn around. Another said they were directed onto a dirt road behind the civic center, but found their way blocked by a locked gate.
A third caller urged dispatchers to open a road on the south side of town, warning that the blocked exit would lead to certain death for the people trapped there.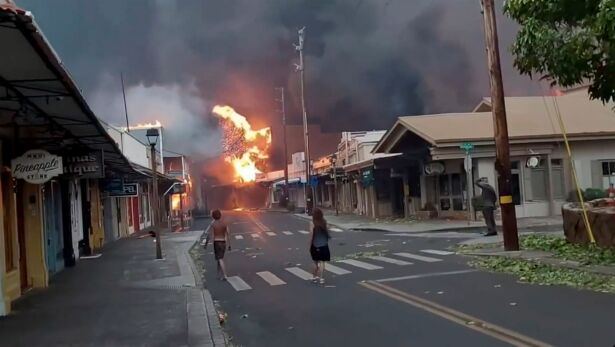 A panicked father reported being trapped in his pickup truck, with a long line of other cars, behind the old mill of one of Hawaii's first sugar plantations. Flames were just inches from the vehicle when they finally managed to drive away, still on the line with a dispatcher.
"Somebody's down over there!" he said.
"Just go, Dad!" his son shouted. "We cannot do nothing for her!"
Many drivers were trapped on Front Street, surrounded on three sides by black smoke and a wall of flames. They had moments to choose whether to stay or jump into the ocean as cars exploded and burning debris fell around them.
For many of the recordings, it was not clear whether the callers made it to safety.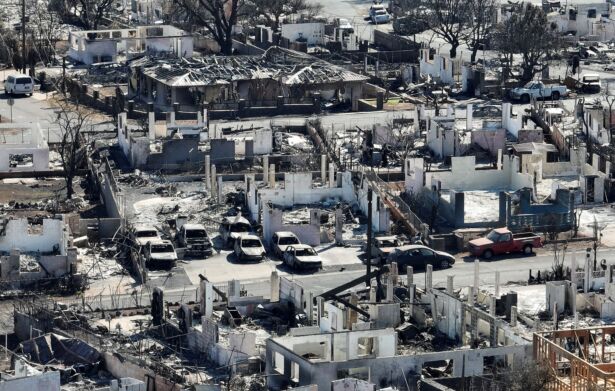 Wind, Electricity, Neglect, and Sorrow
Hawaiian Electric, the state's primary electric utility company, has acknowledged its power lines started a wildfire on Maui that morning. County firefighters declared the blaze contained and left, only to have flames reemerge nearby.
The county and the families of some victims have sued Hawaiian Electric for neglecting to shut off power despite exceptionally high winds and dry weather spell.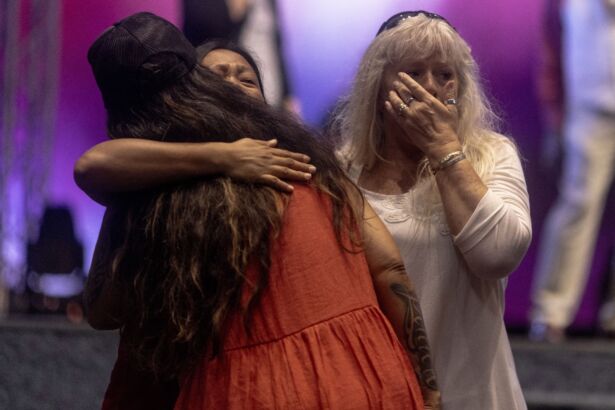 Maui County communication chief Mahina Martin commented on the release of the recordings, saying the city complied with a legal request for public records.
"It is truly unfortunate that as people are beginning to heal they are faced with re-experiencing the horrific event over again as it replays on media," she wrote in an email to The Associated Press.
"Reliving the tragedy causes unimaginable pain and grief for survivors, their families and the families of loved ones lost that chaotic and heartbreaking day."
The Associated Press contributed to this article.