The Maui wildfires have claimed the lives of 93 people. They are now the most deadly wildfires in U.S. history over the last century.
The new death toll update comes from the Maui County website, which noted that two of the deaths have been identified. It comes after an earlier update in the day of 89 confirmed deaths, which surpassed previous tragic fires, including the 2018 Camp Fire in Paradise, California, which killed 85 people.
The number of confirmed deaths has yet to surpass those caused by the Cloquet fire of 1918, in Minnesota and Wisconsin, which claimed at least 453 lives.
While surveying the damage in the town on Aug. 12, Gov. Josh Green echoed the common sentiment that the official death toll is "going to rise."
"It will certainly be the worst natural disaster that Hawaii ever faced. … We can only wait and support those who are living," he said, adding that he had toured the devastation on the historic Front Street. "Our focus now is to reunite people when we can and get them housing and get them health care, and then turn to rebuilding."
Only 3 Percent of Search Area Covered
Cadaver dogs—those trained to find human remains—continue searching the ruins, but they have covered only 3 percent of the search area, Maui County Police Chief John Pelletier said on Aug. 12 at a press conference.
The main fire took place in Lahaina, a historic town in western Maui that was home to over 12,000 people. Once a thriving, green area, it now looks like a barren wasteland.
In an update late Aug. 12, Maui County said firefighters are still trying to extinguish flare-ups in Lahaina and Upcountry Maui.
The county noted that the Pulehu/Kīhei fire was declared 100 percent contained—an improvement from 80 percent contained the day prior. It added that a 1-acre fire that was reported late on Aug. 11 in Kaanapali was extinguished.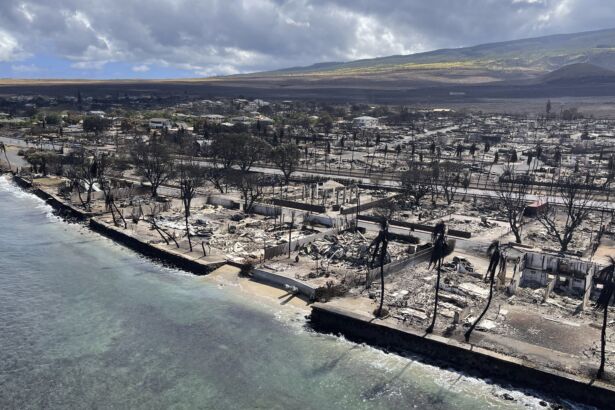 4,500 in Need of Shelter
About 4,500 people are in need of shelter, county officials said on Facebook early on Aug. 12, citing figures from the Federal Emergency Management Agency (FEMA) and the Pacific Disaster Center.
Officials have secured 1,000 hotel rooms for people who lost their homes and are arranging for rental properties to serve as housing at no cost to families, Mr. Green said. More than 1,400 people had been taken in at emergency shelters.
Hawaii has an emergency alert system, but it didn't activate the various sirens stationed around the island before this fire. Officials also tried to send alerts to mobile phones, televisions, and radio stations, but widespread power and cellular outages impeded their reach.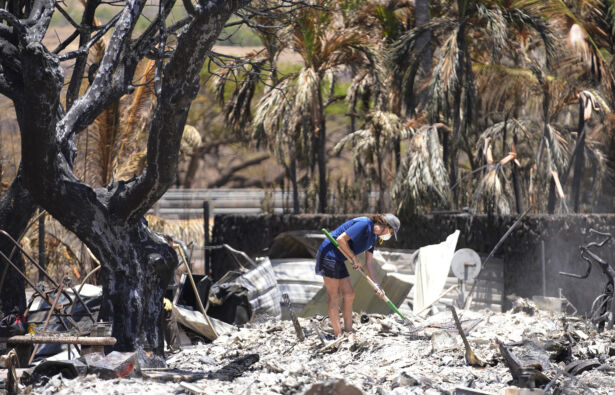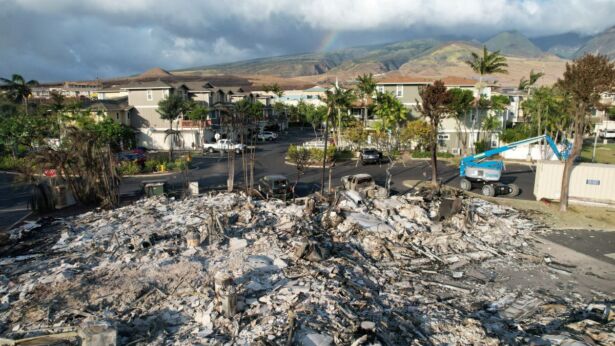 Following the alert failures, officials vowed to examine the state's emergency notification systems. Anne Lopez, the state's attorney general, said she was launching a review of the decision-making before and during the fire, while Mr. Green told CNN he had authorized a review of the emergency response.
The wildfires started on the evening of Aug. 8 and caught residents by surprise, with many having to flee with just the clothes on their backs. Some were forced to wade into the Pacific Ocean to survive.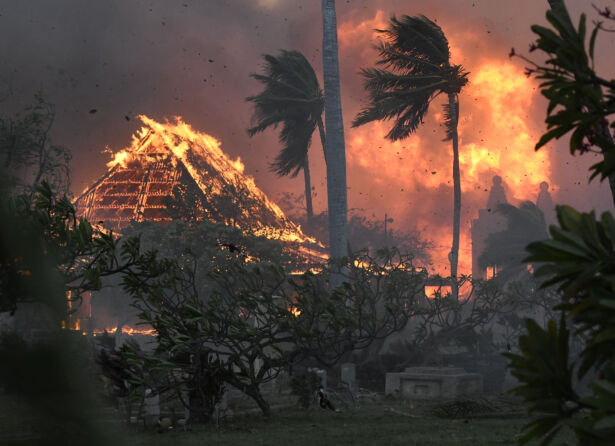 The fires were partly fueled by dry conditions and strong winds from Hurricane Dora passing hundreds of miles southwest of the Hawaiian Islands in the Pacific Ocean. A low-pressure system to the west near Japan is also contributing to the high sustained winds. Dry vegetation also contributed to the fires' spread.
The causes of the fires have not yet been officially determined.
Maui water officials warned Lahaina and Kula residents on Friday not to drink any running water, including boiled water, and to only take short, lukewarm showers in a well-ventilated room to avoid exposure to possible chemical vapors.
"Instead of tap water, customers are advised to use only bottled water for drinking, brushing teeth, making ice, and preparing food," the advisory reads.
Across West Maui, at least 2,200 buildings—of which 86 percent were homes—were damaged or destroyed in West Maui, Mr. Green said. Across the island the damage was estimated at close to $6 billion, he added.
The FEMA has estimated the cost to rebuild Lahaina at $5.5 billion.
The Associated Press and Reuters contributed to this report.
From The Epoch Times