U.S. Homeland Security Secretary Alejandro Mayorkas testified at a Senate hearing on Tuesday that he is not aware of cartels using illegal immigrants as a decoy to distract border patrol agents while they smuggle drugs or other individuals across the border.
Sen. John Cornyn (R-Texas) asked Mayorkas specifically if he was familiar with the cartel strategy of sending illegal immigrants across the border to distract and overwhelm border agents while they transport drugs across the border.
"I am not aware of that as a strategy," Mayorkas replied.
Mayorkas offered that response even after Cornyn noted U.S. Attorney General Merrick Garland had described his familiarity with the distraction strategy in a previous Senate hearing. Border Patrol officials also described the strategy in a House Oversight and Government Accountability Committee hearing last month.
"Maybe once or twice a week we'll see a group of about 100 people, sort of what we refer to as a 'give up group' that gives up in a very remote area," Tuscon Sector Chief Border Patrol Agent John Modlin said during the February House hearing. Modlin said border patrol agents then have to go out to those remote areas to help recover the lost group of people "which leaves other areas vulnerable."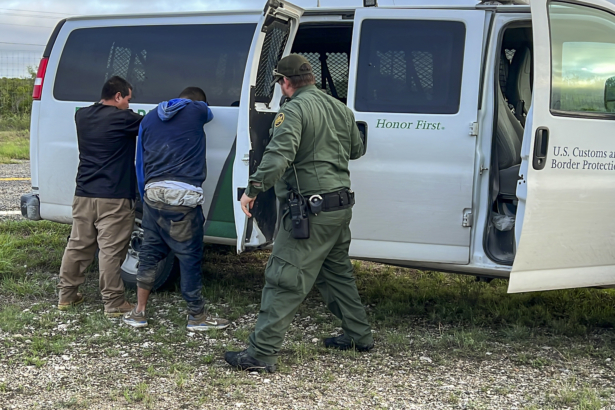 Modlin and Rio Grande Valley Sector Chief Border Patrol Agent Gloria Chavez described the cartel distraction tactic as "task saturation."
Cornyn raised this issue of "task saturation" alongside concerns about the cartels smuggling more drugs like fentanyl across the border.
As the exchange continued on Tuesday, Mayorkas began to assert a statistical claim that 90 percent of the fentanyl that crosses into the United States is brought in through the ports of entry. Cornyn repeatedly interrupted Mayorkas of the claim, noting the statistical figures pertain to individuals caught, not the people that border authorities know were able to successfully cross into the United States without being stopped.
"You had nearly a million people get away from border patrol, evade border patrol's detection and detention between 2022 and 2023," Cornyn said. "You have no idea how many of those people were carrying fentanyl or other drugs with them, do you?"
Mayorkas' Credibility Questioned
Cornyn went on to say that Mayorkas has a "credibility problem" with Congress and the American public.
Mayorkas replied, "I have unflinching confidence in the integrity of my conduct."
Cornyn then went on to reference Mayorkas' previous claims that border authorities under his supervision have "operational control" of the U.S. border. The term "operational control" of the border, as used in U.S. law, the Secure Fence Act of 2006, refers to "the prevention of all unlawful U.S. entries, including entries by terrorists, other unlawful aliens, instruments of terrorism, narcotics, and other contraband."
During an April 28, 2022 House hearing, Rep. Chip Roy (R-Texas) asked Mayorkas whether the United States has "operational control" over its borders. After Mayorkas testified "yes we do," Roy read him the definition of "operational control" in the 2006 law and asked whether Mayorkas stood by his answer. Mayorkas replied, "I do, and congressman, I think the secretary of homeland security would have said the same thing in 2020."
At another point during Tuesday's hearing, Mayorkas told Sen. Lindsey Graham (R-S.C.) that he does not use the definition of "operational control" of the border that appears in the Secure Fence Act of 2006. By the definition in the 2006 law, Mayorkas said, "no administration has ever had operational control" of the border.
Mayorkas went on to say he defines "operational control" of the border as "maximizing the resources that we have to deliver the most effective results" adding, "we are indeed doing that."
Mayorkas' comments about whether the United States has operational control of the border have become the subject of Republican-backed articles of impeachment, which allege Mayorkas committed perjury in his comments to congress about "operational control" at the border.
In response to an NTD News request for comment, Mayorkas' office said "under that strict definition, this country has never had operational control, but obviously a layer of reasonableness must be applied here. And looking at that definition through the lens of reasonableness, we dedicate now 24,000 personnel to the border. We are surging increased personnel, facilities, and other methods of support."