Rep. Kevin McCarthy (R-Calif.) has expressed confidence that Rep. Jim Jordan (R-Ohio) can succeed him to become the new House speaker.
"I think Jim Jordan can get there," Mr. McCarthy told Fox News' "Sunday Morning Futures." "I'm one who understands how difficult it is. I did walk in with more support during this time, but I believe at the end of day, Jim can get there."
"I'm doing everything I can to help him be able to become speaker."
Mr. McCarthy was removed as House speaker on Oct. 3 after a 216–210 vote, with eight Republicans joining all Democrats who were present voting to remove him from the post. The vote to oust the California congressman was initiated by Rep. Matt Gaetz (R-Fla.), a member of a hardline conservative GOP faction.
House Majority Leader Steve Scalise (R-La.) defeated Rep. Jim Jordan (R-Ohio), chairman of the House Judiciary Committee, in a two-person race for the speakership. However, after winning the Republican nomination, Mr. Scalise withdrew his candidacy after failing to secure enough support.
On Friday, Mr. Jordan defeated Rep. Austin Scott (R-Ga.) by a 124–81 vote to become the Republican Party's new nominee for speaker. A vote for the new speaker is scheduled for noon on Oct. 17.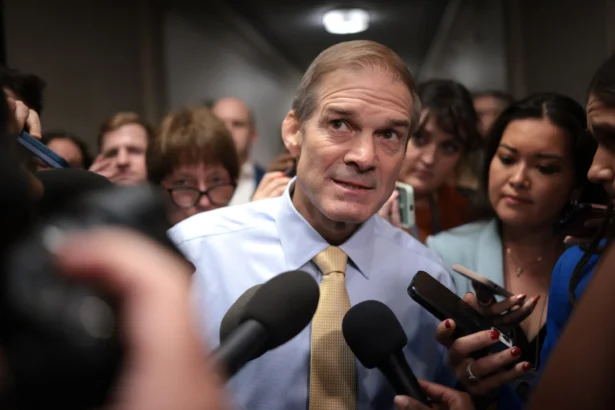 When asked if Mr. Jordan had secured enough votes to win the gavel, Mr. McCarthy said his colleague hadn't but added that he was working to get the support needed.
"I talked to Jim last night. He's talking to every single member, assessing what their challenges are. But we have got to be able to work together," Mr. McCarthy said. "The real challenge here is, eight Republicans did something no one would [have] thought, that they worked with every single Democrat to disrupt this nation, to remove me as speaker."
He added: "So it has taught people now that, why don't you just go work with Democrats and disrupt government? This will go down in history as one of the biggest mistakes these eight have made in the process."
Speaker
Rep. Matt Rosendale (R-Mont.), one of the eight House Republicans who voted to oust Mr. McCarthy, previously told NTD that his decision was over the former speaker's "lack of trustworthiness."
"The only place that we had failures was when Kevin McCarthy was left to his own means to negotiate large spending legislation," Mr. Rosendale said, which included the continuing resolution to fund the government until Nov. 17.
When asked if there was a consensus candidate, such as Rep. Kevin Hern (R-Okla.) or Rep. Mike Johnson (R-La.) if Mr. Jordan couldn't secure the needed votes, Mr. McCarthy said the two would "come up very short." He reiterated, "I think Jordan can get the votes."
On Saturday, Mr. Hern took to X, formerly known as Twitter, to announce that he had nominated his friend Mr. Jordan for the speakership the day prior. He added, "Our top priority must be uniting the party and getting back to work for the American people."
Mr. Johnson said he wouldn't run for speaker in an X post on Friday.
"I have been humbled to have many Members from across our Conference reach out to encourage me to seek the nomination for Speaker. After much prayer &deliberation, I have decided at this time not to enter the race but to defer to one of my closest friends and brothers, Jim Jordan," Mr. Johnson wrote.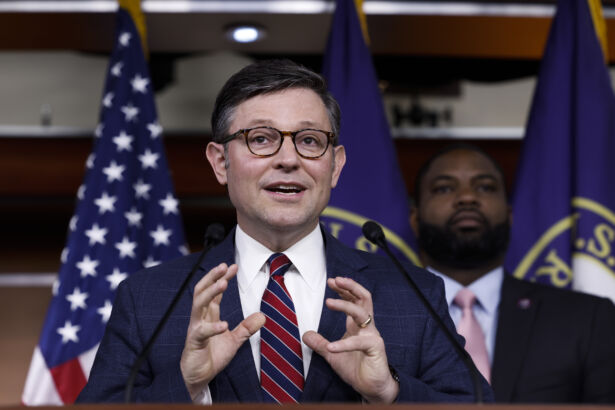 'Exactly Who We Need'
Also on Sunday, House Minority Leader Hakeem Jeffries (D-N.Y.) announced that "informal conversations" regarding a bipartisan governing coalition were underway amid the House speaker turmoil.
"We have made clear publicly and privately that we are ready, willing, and able to enter into a bipartisan governing coalition," Mr. Jeffries told NBC's "Meet the Press."
In an X post on Sunday, Mr. Jeffries wrote: "Extreme MAGA Republicans have paralyzed Congress. We need to break the mold and form a bipartisan unity coalition."
Rep. Thomas Massie (R-Ky.) revealed on Sunday that "some Republicans want to cut a deal with Democrat leader Hakeem Jeffries to elect a Speaker."
"With Democrats controlling the White House and the Senate, we must not give up control of the House," Mr. Massie added. "Republicans should unite behind Jim Jordan as our Speaker of the House!"
Some House Republicans are urging their colleagues to support Mr. Jordan on Sunday.
"It's now or never! Without a strong Speaker, we have NO CHANCE of reducing spending, securing the border, or stopping Biden's left-wing agenda," Rep. Ralph Norman (R-S.C.) wrote on X.
"We're at a pivotal crossroads, and @Jim_Jordan is EXACTLY who we need to unite the House and move our nation forward."
From The Epoch Times