House Speaker Kevin McCarthy (R-Calif.) said he would speak to Federal Bureau of Investigation director Christoper Wray after the bureau declined to comply with a House Oversight and Accountability Committee subpoena for a document that allegedly linked then-vice president Joe Biden to a pay-to-play bribery scheme.
"That's unacceptable. I'm going to call Director Wray today because we have oversight of the FBI. We have the right," McCarthy said on the Fox News program "Fox & Friends" on May 11.
"[Rep. James] Comer is simply following information that he has found. We should find all the information."
Comer, chairman of the House Oversight Committee, along with Sen. Chuck Grassley (R-Iowa), revealed in a May 3 letter that they received "highly credible unclassified whistleblower disclosures." The whistleblower's tip indicated the Department of Justice (DOJ) and the FBI possessed an unclassified document that "describes an alleged criminal scheme involving then-vice president Joe Biden and a foreign national relating to the exchange of money for policy decisions," they said in the letter to Wray and Attorney General Merrick Garland.
"This specific document goes into great detail, the pay-for-play agreement between Joe Biden as vice president, and the policy outcomes that this foreign national wanted," Rep. Eric Burlison (R-Mo.), a member of the House Oversight Committee, previously told NTD.
On May 3, Comer filed a subpoena to Wray seeking an internal form, called an FD-1023, and gave a week for the agency to produce it.
In response, Christopher Dunham, the acting assistant director for congressional affairs, wrote a letter (pdf) to Comer on May 10 explaining the FBI's "confidentiality interests." But the agency didn't turn over any document the House panel requested.
Dunham said the FD-1023 "is used by FBI agents to record unverified reporting from a confidential human source." The DOJ policy, he noted, "strictly limits when and how confidential human source information can be provided outside of the FBI."
In the six-page letter, Dunham declined to confirm or deny whether the requested file exists.
"It is critical to the integrity of the entire criminal justice process and to the fulfillment of our law enforcement duties that FBI avoid revealing information—including unverified or incomplete information— that could harm investigations, prejudice prosecutions or judicial proceedings, unfairly violate privacy or reputational interests, or create misimpressions in the public,"  he said.
"Often, even confirming the fact of the existence (or nonexistence) of an investigation or a particular piece of investigative information can risk these serious harms. "
Comer said the response indicates that the document exists.
"It's clear from the FBI's response that the unclassified record the Oversight Committee subpoenaed exists, but they are refusing to provide it to the committee," Comer said in a statement released Wednesday. "We've asked the FBI to not only provide this record but to also inform us what it did to investigate these allegations. The FBI has failed to do both."
The congressman pledged to follow up with the FBI, without providing further details.
During Thursday's appearance on Fox News, McCarthy said he would have a call with Wray over the document the House panel subpoenaed.
The White House pushed back on May 9, calling it another Republicans' "unproven, politically motivated attacks."
"For going on five years now, Republicans in Congress have been lobbing unfounded, unproven, politically motivated attacks against the president and his family without offering evidence for their claims or evidence of decisions influenced by anything other than U.S. interests," Sams said in a statement to The Epoch Times.
"When it comes to President Biden's personal finances, anybody can take a look: he has offered an unprecedented level of transparency, releasing a total of 25 years of tax returns to the American public."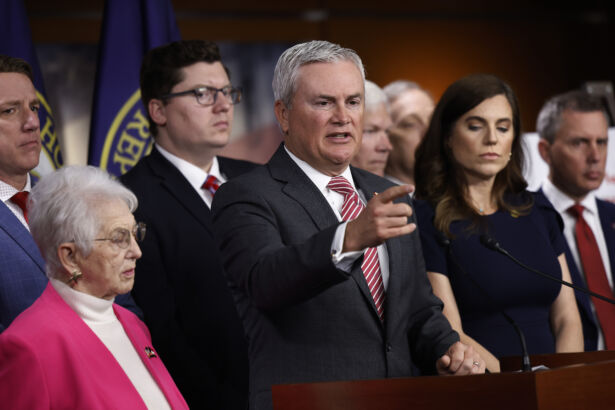 McCarthy's announcement came after the May 10 press conference by the House Oversight Committee about the investigation into Biden and his alleged involvement in his family members' foreign business deals.
Investigators said bank records from subpoenas showing "Biden family, their business associates, and their companies received over $10 million from foreign nationals' companies," according to a 36-page memorandum (pdf) released on Wednesday.
"Isn't it quite interesting that foreign countries give millions of dollars to different LLCs [limited liability companies] that trace down to the entire Biden family, to grandchildren? What are they doing? Why are you hiding money in that direction? And why is foreign money coming from other countries while he's in office? What are they doing?" McCarthy said Thursday.
The House speaker underscored that Congress has the authority to oversight the FBI.
"Why would you hold that information back? You're protecting," he said.
"As a member of Congress, it doesn't matter if this person is Republican or Democrat. We have oversight of the FBI," he said.
"If the FBI at any time think they could withhold information from Congress, we have a severe problem on our hands."
From The Epoch Times