Elkhorn Valley Packing has recalled approximately 3,436 pounds of boneless beef chuck product due to possible contamination with Shiga toxin-producing E. coli, according to the U.S. Department of Agriculture's Food Safety and Inspection Service (FSIS).
The outfit, based in Harper, Kansas, issued the recall after an FSIS routine inspection of a sample of ground beef that derived from the boneless beef chuck product tested positive for this strain of E. coli bacteria, also known as STEC O103.
The boneless beef chuck items subject to the recall were packaged on Feb. 16, 2023, and the recall is applicable to corrugated boxes of various weights containing "Elkhorn Valley Pride Angus Beef 61226 BEEF CHUCK 2PC BNLS; Packed on 2/16/23."
A complete list of serial numbers and box count numbers is available on the FSIS website (pdf).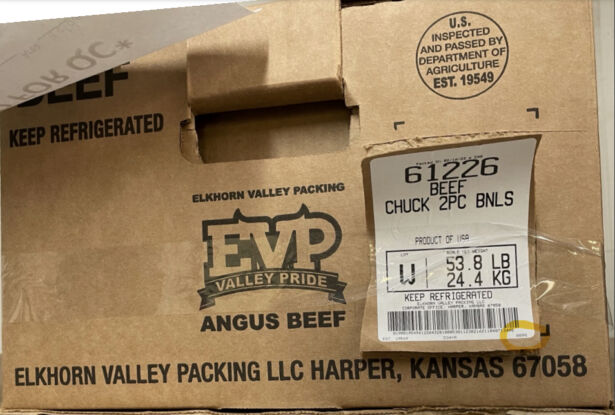 The affected products were shipped to distributors, federal establishments, retail locations, and wholesale locations, including hotels, restaurants, and institutions, in Connecticut, Illinois, Indiana, Maryland, Massachusetts, Michigan, New Jersey, New York, and Pennsylvania.
As of the announcement, there have been no confirmed reports of adverse reactions due to consumption of the affected products.
Consumers who have purchased the affected products are advised not to use or distribute them further, and to throw them away or return them to the place of purchase.
STEC O103 infection can cause bloody diarrhea and vomiting, and some illnesses can last longer and be more severe.
Most people recover within a week, but some can develop a more severe infection, including hemolytic uremic syndrome (HUS), which is a type of kidney failure. HUS can occur in people of any age but is most common in children under five years old, older adults, and those with weakened immune systems.
"It is marked by easy bruising, pallor, and decreased urine output. Persons who experience these symptoms should seek emergency medical care immediately," FSIS said.
FSIS says that it routinely conducts recall effectiveness checks to ensure that recalling firms notify their customers of the recall and that steps are taken to ensure the product is no longer available to consumers.
To prevent foodborne illnesses, the FSIS recommends that all consumers prepare their raw meat products safely, including fresh and frozen, and only consume ground beef products that have been cooked to a temperature of 160° Fahrenheit.
According to the FSIS, using a food thermometer that measures internal temperature is the only way to confirm that ground beef has been cooked to a high enough temperature to kill harmful bacteria.
From The Epoch Times